Batch 5 Review
Editor
's Review:
3.5
/ 5.0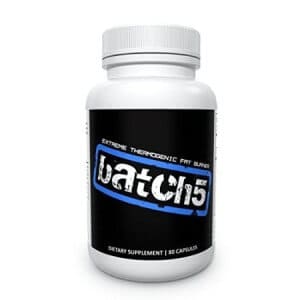 As you may be aware, there has been a great deal of buzz surrounding Batch 5 Extreme Thermogenic Fat Burner, so we took the time to write a comprehensive review, examining the ingredients, side effects, customer care and clinical studies. We also focused on countless user comments and customer reviews posted on the internet. Lastly we compressed all of the data we discovered to give you the bottom line.
What You Need To Know
Batch 5 is a weight loss formula created by bCharged Labs. Unfortunately we couldn't locate an official website for this brand. However, it looks like this company is located in Seattle, WA. Batch 5 capsules are claimed to boost thermogenesis, increase endurance levels, suppress appetite and encourage fast weight loss in both women and men. To use this product, you simply take 2-4 capsules, 30-60 minutes prior to exercise or meals. The ingredients found in Batch 5 include the following; Vitamin B6, L-Carnitine, Chromium, Dandelion Root, Garcinia Cambogia, Green Tea Extract, Uva Ursi, Cayenne Pepper, Citrus Aurantium (contains Synephrine), White Willow Bark and Guarana Seed Extract.
It looks like Batch 5 was first released in 2013 and it can be purchased via distributor websites like Amazon for $19.96. This supplement contains natural ingredients and there is plenty of user feedback posted online, but read on…
Fad Diet Ingredients
"After taking a close look at the complete ingredient label for Batch 5, we noticed that this product contains fad weight loss ingredients such as Garcinia Cambogia, which have not been proven to aid with weight reduction. Naturally this is concerning," says our Research Editor.
One customer complained, "I took this religiously… didn't work for me. Just gave me bad headaches and made my heart race while I was trying to sleep."
"I finished the whole bottle and I seen NO RESULTS!! What a waste of time," said another user.
Side Effects – Be Careful!
There are dozens of customer complaints regarding side effects. This is never a good sign. One dieter stated, "The first time I took them I took three pills and I thought I was going to pass out. I became very dizzy, anxious and sick. I was beginning to worry that I was going to go to the hospital."
Another customer commented, "It caused severe GI cramping, increased urination, and a terrible headache that I could not get rid of for the life of me."
According to our research, if there is a specific aspect of a fat-burner supplement or diet program that is especially problematic (fad weight loss ingredients, too many customer complaints, side effects) the likelihood of real weight loss success for the long run is very small. This means if Batch 5 capsules do in fact lead to adverse effects in a lot of people, this could be a deal breaker.
The Science
We at DietSpotlight need to see documented clinical research that supports the diet product and its ingredients for weight reduction. However, we were unable to pinpoint any published clinical studies regarding Batch 5 capsules. While we did find serious weight loss claims, this is not enough for us to recommend this diet formula.
The Bottom Line
It's nice to see that Batch 5 can help improve stamina levels. However, some of the ingredients used in this diet aid are concerning. After all, Citrus Aurantium contains Synephrine, which mimics Ephedra (a banned ingredient). You should also note that there are numerous customer complaints concerning side effects.
For dieters who need to shed more pounds of fat, we suggest you select a weight loss supplement that is supported by positive user reviews, contains clinically-proven ingredients and does not cause adverse reactions.
Among the top-rated products we've spotted in 2015 is Leptigen. Its formula includes four key ingredients, which have been proven in published clinical studies to kick-start metabolism and increase fat loss. Moreover, we can't find any complaints of harmful adverse effects and dieter comments posted online express people are seeing excellent results.
Also, the makers of Leptigen are so confident in their product they're offering a Special Trial Offer, which is a good sign.
GD Star Rating
loading...