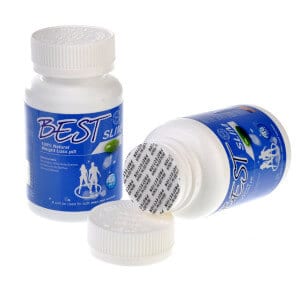 I was interested by the mention of Best Slim the other day, and I decided to look into the supplement to see if it really works. I dug around looking for side effects. I looked at the ingredients and searched for clinical studies. I even tried to find customer service information. Then I tried to find a collection of user reviews online. Here is the condensed version of my findings.
EDITOR'S TIP:
Substitute Best Slim with a proven fat burner such as
Leptigen
for better results.
What You Need To Know
Best Slim is a dietary supplement made with a blend of Cassia Seed Extract, Coicis Extract, Mulberry Leaf Extract, Lotus Leaf Extract, Mustard Extract, and Medical Amylum. Instructions are for the user to ingest 2 pills per day with meals. When taken consistently, Best Slim supposedly supports weight loss. One plus to this particular supplement is that it is easy to take when compared to shakes, mixes, and pills that require 3 or more servings per day.
Best Slim is sold through Best Group USA, and the supplement is supposedly "Made in the USA"–an ironic claim, seeing as the description below the product name is written in Vietnamese. The "About Us" page on the website is currently blank. In spite of our concerns, the pills seem easy to take and they aren't as expensive as some other supplements we've come across. Don't stop reading, though…
"No Ingredients Listed on the Website?"–Our First Concern
We found our ingredients list from an earlier published source on the product, but when we went to verify the list on the Best Group's website, no ingredients were listed. "Under no circumstance should someone buy a supplement that doesn't list its ingredients openly," says our research editor. "Herbal supplements can be both helpful and harmful, and consumers need to know what's inside." The website certainly doesn't have much to offer in the way of reassurance about their products.
The supplement costs about $35.00 for 60 capsules, which would be a month's supply. If the ingredients list we found from another source is correct, that would be $35.00 worth of laxatives–as none of the listed ingredients directly support weight loss. Laxatives, of course, can be found for a much cheaper price. The real concern here, however, is that the website doesn't even list ingredients.
Scroll below for one of the best products we've seen over the last year.
Bad Legal Standing–Another Concern
Upon searching the product online, we discovered an FDA safety alert for Best Slim. Apparently, the makers of Best Slim failed to list Sibutramine on the label, even though they included it in the ingredients of a previous release of the supplement. Sibutramine has become a banned ingredient because of the cardiovascular risk it presents; Best Slim was not only dealing dishonestly with customers, but it was also endangering them.
Best Slim with an expiration date through 2016 has been recalled, and Bestslim.net is no longer available. Although Advanced Best Slim is still available on the Best Group's website, extreme caution is advised.
If even one element of a weight loss supplement is a little bit off, the chances of long-term success are pretty slim, and Best Slim has many. Whether it is an unwanted side effect, a sketchy ingredient list, or a lack of measurable results, customers are not likely to succeed if they can't trust a supplement 100%.
What Does Science Have to Say About Best Slim?
Not surprisingly, there isn't any science to back up Best Slim's claims. In fact, it has the opposite effect–several of the ingredients have been proven to have a laxative effect rather than being involved in fat burning or metabolism. Furthermore, Sibutramine has been linked to severe heart and blood pressure irregularities. The most important issue at present, however, is that the ingredients are not listed on Best Group's website. We at Diet Spotlight place a lot of value on scientific research, and supplements that ignore this aspect of consumer health altogether don't rate very highly for us.
What Is the Bottom Line?
Is Best Slim worth a shot? In our opinion, the final verdict is fairly obvious: It's difficult to trust a company that sneaks a banned substance–sibutramine, no less–into a supplement for mass sale across the country. Many people could have been endangered by this ingredient. Furthermore, the Best Group is not forthcoming about the current ingredient list on Advanced Best Slim, and none of the previous ingredients actually helps consumers lose weight. Lastly, the cost of $35.00 is not warranted for a laxative-based product.
If you need to burn fat or shed unwanted weight, we suggest looking for a product that is shown to aid weight loss and boost metabolism, rather than spending money on ingredients that won't help you reach your goals.
One of the best supplements we've found in 2015 is one called Leptigen. It offers a proprietary blend of 4 ingredients that are clinically proven to both aid your metabolism and weight loss, and it doesn't come with risk of harmful side effects. User reviews around the web are great too.
The makers of Leptigen are offering a special trial value right now, so there's very little risk involved in giving it a try.