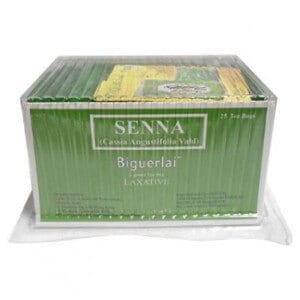 There's been a lot of talk about Biguerlai Tea for weight loss, so we did one of our in-depth reviews, scrutinizing the ingredients, side effects, customer care and clinical research. Plus we focused closely on dozens of customer comments and user reviews from all over the web. Lastly, we compressed all of the data and responses in order to give you the facts you need.
EDITOR'S TIP:
Combine Biguerlai Tea with a proven fat burner such as
Leptigen
for better results.
What You Need To Know
Biguerlai Tea is boasted as a "slimming tea" that helps flush out the colon, cleanse the body of harmful toxins and impurities, treat constipation and encourage weight loss. This tea is a product of the Philippines. You only need to drink this tea once each day. In order to make Biguerlai Tea, you simply add one tea bag to 200 milliliters of lukewarm water and let it steep for 20 minutes before consumption. As for the key ingredients used in this tea, this product contains 500 milligrams of Senna Leaves per serving.
From what we can tell, Biguerlai Tea has been around since 2010. This tea does use a natural ingredient, and it is suitable for people of all body types. Moreover, it's easy to purchase this diet tea online through stores like Amazon, but read on…
Side Effects – Be Cautious!
"Since Biguerlai Tea is considered a laxative, it can lead to side effects like diarrhea, dehydration and low potassium levels. This is actually posted clearly on the packaging. Furthermore, some users complain of stomach cramping and nausea as well," says our Research Editor.
"Biguerlai Tea sucks, it's getting worse in me. It's good only for 2 to 3 days. But after that you begin to notice its side effects. Your stomach cramps, you could no longer have bowel movements and you begin to have severe constipation," said one user.
Another customer commented, "This tea causes serious stomach cramping!"
Scroll below for one of the best products we've seen in 2015.
Unproven Weight Loss Claims
From what we could gather online, people who use Biguerlai Tea do not actually lose weight. This tea simply works more like a laxative. There is no clinical evidence that supports this tea for fat loss. One dieter stated, "Just makes me go to the bathroom a lot."
According to another customer, "This tea does not help you lose weight, just poop."
Our research has proven that if there is a certain facet of a weight loss tea or diet program that is very problematic (unproven weight loss claims, adverse effects, high
price) the chances of real weight loss success are minimal. Therefore if Biguerlai Tea does fail to produce real weight loss in numerous dieters, this could be a deal breaker.
The Science
Sadly there is no real science or clinical research provided to support Biguerlai Tea. While the key ingredient used in this tea has been proven to help with constipation, it has not been linked to fat reduction. At DietSpotlight, we need to see concrete clinical studies that support the diet product and its ingredients for weight loss.
The Bottom Line
Biguerlai Tea is basically just a laxative. We do not encourage anyone to use this tea for weight loss purposes. After all, it does not help with fat reduction. The weight you will lose is only intestinal bulk and water. Furthermore, this tea clearly causes side effects in some people, which include diarrhea, loss of electrolytes, cramping and dehydration. There are simply too many drawbacks to Biguerlai Tea.
Those who really need to lose more pounds and slim down quickly, we encourage you to choose a diet tea or weight loss product that uses clinically proven ingredients, does not cause side effects and is backed by plenty of positive customer reviews.
One of the best weight loss products we've spotted in 2015 is Leptigen. This diet supplement contains a proprietary blend of four unique ingredients that have been proven in documented clinical studies to help increase fat loss and kick-start metabolism. You should also be aware that we can't find any mention of harmful adverse effects and dieter reviews posted online show people are seeing solid results.
Also, the makers of Leptigen are so confident in their product they're offering a Special Trial Offer, which is a good sign.