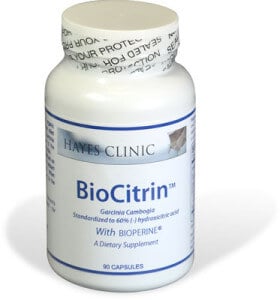 We're all searching for the right diet product. We've heard plenty of chatter about Bio-Citrin weight-loss pills, so we did one of our comprehensive reviews, taking a close look at the side effects, ingredients, scientific studies and customer service quality. We also read through dozens of dieter responses posted online. We then summed up everything we found to give you the bottom line.
What You Need To Know
First off, Bio-Citrin is an over-the-counter supplement that is to be used with a proper diet and exercise program. The ingredients are garcinia cambogia, chromium nicotinate and bioperine. This product claims to prevent the loss of lean muscle tissue, decrease sugar cravings, maintain healthy cholesterol levels, suppress hunger and boost energy levels. It can be taken three times a day for maximum results.
This weight-loss product has been around since 2011 and it can be purchased through online stores like Amazon for $32.99. Bio-Citrin is free of harsh stimulants and can be used by women and men alike, but read on…
Fad Diet Ingredients – "No Proof?"
Our first concern with Bio-Citrin ingredients is that some may be nothing more than a fad. According to our Research Editor, "Garcinia cambogia fruit extract is the primary ingredient and it has not been proven to aid with weight-loss. That's enough reason to leave it on the shelf."
One dieter stated, "I have been taking Bio-Citrin for over three (3) weeks, I have not noticed any real effects/results from this diet pill. Does not control my appetite or give me energy."
According to another user, "This medication does not work. It does not suppress my appetite. I have not lost any weight after 2 consecutive months of taking it."
Scroll below for one of the best products we've seen over the last year.
No Real Science – "Worth Considering"
We were able to find one mention of a "double-blind study" for Bio-Citrin capsules, but there are no details actually given regarding the number of people involved, ages or weight groups. When there is no research behind a product, there're often users that are unhappy with the lack of results. One customer complained, "This diet pill does absolutely nothing at all!"
Another user commented, "I feel nothing. No side effects and no weight-loss either."
Our research has proven that if one aspect of a dietary supplement or weight-loss pill is seriously burdensome (no real science, fad ingredients, a painful or difficult exercise) the odds of long-term success are quite slim. This means if Bio-Citrin is not backed by real science, this could be a serious issue.
The Science – "Effective?"
Although a study is mentioned with this diet pill, there is no real clinical research found online to support Bio-Citrin as an effective weight-loss formula. In fact, we were not even able to locate an official website. At DietSpotlight, we prefer to see documented science that supports the product and its ingredients or else we only see big red flags.
The Bottom Line – Does Bio-Citrin Work?
Let's get right to it, shall we? We appreciate that Bio-Citrin uses a natural key ingredient, but unfortunately it's a fad that is not backed by real science and that's the reason we have reservations about suggesting this one to dieters. Furthermore, there is no official website found for this supplement and it does not look like a money-back guarantee is provided either.
Dieters who need to shed pounds of fat at a faster rate, we encourage you to go with a diet product that uses clinically-proven ingredients, does not cost a fortune and is backed by positive customer testimonials.
Among the best products we've seen in 2016 is one called Leptigen. This diet supplement uses a unique blend of four key ingredients, which have been shown in documented scientific research to help increase fat loss and accelerate metabolism. Furthermore, we have not located any feedback regarding harmful side effects and user reviews found online reveal people are seeing solid results.
Moreover, the makers of Leptigen are so confident in the formula so they're offering a Special Trial Offer, which is a good sign.