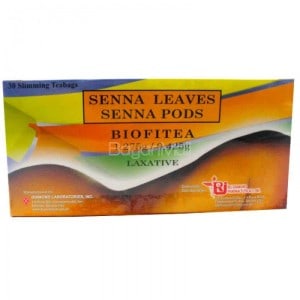 We've heard all sorts of chatter regarding BioFiTea for weight loss, so we did one of our comprehensive reviews, looking closely at the ingredients, side effects, customer service quality and scientific research. Moreover, we sorted through all kinds of customer comments and user reviews we found on the internet. At this point we summarized and compacted all the data and details to give you the crucial info you need.
EDITOR'S TIP:
Combine BioFiTea with a proven fat burner such as
Leptigen
for better results.
What You Need To Know
BioFiTea is marketed as an "herbal dietary tea" that helps reduce weight, flush out fats and toxins and promote a healthy digestive system. This tea uses the key ingredient Senna Leaves, which is a natural diuretic and laxative. Therefore you should expect more trips to the restroom while using this tea. BioFiTea can be consumed once or twice each day. You simply add one teabag to eight ounces of hot water, and allow it to steep for about 10 minutes before drinking. Both women and men can use this herbal tea.
This tea is made by Diamond Laboratories, Inc., and it was initially released in 2006. You can purchase BioFiTea through websites like Amazon for $18.87 (30 tea bags). This tea should help treat digestive problems such as constipation, but read on…
User Complaints – Be Aware!
According to our Research Editor, "There are plenty of customer complaints pertaining to BioFiTea for weight loss. It's evident that this product can lead to adverse effects such as headache, diarrhea, dizziness and dehydration."
One customer complained, "I was going to the bathroom like crazy but it was killing my insides. Please don't use laxatives for weight loss."
"I drink Biofit tea for the first time…it's terrible…I go to toilet and vomiting…headache and dizziness," said another user.
Scroll below for one of the best products we've seen in 2015.
Lack of Weight Loss Studies
We were unable to pinpoint any weight loss studies that support this herbal tea. According to one customer, "I'm using this product for many days but not having any effect."
Another user stated, "It's like a laxative, but didn't help me lose any weight."
Our research has revealed that if there is a certain part of a weight loss tea or diet product that is especially problematic or upsetting (lack of real weight loss studies, too many customer complaints, steep price tag) the chances of long-term fat loss success are
not good. This means if BioFiTea does not cause real weight loss results in numerous people, this could be a serious issue.
The Science
At DietSpotlight, we need to see published scientific studies that support the diet product and how it helps with weight reduction. In regards to BioFiTea, there is no actual clinical research or studies presented. Therefore it is unclear whether or not this herbal cleansing tea actually works as well as claimed. Unfortunately we just see a big red flag.
The Bottom Line
As you may know, there are plenty of laxative products on the market that claim to help with weight loss. But, you need to keep in mind that these products do not typically boost metabolism or encourage any fat loss. Instead, they cause frequent bowel movements and urination. This is not long-term weight loss. As for BioFiTea, this product may lead to low potassium levels, loss of electrolytes and even dehydration. This is why some people experience dizziness, headaches and diarrhea.
If you want to drop serious pounds and slim down more quickly, we encourage you to choose a weight loss tea or diet supplement that actually contains clinically proven ingredients, does not cause side effects and is backed by plenty of positive customer reviews.
Among the best-rated diet products we've seen in 2015 is one called Leptigen. It uses a proprietary blend of four unique ingredients, which have been proven in documented clinical research to help improve fat loss and elevate metabolism. Moreover, we cannot locate any talk of unpleasant side effects and dieter comments around the web express people are seeing real results.
Also, the makers of Leptigen are so confident in their product they're offering a Special Trial Offer, which is a good sign.