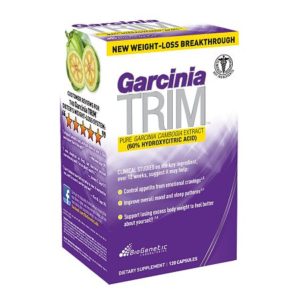 Why are people talking about BioGenetic Laboratories Garcinia TRIM? We spent a lot of time researching the ingredients, side effects, customer-service quality, and scientific studies to create this comprehensive review. We also analyzed various online user comments in order to get a better idea of real world experiences. Finally, we condensed the data we collected to give you the facts.
What is BioGenetic Laboratories Garcinia TRIM?
Firstly, BioGenetic Laboratories Garcinia TRIM is a weight-loss support product. There is only one active ingredient; garcinia cambogia. The company claims this alone will help dieters limit appetite associated with emotional cravings, improve mood and quality of sleep, and facilitate changes on the scale.
BioGenetic Laboratories Garcinia TRIM is made by BioGenetic Labratories located in Golden, Colorado. The company manufacturers several health and wellness products, but read on…
Fad Ingredients– "Commonly Found"
The first issue we found was with the only ingredient in BioGenetic Laboratories Garcinia TRIM. According to our Research Editor, "Garcinia cambogia has been increasing in popularity in the industry due to some preliminary research. Unfortunately, there is minimal proof that it is effective alone."
This aggravated dieter claimed, "This didn't do anything it promised."
An annoyed reviewer grumbled, "I felt absolutely no difference in my cravings or energy levels while taking this."
Some people felt this ingredient deserved its popularity.
A more optimistic consumer said, "This worked so well for me, I lost a ton of weight the first month."
While another claimed, "I love this stuff, it's my secret weapon when I put on a few extra pounds."
Scroll below for one of the best products we've seen over the last year.
Price– "Expensive"
The retail price of a one-month supply of BioGenetic Laboratories Garcinia TRIM is $50. This was too steep for some dieters.
One exasperated customer complained, "I can't afford this much money for only one thing that probably doesn't even work."
A frustrated commenter noted, "I have no idea why this company thinks they can charge this much for each bottle. There are a lot of cheaper options out there."
Others felt the return on investment was acceptable.
According to this purchaser, "I saw a doctor on TV talking about garcinia so I bought this when I saw it in the store, I didn't really notice the price."
Another stated, "I've heard a lot about this recently and it seemed worth the price to give it a try."
Based on our research, fad ingredients that are priced dramatically higher than those with multiple proven ingredients tend to be a red flag for many consumers. If BioGenetic Laboratories Garcinia TRIM falls into this category, that's not a good thing.
The Science – "Minimal Proof"
At DietSpotlight we have seen fad ingredients come and go. There was a lot of media attention around this particular one due to the popularity of an online personality extolling its virtues. However, the actual research is very limited in scope and depth.
The Bottom Line – Does BioGenetic Laboratories Garcinia TRIM Work?
Is it time to clear the shelves of BioGenetic Laboratories Garcinia TRIM? This is a very expensive garcinia cambogia supplement. For those determined to try the ingredient, there are more economical options, which is why we are skeptical about giving it the green light.
If you are ready to lose weight, we suggest choosing a product that has multiple active ingredients that are backed by thorough scientific research. The official website should clearly explain the benefits of each component and detail how they will work together.
Among the best products we've seen in 2016 is called Leptigen. It is made of a combination of four active ingredients, which have been documented in clinical research to help amplify fat loss, increase metabolism and reduce appetite. We didn't discover any negative user experiences online. What we did find was a growing number of testimonials indicating great results.
The makers of Leptigen are so sure of the efficacy of their product they're offering a Special Trial Offer. How reassuring!