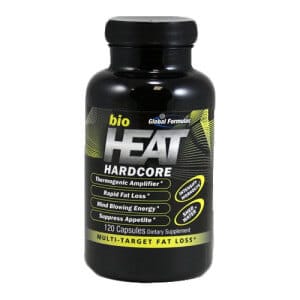 Give me two minutes and I'll tell you whether Bioheat actually works. We dug deep and came up with a detailed review, which closely examines the side effects, ingredients, clinical research and level of customer care. We also spent some time reading through hundreds of customer responses that are posted online. At this point we summed up all of the facts and details to give you the bottom line.
What is Bioheat?
First off, Bioheat ingredients are 1-3 dimethylamylamine, EGCG, norsynephrine HCL, caffeine anhydrous, hordenine HCL, yohimbe HCL, synthetic guggulsterones z&e, cayenne, vinpocetine, n-acetyl-l-tyrosine, nadh, dandelion root, uva ursi, acai berry, magnesium, vitamin B6, yerba mate and naringin. This supplement promotes weight-loss by igniting fat loss, suppressing appetite and boosting energy levels. In order to use this supplement, you need to take three capsules daily, along with water.
Bioheat was first released, but it's made by Global Formulas. The company has been around since 2003. You can shop for the thermogenic on trusted retail sites as well as on the official website. We like that it contains a few natural ingredients and that we found some positive customer comments, but read on…
Ingredient Concerns – "Is it Safe?"
The first issue we felt needed to be addressed was the safety of Bioheat ingredients. According to our Research Editor, "This supplement contains a blend of norsynephrine HCL, caffeine anhydrous and hordenine HCL, which may not be a safe combination for some. The truth is mixing these stimulants may cause side effects."
One user commented, "I'm not sure this supplement is actually safe. I'm going to wait and ask my doctor before taking it."
"Been taking Bioheat for about a week, and it makes me feel extremely nauseous," said another customer.
Scroll below for one of the best products we've seen over the last year.
Side Effects – "An Issue?"
There are some customer complaints of Bioheat side effects. One person mentioned, "Accelerated my heart rate and caused jitters, headache and nausea. Not good."
"Too many side effects. This stuff cannot be safe. I stopped taking it and threw it away," stated another individual.
The research we've done has shown if there is a certain part of a weight-loss supplement or diet product that is especially burdensome (ingredient concerns, side effects, high price) the likelihood of real success for the long run is slim. So, if Bioheat does in fact lead to adverse reactions in some people, this could certainly be a major problem.
The Science – "Is There Any?"
First off, the stimulants in Bioheat may help boost energy levels, enhance focus and aid the metabolism to some degree. However, the official website does not present any clinical research to support this pill. Furthermore, the combination of ingredients may increase the risk of side effects. We at DietSpotlight prefer to see some documented research that supports the diet product we're investigating.
The Bottom Line – Does Bioheat Work?
So, should you run out and buy Bioheat? First off, we like that this supplement is fine for women and men alike and it's easy to use anywhere. But we have some doubts about Bioheat because it's not actually backed by any solid science or clinical studies. Moreover, we're concerned about the side effects this product may cause, as well as the blend of ingredients it contains.
If you'd like to get rid of more pounds of fat, we suggest you select a product that does not contain any dangerous ingredients, is backed by real science and does not lead to any harsh adverse effects.
Among the best products we've seen in 2016 is one called Leptigen. This product uses a unique blend of four ingredients, which have been proven in published scientific research to help kick-start metabolism and encourage fat loss. Also, we have not found any talk of unpleasant side effects and user comments on the internet indicate people are seeing excellent results.
The makers of Leptigen are so positive about their product they're offering a Special Trial Offer, which is uncommon.