Updated: 09/29/2015 - Sponsored by Leptigen
Bios Life Review - Does This Diet Supplement Really Work?
Are steep price and bad taste deal breakers?
PUBLISHED: 09/17/2015 | BY: SUMMER BANKS, SENIOR REVIEWER
Editor
's Review:
2.7
/ 5.0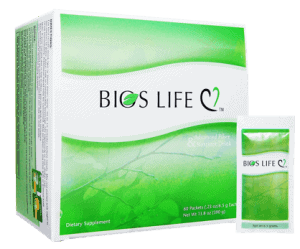 We've noticed plenty of discussion regarding Bios Life supplement packets, so we wrote an in-depth review, examining the ingredients, side effects, customer-service quality and clinical studies. Plus we read through dozens of customer reviews and dieter responses posted online. Finally, we summarized everything we found to give you the important facts you need.
EDITOR'S TIP:
Combine Bios Life with a proven fat burner such as
Leptigen
for better results.
What You Need To Know
Bios Life is a drink mix that's available in a canister or individual sleeves. This supplement contains the following; Biosphere Fiber, Phytosterols, Policosanol, Chrysanthenmum Morifolium, Chromium Polynicolinate, Beta Glucans, Niacinamide, Ascorbic Acid, Riboflavin, Biotin, Beta Carotene, B Vitamins, Folic Acid, Thiamin and Cyanocobalamin. Bios Life is added to a glass/bottle of water and consumed daily. This product is intended to lower bad cholesterol levels, balance blood sugar levels and increase good cholesterol. It's also claimed to help with weight management, cleanse the colon, decrease triglyceride levels, strengthen the immune system and promote healthy digestion.
According to the company website, Bios Life is a division of Unicity International. This product has been available since 2010, and can be obtained via the main website. Furthermore, there is a satisfaction guarantee provided on the website, as well as a preferred customer program, but read on…
Steep Price – Look Out
"The official Bios Life website does not reveal the actual cost of this supplement. However, we found this drink mix on Amazon for $125 (60 packets/servings). If consumed twice a day, this is only a one-month supply," says our research editor.
One customer stated, "Total waste of money – I bought $300 worth of product and lost 1.5 pounds. This did not work for me at all."
Another said, "I spent $100 and literally could only drink half of one cup. If you have any hang ups on the texture and thickness of what you are drinking do not waste your time. I don't know if the product works, because I couldn't stomach it unfortunately."
Scroll below for one of the best products we've seen in 2015.
Unpleasant Taste – Uh Oh
It's definitely clear that many people do not like the taste of this fiber supplement. One dieter stated, "This product is terrible. The taste, no matter what you mix it with is horrible. I almost got sick from the taste."
According to another user, "I couldn't swallow it, and it made me puke so I stopped trying to drink it."
Our research has proven if there is a particular facet of a weight loss program or diet product that is very burdensome (a painful/difficult exercise routine, high price, unpleasant taste) the chances of long-term weight loss is pretty low. In other words, if Bios Life does in fact taste unpleasant to a lot of customers, this could be problematic.
The Science
There is some science presented on the official website for Bios Life. Clinical studies are mentioned, but these studies essentially show that this fiber powder formula helps lower bad cholesterol levels. It is not proven to help with fat loss or weight management at all. We at DietSpotlight need to see documented science that proves the product is effective for weight loss.
The Bottom Line
Bios Life drink mix may indeed help with high cholesterol levels, which is great for improving heart health. On the other hand, we certainly don't recommend this supplement for weight loss. After all, it's not backed by any real research, and as many customers complained, Bios Life is pricey. Furthermore, this supplement is essentially a fiber powder, and many of these are available in local supermarkets for a fraction of the cost.
Those interested in dropping more pounds and reaching your weight-loss goals more quickly, we encourage you to go with a diet supplement that is both affordable and supported by real clinical science.
Among the top-rated diet products we've come across in 2015 is Leptigen. This weight loss pill contains four key ingredients that have been proven in published scientific research to boost metabolism and speed up fat loss. We can't locate any complaints regarding harmful side effects and dieter reviews posted on the internet indicate people are seeing promising results.
Also, the makers of Leptigen are so confident in their product they're offering a special trial offer, which is a good sign.