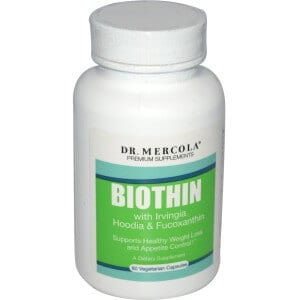 If you want the bottom line on Biothin, give me just two minutes of your time. We're always on the lookout for exciting products, so when we found this one we looked deep into the ingredients, side effects, customer service quality and clinical research. We navigated hundreds of consumer reviews. Then, with that information in hand, we condensed and summarized to give you the facts you need.
EDITOR'S TIP:
Substitute Biothin with a proven fat burner such as
Leptigen
for better results.
What You Need to Know
Firstly, Biothin is a diet supplement that has irvingia gabonensis, hoodia, fucoxanthin, ginger herb, apple cider vinegar and pomegranate. You take two capsules once in the morning to suppress appetite and promote weight-loss, according to the product description. There's no trouble taking this one on the go.
The product, created by Dr. Mercola sometime after 1997, contains only natural ingredients, always a good sign. The official website doesn't sell the supplement any longer and you'll have to search high and low for a company that does. We like that Mercola has been in business for more than 15 years, the strong BBB rating and supportive customer service department, but read on…
This One May Not Work – "An Issue?"
Our first issue pertains to Biothin ingredients. There's a chance, based on consumer reviews, that there's something missing from the formula. "We can look at a product label all day, but it's often the dieter who can tell you the real story," offers our Research Editor. "When it comes to Biothin, there's not much to tell."
"This product did not work at all. Followed the instructions, finished the bottle and no weight loss. I'm starting to wonder if Mercola isn't a snake oil salesman!," says a buyer.
"2 weeks later, I still weigh the same as I did before starting BIOTHIN," explains another.
Scroll below for one of the best products we've seen over the last year.
FDA Ruling
Dr. Mercola is no stranger to the Food and Drug Administration. In 2005, 2006 and again in 2011, the company was cited by the FDA for illegal claims. From product labels to equipment descriptions, the business alluded to medical treatment rather than supplemental support. The statements have since been removed from the website.
Availability – "Nowhere to be Found"
No matter how great a supplement is if you can't find it for sale, how are you supposed to take advantage of the formula? We searched multiple websites claiming to sell Biothin, but most listed the product as discontinued. There is an explanation as offered by Mercola.com.
"While other supplements can still be used to fill in your nutritional blanks when necessary, Dr. Mercola believes a supplement should not be used to optimize your weight," says the website of Biothin's discontinuation.
Our research shows is takes only one thing, like ineffectiveness, to shut down your chances of long-term success. If Biothin doesn't help dieters lose weight, they will turn to another product.
The Science – "Clinical Backing?"
At DietSpotlight, science is a critical part of the review process. We didn't find any clinical research referenced on the official Mercola website or other sites selling the supplement. There are no studies on the Biothin formula, as a whole, but there are for some of the ingredients. Irvingia gabonensis, for instance, is a fiber that can slow stomach emptying causing the user to feel fuller, longer. The same can be said for other forms of fiber sold at your local pharmacy. Hoodia, on the other hand, is scientifically proven to have no effect on weight-loss.
The Bottom Line – Does Biothin Work?
Well now, we've finished looking at this one, so what's the take? Our look into Biothin left us with a firm conclusion. We like the longevity of Mercola and there are a couple of ingredients worth giving a try, but we have concerns about recommending this one because dieters report no results when taking the supplement. There's also the trouble finding the product for sale, especially when the official website no longer offers it.
If now's your time to shed those pounds, we suggest going with a supplement clinically proven to help promote weight-loss that's available for an affordable price.
Among the best products we've seen in 2016 is one called Leptigen. The formula is comprised for four ingredients, all clinically proven to help increase metabolism and fat loss. There's no mention of a single negative side effect, but we had no trouble finding dieters reporting good results.
Also, the company responsible for Leptigen is confident in the formula so they're offering a Special Trial Offer, nice bonus.