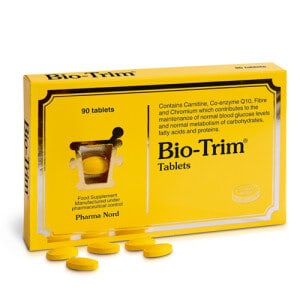 Biotrim, now known as Biophysique has generated a lot of buzz.  We decided to do an in-depth review of the ingredients, side effects, clinical research, and customer service. We also read hundreds of online comments. We then summarized what we found to give you with the info you need.
EDITOR'S TIP:
Substitute BioTrim with a proven fat burner such as
Leptigen
for better results.
What You Need to Know
First off, Biotrim is a translucent patch that is applied to the skin to help suppress appetite and increase energy. Each patch contains all natural ingredients, including cayenne, eyebright, hawthorn, juniper, kelp, lavender, and more. These serve multiple purposes, including antioxidants, laxatives, tissue repair, skin hydration, stimulants, and more. One benefit is that you can take them with you anywhere and apply as needed.
Biotrim has been around for about 5 years, so it is still a fairly new product. The company has changed the name of the product a few times, but as far as we can tell, the formula has remained the same. It is available through their official website and on some third-party sites. We like that it is easy to find and is convenient for any lifestyle, but read on…
Price – "Overcharged and Auto-Renewed"
The first thing that caught our attention was the price. Biotrim has gained a negative reputation on multiple consumer-reporting websites for auto renewals and overcharging customers. "The initial cost isn't excessive, but some reviews online complained of some issues later," said our Research Editor.
"The price online was $18.99, but I was charged $94.00 and it continued billing me every month and I don't know how to cancel it," said one user.
"Biotrim may help me lose weight, but the company seems sketchy with all these overcharging and auto-renewal complaints," said another.
Scroll below for one of the best products we've seen over the last year.
Side Effects – "A Concern"
For those that did try Biotrim, there were some reports of negative side effects. The stimulants may cause jitters and palpitations while the laxatives can cause stomach issues and nausea. Some users reported an allergic reaction to the patch. "I don't know if Biotrim helps people lose weight, but it did give me jitters and insomnia," said one user.
"I had constant stomach pain," said another.
"I had an allergic reaction to the patch and had to stop use immediately. The company wouldn't refund my money either," said one customer.
Our research shows that whenever a diet or exercise program has an especially troublesome aspect (painful routine, side effects, bad taste, high cost, etc.), the likelihood of losing weight and keeping it off is slim. If Biotrim really does have some adverse reactions, it could make it difficult to achieve permanent weight-loss goals.
The Science – "Validated?"
Biotrim claims to be supported by science, and the all-natural ingredients are encouraging at first glance, but there are no scientific studies available proving that their claims are true. We value unbiased research and published studies, so without that we're skeptical of any product.
The Bottom Line – Does Biotrim Work?
Are we ready to race out for this one? We like that Biotrim is easy to find, convenient to use, and all-natural, but we are hesitant about recommending it as a weight-loss product for our readers without some scientific evidence supporting its claims. We're also concerned about the high cost from the auto-renewal and overcharging that some customers have experienced, not to mention the reported side effects.
If you'd like a safe and effective way to lose weight, we suggest you go with a weight-loss product that delivers affordable results with clinically tested ingredients.
One of the best products we've reviewed so far in 2016 is a product called Leptigen. The proprietary blend of four ingredients has been reviewed and tested clinically. It may help in boosting metabolism and improving fat burning. Users seem to agree that Leptigen helps them meet their weight-loss goals.
The makers of Leptigen are even offering a Special Trial Offer, which shows how confident they are that you'll love their product.