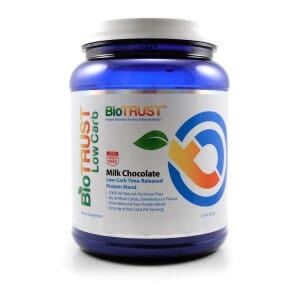 We've heard plenty of buzz about Biotrust Low Carb Protein shakes, so we took the time to write an extensive review, examining the ingredients, side effects, level of customer care and clinical studies. We also sorted through countless dieter experiences and user comments from all over the internet. At this point we summed up all the facts in order to give you the info you need.
What is Biotrust Low Carb Protein?
Firstly, Biotrust Low Carb Protein is a meal replacement shake containing 24g of protein per serving. The ingredients include milk protein concentrate, whey protein concentrate, whey protein isolate and ultrafiltered micellar casein. Supposedly it helps suppress appetite, boost energy levels and improves lean muscle mass.
This protein supplement was initially released around 2013. Biotrust Low Carb Protein is free of artificial flavors, sweeteners and colors and this product is hormone-free, but read on…
Steep Price – "Pay What?"
The first problem with Biotrust Low Carb Protein ingredients was price. "There are literally dozens of protein powders and bars available at this point. As for Biotrust Low Carb Protein, the cost is quite high at $58.95 per container, which is only 14 servings. There are much less expensive alternatives out there that provide similar support," says our Research Editor.
One customer said, "At only 14 servings per $50 jug – this product is pricey."
Positive comments are out there too. According to one dieter, the price is well worth it, "You get what you pay for. BioTrust has some of the purest, best for you ingredients on the market."
Scroll below for one of the best products we've seen over the last year.
Lack of Weight-Loss Science – "No Proof?"
Though science is not presented for Biotrust Low Carb Protein ingredients, there is a connection with decreased hunger. When appetite is suppressed, the dieter tends to eat less and that can help with weight-loss. We would like to see this evidence presented. With that in mind, there are some positive reviews.
One dieter said, "I usually take it in the morning and it really fills me up."
According to another user, "It mixes smoothly with any ingredient and helps keep you satiated/full as a meal supplement."
Another claims it is more effective when used as part of a lifestyle change, "It does help you to lose weight, but with ALL diets you have to exercise and eat right."
After doing some serious research, we have concluded that if a specific facet of a diet program or supplement is very problematic (high cost or lack of real science) the chances of weight-loss success for the long run is pretty low. This means if Biotrust Low Carb Protein powder is out of the question for some based on price, that means fewer people will give it a try.
The Science – "Is it Legit?"
In regards to actual clinical trial research, we could not find any published on the official website for Biotrust Low Carb Protein powder. That's unfortunate because we know there's a link between protein and appetite suppression. We need to see documented scientific studies that prove this supplement actually works for weight-loss. There's is some out there for this product, but the company doesn't share it.
The Bottom Line – Does Biotrust Low Carb Protein Work?
Let's take a final look at this one, shall we? We definitely appreciate that Biotrust Low Carb Protein is made without artificial ingredients and hormones. However, we would not feel completely comfortable encouraging you to choose this product. Spending $50 a week is simply not realistic for many dieters. Plus, there are some user complaints that it does not curb hunger very well and that could mean it is not effective for everyone.
If you really want to shed more pounds of fat and rock your best body, we encourage you to select a diet supplement that is supported by real science, contains safe ingredients and is available for an affordable price.
Among the best products we've seen in 2016 is one called Leptigen. This diet supplement contains a unique combination of four ingredients that are proven in documented clinical studies to help enhance metabolism and improve fat loss results. No one is talking about harmful side effects, but dieter are seeing significant results.
Also, the company at the heart of Leptigen is so confident in their formula that they're offering a Special Trial Offer, which is a good sign.