Updated: 09/22/2015 - Sponsored by Leptigen
BioTrust Low Carb Protein Powder Review - Does This Protein Powder Really Work?
Are steep price and lack of real science deal breakers?
PUBLISHED: 08/30/2015 | BY: SUMMER BANKS, SENIOR REVIEWER
Editor
's Review:
3.5
/ 5.0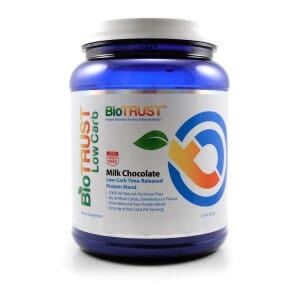 We've heard plenty of buzz about Biotrust Low Carb Protein shakes, so we took the time to write an extensive review, examining the ingredients, side effects, level of customer care and clinical studies. We also sorted through countless dieter reviews and user comments from all over the internet. At this point we summed up all the facts in order to provide you with the crucial information you need.
EDITOR'S TIP:
Combine BioTrust Low Carb Protein Powder with a proven fat burner such as
Leptigen
for better results.
What You Need To Know
Biotrust Low Carb Protein is a powder supplement that sells for $49 per bottle (plus $9.95 for shipping). This supplement is touted as the most premium protein product available. It provides 24 grams of protein per serving (two scoops), as well as four grams of dietary fiber, one gram of sugar and eight grams of carbohydrates. To use this protein powder, you just add eight ounces of milk or water. It can be consumed in place of meals or as a pre or post-workout supplement. The ingredients found in Biotrust Low Carb Protein include; a Natural Smooth and Sweet Blend, Milk Protein Concentrate, Whey Protein Concentrate, Whey Protein Isolate and Ultrafiltered Micellar Casein. The purpose of this supplement is to help with appetite suppression, increased energy levels and improving lean muscle mass.
This protein supplement was initially released around 2013. Also, Biotrust Low Carb Protein is free of artificial flavors, sweeteners and colors. Moreover, this product is hormone-free, but read on…
Steep Price!
"There are literally dozens of protein powders and bars available at this point. As for Biotrust Low Carb Protein, the cost is quite high at $58.95 per container, which is only 14 servings. There are much less expensive alternatives out there that provide just as much protein per serving," says our research editor.
One customer said, "At only 14 servings per $50 jug – this product is pricey."
Another complained, "I just can't afford this stuff. Have to go with an alternative."
Scroll below for one of the best products we've seen in 2015.
Lack of Weight Loss Science
After reading through the official website for Biotrust Low Carb Protein, it's evident that no real scientific research is presented to support this product as an effective fat-loss formula. One customer said, "Does not make you lose more weight. Just makes me hungry!"
According to another user, "Biotrust protein doesn't curb my hunger very well. I still want to snack."
After doing some serious research, we have concluded that if a specific facet of a diet program or supplement is very problematic (high cost, serious side effects, lack of real science) the chances of weight loss success for the long run is pretty low. This means if Biotrust Low Carb Protein powder is really not backed by clinical studies and does not help a lot of people with weight loss, this could be a serious problem.
The Science
In regards to actual clinical trial research, we could not find any published on the official website for Biotrust Low Carb Protein powder. Put simply, we need to see documented scientific studies that prove this supplement actually works for weight loss. While this protein powder may help with building lean muscle tissue, there is no evidence that it aids with fat reduction.
The Bottom Line
We definitely appreciate that Biotrust Low Carb Protein is made without artificial ingredients and hormones. However, we would not encourage you to choose this product for long-term weight reduction purposes. First of all, spending $50 a week on this product is simply not realistic for many dieters. Furthermore, you should note that this protein powder does contain 25 milligrams of cholesterol per serving, which some people will not want. Also, there are some user complaints that this protein powder does not curb hunger very well.
If you really want to shed more pounds of fat and rock your best body, we encourage you to select a diet supplement that is supported by real science, contains safe ingredients and is available for an affordable price.
One of the most impressive weight loss products we've spotted in 2015 is Leptigen. This diet supplement contains a unique combination of four ingredients that are proven in documented clinical studies to enhance metabolism and improve fat loss results. Also, we were unable to pinpoint any discussion of harmful adverse effects and dieter reviews posted on the web reveal people are seeing significant results.
Also, the makers of Leptigen are so confident in their product they're offering a special trial offer, which is a good sign.