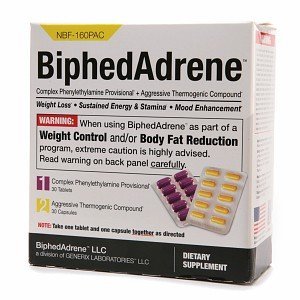 Biphedadrene isn't your grandmother's diet product. We delved into the ingredients, side effects, scientific research and customer service. Furthermore, we scrutinized hundreds of consumer comments and reviews. We then refined and condensed to give you the info you need.
EDITOR'S TIP:
Combine Biphedadrene with a proven fat burner such as
Leptigen
for better results.
What You Need to Know
First off, Biphedadrene is a fat burner containing yerba mate extract, caffeine, arbutin extract, phenylethylamine, damiana leaf extract, methylantine, cayenne powder, cutch tree extract, 5HTP, l dopa and theobromine. The recommend dose is one capsule per day, which supposedly aids in weight-loss. One of the benefits of the supplement is that it's easy to use.
There is no available information as to when Generix Laboratories introduced Biphedadrene. We noticed that the supplement is available on the official website, a good choice. You can also buy the product on trusted retail websites. We do like that there are some positive customer comments and the company has a favorable BBB rating, but read on…
Ineffectiveness – "No Weight-Loss?"
The first negative pertains to Biphedadrene ingredients being ineffective. "When a company promises rapid weight-loss the dieter expects to see results," says our Research Editor. "In the case of this supplement, the effects are just not what the buyer wants them to be."
"I used this along with my diet and exercise program. I saw NO difference the 1 month I took BiphedAdrene. I lost more weight without this product!," said a customer.
"I took this pill as directed and I GAINED weight. I found myself to be hungrier than ever! I cut out carbs and left food on my plate even though I was still hungry and I still gained 15 pounds!! I was working out and tried so hard thinking that it will work. Never did," commented a dieter.
Scroll below for one of the best products we've seen over the last year.
Side Effects – "Watch Out!"
According to numerous comments, Biphedadrene side effects are quite troublesome. "I have been using this product for 4 days now, and I have been experiencing bad headaches, muscle spasms in my stomach, jittery, nausea and sleeplessness," reported a customer.
"This product was going to kill me. I had heart palpitations, chest pains, dizziness, high blood pressure…not good. I threw the box in the garbage I want to lose weight, but not die," said a user.
"I feel like I'm about to die!!!! My heart starts palpitating, I start getting shortness of breath! And worst of all while I'm sleeping I stop breathing at times waking up with rapid heart beating," said a consumer.
Based upon our research, if a supplement causes a single problem, like side effects, this could impede long-term success. If Biphedadrene causes reactions, there are concerns.
The Science – "Is it Legit?"
According to the official website, Biphedadrene will boost energy, improve mood and control appetite, but there's no published clinical research linking the formula to weight-loss. At DietSpotlight, we deal in science to prove claims. If there are no studies, we walk away.
The Bottom Line – Does Biphedadrene Work?
Well now, what can we say about this supplement? After taking an exhaustive look at Biphedadrene, we reached a decision. There are some positives, like the favorable BBB rating and the money-back guarantee, but we have doubts about recommending it because of the lack of scientific research supporting weight-loss claims. Plus, there is limited information about the company and some customer reviews are less than stellar.
If you'd like to lose the fat, we recommend going with a product delivering good results and a great price. It's also important to choose a supplement with no reported side effects.
Among the best products we've seen in 2015 is one called Leptigen. The four-ingredient proprietary blend, has been shown in studies to help ignite metabolism and promote fat loss. There's no talk about negative side effects and reviews on the web show that people are seeing exceptional results.
Also, the company behind Leptigen is so confident in the supplement, they're offering a Special Trial Offer, which is a good choice.