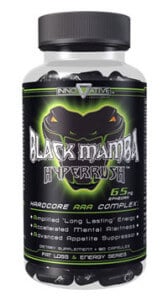 There's been plenty of gossip concerning Black Mamba Hyper capsules, so we conducted some intensive online research and created a detailed review, closely examining the side effects, ingredients, customer care and scientific research. Plus we looked at dozens of dieter responses and user comments from all over the web. Lastly, we summarized all of the facts and feedback we found to give you the bottom line.
EDITOR'S TIP:
Substitute Black Mamba Hyper with a proven fat burner such as
Leptigen
for better results.
What You Need To Know
Black Mamba Hyper is a weight loss pill made by Innovative Laboratories. This supplement is claimed to burn off fat, amplify energy, improve mental alertness and control appetite. You only need to take one capsule each morning with eight ounces of water. This supplement is described as vicious, hardcore, potent and intense. Black Mamba Hyper contains the following ingredients; Caffeine Anhydrous, Ephedra Extract, Sida Cordifolia, Tannis, Vasicinone, Vasicine, Vasicinol, Phytosterols, Mucins, B-Aminoethylamin HCL, 4-Hydroxy-Phenylethylamine, DL-Phenylalanine, O-Methoxy-Phenylethylamine, 4,2-Dimethylaminoethyl, Carraluma Extract, Evodiae Fructus, Lycopodium Serratum, Yohimbine HCL, Thiamine Propy Disulfide and Para-Synephrine HCL.
From what we can tell, Black Mamba Hyper has been available since 2010. It can be purchased online for $39.95 (90 capsules) and both women and men can use this product. Furthermore, there are some customer reviews posted on distributor websites such as a1supplements.com, but read on…
FDA Warning – Uh Oh
According to our Research Editor, "There is an FDA warning posted online regarding a hidden drug used in Black Mamba Hyper, which is called Sibutramine. This controlled substance has been off the market since 2010 due to safety concerns. Dieters should not take this warning lightly."
One user stated, "I've used half the bottle and still haven't noticed any change at all!! Just jitters."
Another customer said, "I bought this product thinking that it would give me extra energy and help me lose some weight, but I was very disappointed. The only thing it did was give me a bad headache all day long."
Scroll below for one of the best products we've seen in 2015.
Dangerous Ingredients – Watch Out!
We couldn't help but notice that Black Mamba Hyper capsules contain dangerous substances such as Ephedra and Synephrine HCL. These ingredients can lead to
jitteriness and heart problems. One user commented, "It made me very nauseated. I felt I could throw up at any time."
"It makes me jittery and I have this gritty feeling I can't describe in my throat that makes me want to drink water constantly," said another customer.
The research we've done has shown if there is one facet of a diet program or fat-burner pill that is very burdensome (a painful/difficult exercise routine, FDA warning, dangerous ingredients) the real likelihood of prolonged fat loss is slim. This means if Black Mamba Hyper Rush uses dangerous ingredients that lead to side effects and health problems in a lot of dieters, this could be a serious deal breaker.
The Science
At DietSpotlight, we prefer to see published clinical science and studies that support the diet product and the ingredients it uses for weight loss. Sadly, we could not locate any clinical trial results that pertain to Black Mamba Hyper capsules. While the ingredient label is presented online, there is no reference to weight loss studies at all. Considering the dangerous ingredients used in this diet pill, we can't help but see a red flag.
The Bottom Line
Many dieters are searching for a potent weight loss product that delivers fast results. However, you need to be careful about what you buy. For instance, Black Mamba Hyper capsules are packed with Ephedra and Synephrine, which can lead to serious adverse effects like heart palpitations, high blood pressure, stroke and even heart attack. Not to mention, there is a clear FDA warning posted online for this weight loss pill. Needless to say, we cannot recommend Black Mamba Hyper for safe weight reduction.
Dieters who wish to drop serious pounds of fat and slim down, we advise you to go with a diet supplement that does not cause serious side effects, contains clinically proven ingredients for fat loss and is backed by plenty of positive customer reviews.
One of the finest diet products we've encountered in 2015 is Leptigen. This weight loss supplement contains a blend of four key ingredients, which have been proven in published scientific studies to help ignite metabolism and encourage fat loss. We can't pinpoint any discussion of harmful adverse effects and user reviews posted online express people are seeing substantial results.
Also, the makers of Leptigen are so confident in their product they're offering a Special Trial Offer, which is a good sign.