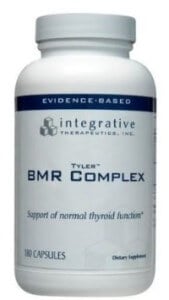 If you haven't looked carefully at BMR Complex, now's your chance. We dug deep and created an intensive review, examining the ingredients, side effects, customer service and clinical studies. Moreover, we focused on countless dieter responses and user comments from around the web. At this point we summed up all the data we collected in order to give you the info you need.
What You Need To Know
To start, BMR Complex is advertised as a "support formula" for women and men. It is made by Integrative Therapeutics and can be purchased online for $20.40. The ingredients are iodine, zinc, copper and L-tyrosine. This supplement is made without gluten, soy, dairy, wheat and sugar. Put simply, BMR Complex is supposed to promote healthy thyroid gland function, which in turn should help with weight management and boost energy levels. For maximum results, you need to take two capsules, three times a day.
From what we can tell, BMR Complex was released in 2014. This supplement is available via numerous online stores and can be acquired through the company website as well. There are a few customer testimonials posted on the web for this product, but read on…
No Real Results – "Seriously?"
The first worry we have about BMR Complex ingredients is that they are not associated with any real results. According to our Research Editor, "There is really no reason to even think this one is going to budge the scale. The formula is simply not effective for weight-loss."
One customer revealed, "So far no weight-loss despite 30-60 minutes of moderate exercise daily."
"Have not experienced any real weight-loss with this supplement. Not sure if it really works," said a user.
Scroll below for one of the best products we've seen over the last year.
Customer Reviews – "Quite Discouraging!"
We couldn't help but notice the negative user reviews for BMR Complex, which are posted on some dealer websites. In fact, one customer stated, "I get nauseous every morning that I take BMR complex. I take it between meals."
Another complained, "Don't feel good after I take this pill."
Our research has shown if there is one specific facet of a weight-loss supplement or diet program that is very troublesome (poor reviews, no clinical results, pills that make you jittery) the probability of long-term success is low. So, if BMR Complex does in fact cause a lot of customers to complain and post negative feedback, this could be a serious dilemma.
The Science – "Any Proof?"
At DietSpotlight, we always need to see published clinical research in order to stand behind a diet product. However, after reviewing the official website, it's clear that no real science is provided to support the claims made about BMR Complex. This gives us pause when deciding whether or not to give this one the green light.
The Bottom Line – Does BMR Complex Work?
Well ladies and gentlemen, is this one of those products you need to buy right now? First off, it's nice to see that ingredients such as soy, wheat, dairy and gluten are not used in BMR Complex. On the other hand, we are not convinced that this supplement is the best choice for thyroid support and weight management. After all, there are some negative user reviews posted online and we did not find actual clinical studies presented on the company website. It's prudent to speak with your doctor if you are having thyroid problems.
For dieters who need to lose more weight and trim down now, we encourage you to choose a dietary supplement that uses scientifically proven key ingredients and does not cause unwanted side effects.
Among the best products we've seen in 2016 is one called Leptigen. This weight-loss supplement uses four effective ingredients, which have been proven in documented clinical research to help kick-start metabolism and improve fat loss. You should also be aware that we cannot find any user complaints concerning harmful side effects and dieter reviews posted online show people are seeing substantial results.
Also, the makers of Leptigen are so confident in their product they're offering a special trial offer, which is a good sign.