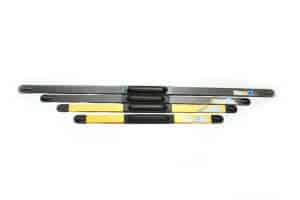 In the weeks that led up to this review, I figured out whether or not Bodyblade actually works. We dug deep and took an in-depth look, focusing closely on the ingredients, side effects, customer service quality and scientific research. We additionally read all sorts of user comments that are posted all over the web. At this point, we summarized and compressed all of the facts and specifics in order to give you the info you need.
EDITOR'S TIP:
Click here
to combine Bodyblade with a proven testosterone booster such as Pronabolin for better results.
What You Need To Know
To begin, Bodyblade is a fitness tool that is suitable for men and women of all ages. This device is based on inertia training, which helps create vibrations that treat the muscles and joints. It may also help improve definition, rehabilitates the body after injuries and physical fitness. It may also be used for improving posture, enhancing coordination and increasing flexibility. You simply hold it in the center and proceed with mild movements.
Bodyblade is made by Mad Dogg Athletics and has been around since 1991. It's easy to acquire this fitness device online for $99 and there are other Bodyblade products available as well. Some helpful videos are presented on the official website, along with customer testimonials, but read on…
High Price – "Yikes?"
The first thing dieters may notice about Bodyblade is the price. "We noticed that there are plenty of customer complaints regarding the actual cost. While the base model sells for $99, the Pro goes for $159, in addition to shipping and handling fees. This is pretty high when you consider what this product consists of," says our Research Editor.
One customer commented, "I would love to buy the 5ft Bodyblade but I just can't afford the $160."
Another person stated, "Too overpriced for what you actually get!"
Scroll below for one of the best products we've seen over the last year.
Insufficient Evidence – "Another Concern"
There does not appear to be much evidence that supports Bodyblade for substantial muscle building. In fact, one customer said, "In summation, I find it to be only mildly effective. A marginally good tool for your arsenal, but way, way, way OVER PRICED !!!!!!"
"Not really good for exercise…just not enough to make a difference," said another user.
Our research has shown if there is a specific aspect of a fitness tool or diet supplement that is very annoying or concerning (a painful/difficult exercise routine, insufficient evidence, high cost) the chances of real success for the long term are slim. So, if Bodyblade fails to produce the results that many customers are after, this could be a deal breaker.
The Science – "Validated?"
From what we could gather, there are some studies that support inertia training and the benefits of Bodyblade exercises. This is true for rehabilitation and exercising the joints. However, we did not find any that say it's good for building muscle mass and increasing strength. At DietSpotlight that's the information we need to give the green light.
The Bottom Line – Does Bodyblade Work?
Wait a second before placing your order. First off, it's good to see a fitness tool such as the Bodyblade that benefits people with injuries and those who cannot engage in more serious exercises. While this product may help with joint health and work out the body a little, it is unlikely to encourage any serious results, which is why we have strong reservations about recommending it. We're also concerned about the cost and it may be too high for many potential buyers.
If you're ready to boost vitality, improve muscle strength and elevate stamina levels, we suggest you go with a fitness tool or diet supplement that is backed by solid clinical studies, sells at an affordable price and is supported by positive customer feedback.
Among the best products we've seen in 2016 is one called Pronabolin. This supplement uses a proprietary blend of nine key ingredients, which are clinically proven to help increase vitality, enhance muscle strength and naturally boost testosterone levels. There's no talk of nasty side effects and user comments found on the internet express people are seeing solid results.
The makers of Pronabolin are so confident in their product they're offering every customer a 120-day money-back guarantee and multiple bottle discounts.