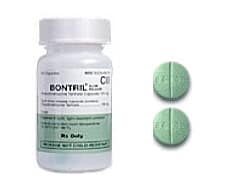 We've heard a lot of buzz about Bontril, so we dug deep and created a comprehensive review, closely examining the side effects, ingredients, clinical studies and level of customer care. We also focused on hundreds of user responses that are posted online. Finally, we compressed and summarized to give you the bottom line.
What You Need To Know
First off, Bontril is a prescription weight-loss drug that is intended to treat obesity in women and men. This pill is typically taken once each morning, 30-60 minutes prior to breakfast. A low-calorie diet plan is encouraged with Bontril. The generic name is phendimetrazine and it is a sympathomimetic amine. This is similar to an amphetamine and it works by stimulating the central nervous system, which elevates blood pressure and heart rate. This in turn reduces your appetite.
This diet drug has been around since 2007. The dosage is regulated by your doctor. A healthy lifestyle is encouraged and exercise is often recommended as well, but read on…
Side Effects – "Look Out?"
The first thing dieters may want to consider is the risk of Bontril side effects. According to our Research Editor, "Bontril has a long list of adverse reactions that can occur. These include impotence, dry mouth, constipation, low sex drive, diarrhea, flushing, upset stomach, insomnia, tremors, headache, restlessness and dizziness."
One user stated, "Experienced severe constipation, headaches, insomnia, fatigue, and frequent urination."
"Had a terrible migraine all night long, like the Bontril wouldn't wear off. I almost went to urgent care for my head since Imitrex was not working," said another dieter.
Scroll below for one of the best products we've seen over the last year.
User Complaints – "Not Good"
We noticed a number of customer complaints regarding Bontril tablets. Many are associated with problems with Bontril ingredients. One dieter commented, "I am taking it every morning, and so far no weight-loss at all."
According to another user, "Serious restlessness and insomnia, can't get to sleep."
Our research has shown if there is one specific aspect of a diet pill or weight-loss program that is very burdensome (a lot of side effects, too many user complaints, a difficult exercise) the probability of real fat-loss results is low. Therefore, if Bontril use does result in negative customer feedback, this could be problematic.
The Science – "Effective?"
Bontril is backed by some clinical studies. This drug is regulated by the FDA and it has been tested to treat obesity. This is good, because we at DietSpotlight like to see actual documentation of scientific research that supports the product. If there is none at all, we often see a big red flag.
The Bottom Line – Does Bontril Work?
Well now, has the time come to rush out for this one? It's good to see that Bontril is regulated by doctors and pharmacists. This way you do not have to worry about the correct dosage. Then again, we are certainly leery of all the side effects that can occur while taking this drug. You should also be aware that Bontril is only intended to be used for a short period of time, so it's not a long-term solution for weight management.
If you'd like to see more significant fat loss results, we advise you to go with a diet pill or weight-loss supplement that does not lead to side effects, is backed by solid clinical research and doesn't require a prescription.
Among the best products we've seen in 2016 is one called Leptigen. This weight-loss formula offers a combination of four key ingredients, which are shown in documented scientific research to help improve fat loss and ignite metabolism. We can't locate any complaints of side effects and user comments posted on the web express people are seeing great results.
Also, the makers of Leptigen are so confident in their product they're offering a Special Trial Offer, which is a good sign.