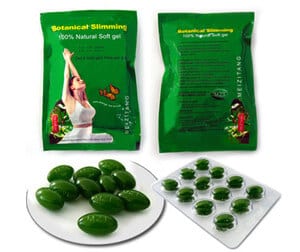 We've heard plenty of chatter concerning Botanical Slimming softgels, so we spent some time researching and creating a detailed review, closely examining the side effects, ingredients, clinical studies and customer care. Furthermore, we read through hundreds of dieter reviews and customer responses we found online. At this point we condensed all of the facts and feedback we discovered to give you the info you need.
EDITOR'S TIP:
Combine Botanical Slimming with a proven fat burner such as
Leptigen
for better results.
What You Need To Know
Botanical Slimming is an over-the-counter weight loss product that is claimed to do the following; speed up the consumption of fat, catabolize excessive fat tissue, accelerate the breakdown of fat, prevent the body from absorbing fats and encourage fast weight loss. This product is also known as Meizitang Botanical Slimming sofgels. You only need to take one softgel capsule before breakfast each day. The ingredients used in this supplement are; Jobstears, Artemisia Dracunculus, Bamboo Shoot and Lotus Leaf. Both women and men can use Botanical Slimming, and according to the official website, weight loss results vary from person to person.
This diet product has been available since 2008 and it can be acquired directly from the company website for $24.99. There are some customer testimonials posted on the official website and the key ingredients used in this supplement are explained, but read on…
FDA Warning!
According to our Research Editor, "After doing some searching, we found an FDA warning posted online for Botanical Slimming capsules. This warning was posted on October of 2011, and it essentially states that this diet pill contains an "undeclared" drug ingredient called Sibutramine. This drug was removed from the market back in 2010 due to safety reasons. Basically Sibutramine can cause increased blood pressure and heart problems."
One customer commented, "I also had issues after taking it a few weeks, with my blood pressure and getting dizzy."
"I took them for about a month, after stopping taking them my heart started to pound on my chest. Instead of losing weight, I gained 2 kg, I am not happy at all," said another user.
Scroll below for one of the best products we've seen in 2015.
Serious Side Effects – Watch Out
There are plenty of customer complaints about side effects from Botanical Slimming capsules. One dieter stated, "My stepmom almost died with these pills. They SHOULDN'T Be ALLOWED IN THIS COUNTRY!!"
Another user revealed, "Can cause really bad headaches, sleeplessness, rapid heart rate, just simply not good for the body and everyone responds differently, not worth taking!!!
According to our extensive research, we have concluded that if there is one particular aspect of a weight loss pill or diet supplement that is especially upsetting or concerning (a painful/difficult exercise routine, FDA warning, serious adverse effects) the odds of long-term fat loss success are not good. This means if Botanical Slimming softgels do in fact cause serious side effects in a lot of people, this could be a major issue.
The Science
We at DietSpotlight prefer to see published clinical research that supports the weight loss product or diet program and how it really works. Unfortunately we could not pinpoint any scientific studies that back up Botanical Slimming softgels. While the official website does elaborate on the ingredients used in this weight loss product, there is no documentation of clinical trial research. Furthermore, there is some serious concern about the safety of certain ingredients used in this diet aid.
The Bottom Line
Even though Botanical Slimming softgel capsules contain some natural ingredients, we definitely do not recommend this weight loss pill. First and foremost, the FDA warning should not be overlooked. This is a major red flag. We also noticed that you cannot get a refund once you've opened the bottle, and the return policy for unopened products is only good for seven days. Considering the harsh side effects and lack of real research, we encourage people to try a safe alternative weight loss product.
If you'd like to get rid of more pounds and get in shape now, we recommend you go with a diet supplement that uses safe ingredients, does not cause side effects and is backed by solid clinical research.
Among the top diet products we've found in 2015 is one called Leptigen. This weight loss supplement uses four key ingredients, which have been proven in documented clinical research to elevate metabolism and improve fat loss. We can't find any complaints of harmful adverse effects and customer comments posted online reveal people are seeing excellent results.
Also, the makers of Leptigen are so confident in their product they're offering a Special Trial Offer, which is a good sign.