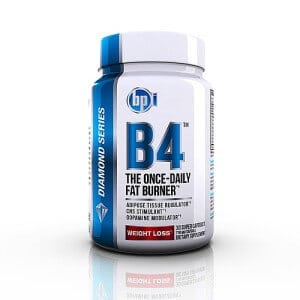 We've all struggled to find the right diet product, so we took the time to create an in-depth review, examining the ingredients, side effects, customer service and clinical studies of BPI B4. We focused on numerous dieter comments and experiences from all over the web. Finally, we condensed all of the information we discovered in order to give you the bottom line.
What You Need To Know
First off, BPI B4 is one of several workout supplements available from BPI Sports. This product contains caffeine anhydrous, dendrobium noble, canavalia glandiata seed, psoralea corylifoia, sophora japonica leaf, red wine concentrate and pausinystalia yohimbe bark. It's available on the official website for $29.95 (30 capsules). It is taken once a day and is supposed to burn off fat. It's described as a CNS stimulant, dopamine modulator and adipose tissue regulator.  BPI B4 is described as a high-performance thermogenic and weight-loss formula.
This diet aid was first released in 2013, and it is touted as super-powerful and "ultimate" extra strength. Furthermore, a couple before and after photos are posted on the company website and BPI Sports has been around for several years now, but read on…
No Real Clinical Evidence – "No Facts?"
The first issue we came across with BPI B4 ingredients was a lack of support. According to our research editor, "There is no clinical data presented on the official website to support the weight-loss claims regarding BPI B4 capsules. It's evident after looking at customer reviews that this diet aid doesn't work well for everyone."
One user said, "There was really no major effect from using this product, other than having to go to the bathroom a little more than normal. Other than that, I saw no noticeable weight loss."
According to another dieter, "In all honesty, this stuff is terrible. I took it for a whole month while working out and it did absolutely nothing for me."
Scroll below for one of the best products we've seen over the last year.
Serious Side Effects – "Watch Out!"
There are dozens of customer complaints regarding side effects from BPI B4. In fact, one user stated, "I don't think any vitamin or supplement has ever left me feeling so sick. Within the hour, I am lightheaded and nauseated. My head hurts."
"Nausea, vomiting and jitters. Extreme high pulse. Don't recommend it. Just horrible feeling, not worth it," said another customer.
"Every time I took it I would feel sick to my stomach!," said yet another user.
According to our research, if a certain aspect of a weight-loss supplement or diet program is quite problematic (adverse reactions, high price, no clinical support) the probability of long-term success is slim. In other words, if BPI B4 does cause side effects, this could be a major issue.
The Science – "Any Proof?"
We were unable to find any documented scientific evidence backing the weight-loss claims made about BPI B4 capsules. The official website does not provide any science at all. We know there is evidence behind caffeine as a stimulant and metabolism booster, but that ingredient can be found in thousands of supplements. Since we at DietSpotlight need to see published clinical studies supporting the diet product and how it assists with weight reduction, we can't get behind BPI B4.
The Bottom Line – Does BPI B4 Work?
Are you ready for the final word on BPI B4? It's clear this one is marketed as an extremely powerful thermogenic, but the customer reviews we found online say otherwise. Therefore we are skeptical about recommending this diet formula. It's also important to factor in the numerous user complaints about side effects like headache, stomach pains and nausea. Furthermore, there does not appear to be a satisfaction guarantee provided for BPI B4.
Those who wish to drop more pounds and slim down, we recommend a weight-loss product that contains safe ingredients, is backed by clinical studies and does not cause harsh side effects.
Among the best products we've seen in 2016 is one called Leptigen. This weight-loss formula uses a unique blend of four ingredients, which have been shown in documented scientific studies to help increase metabolism and improve overall fat loss. We haven't found any talk of negative side effects and dieter reviews posted online reveal people are seeing good results.
Additionally, the producers of Leptigen are so very confident in the product that they're offering a Special Trial Offer, which is a good sign.