Updated: 09/29/2015 - Sponsored by Leptigen
Brindleberry 5000 Review - Does This Weight Loss Product Really Work?
Are lack of real science and fad diet ingredients deal breakers?
PUBLISHED: 09/12/2015 | BY: SUMMER BANKS, SENIOR REVIEWER
Editor
's Review:
2.9
/ 5.0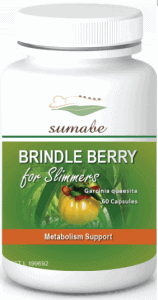 As you may be aware, there's been a lot of buzz about Brindleberry 5000 for weight loss, so we did an extensive review, examining the side effects, ingredients, clinical studies and overall customer service. We also read countless dieter comments and user responses from around the web. At this point we compacted all the data we found to give you the bottom line.
EDITOR'S TIP:
Substitute Brindleberry 5000 with a proven fat burner such as
Leptigen
for better results.
What You Need To Know
Brindleberry 5000 is a diet supplement that is claimed to burn off fat, boost metabolism, regulate blood sugar levels and reduce appetite. This diet pill contains; Garcinia Cambogia (Brindle Berry), Kelp, Gymnema Sylvestre, Chromium Picolinate and Cayenne Pepper Fruit Powder. It should be taken one to three times daily for optimum results. There is no mention of diet or exercise with Brindleberry 5000 capsules. Unfortunately this diet aid was discontinued and is no longer for sale online.
Brindleberry 5000 was released back in 2009, and does contain some natural ingredients. No special diet plan is required with this supplement, and both women and men can use this weight loss formula, but read on…
Lack of Real Science
According to our research editor, "From what we gathered, there is no actual science to support the weight loss claims about Brindleberry 5000 capsules. This diet pill is simply one of dozens that contain Garcinia Cambogia, which is an Asian fruit extract."
One customer stated, "Doesn't suppress appetite – waste of money!"
Another said, "This did not work for me. I took almost the whole bottle and I took as instructed on the bottle."
Scroll below for one of the best products we've seen in 2015.
Contains Fad Diet Ingredient
The most important ingredient used in Brindleberry 5000 is Brindle Berry itself. However, there is no clinical research that concludes this fruit extract helps with real weight loss. In fact, one dieter stated, "Just a waste of money. No effect even after a second bottle. Very dissatisfied."
Another complained, "Did ABSOLUTELY nothing. WASTE OF MONEY."
After doing plenty of research, we have concluded that if there is one aspect of a weight loss pill or diet program that is seriously troublesome (lack of science, fad weight loss ingredients, bad taste) the chances of long-term weight reduction is minimal. Therefore if Brindleberry 5000 does contain fad diet ingredients that fail to cause weight loss in a lot of people, this could be a major issue.
The Science
First of all, there is a great deal of hype surrounding Brindle Berry or Garcinia Cambogia (more common name). However, there is no documented scientific research that proves this ingredient aids with weight reduction. For us at DietSpotlight, we have to see published science that supports the diet supplement or we can't stand behind the weight loss product.
The Bottom Line
Brindleberry 5000 comes across as an interesting weight loss formula, but we do not encourage dieters to buy this product. First of all, this supplement is not backed by any clinical studies. Secondly, there are plenty of dieter complaints regarding Garcinia Cambogia, which is the main ingredient used in Brindleberry 5000 capsules. Moreover, this supplement is no longer available, so it can't be purchased online or in stores.
If you need help shedding more weight and slimming down, we recommend you choose a diet product that contains clinically-proven ingredients and is supported by positive customer feedback.
One of the most promising fat loss products we've encountered in 2015 is Leptigen. This diet pill offers a proprietary blend of four ingredients, which have been shown in documented scientific studies to encourage fat loss and increase metabolism. Also, we didn't pinpoint any discouraging feedback about harmful side effects and dieter comments found online reveal people are seeing solid results.
Also, the makers of Leptigen are so confident in their product they're offering a special trial offer, which is a good sign.