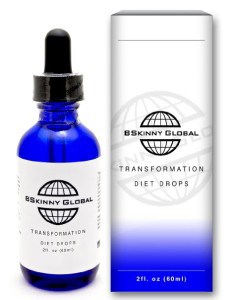 With a plethora of diet supplements on the market today, we decided to look into Bskinny Global's flagship diet drops program and examine the ingredients and side effects. We also made a search for any clinical research on the product and investigated the customer service practices of the company. We concluded our research by scouring the web for customer reviews on the product. Here is the condensed version of our research, formatted so that you can make an informed decision for yourself.
EDITOR'S TIP:
Combine BSkinny Global Transformation Diet Drops with a proven fat burner such as
Leptigen
for better results.
What You Need to Know
The Transformation Diet Drops supposedly include 20 "proven weight loss ingredients," but here are the 9 we were able to find on the label: African Mango Extract, L-Carnitine, L-Ornithine, L-Glutamine, Tyrosine, Tryptophan, beta-Alanine, GABA, and Hoodia Gordonii. Individually, these ingredients claim to have a range of effects to include metabolism boosting, energy gains, fat burning, memory improvement, muscle gain, and others. The supplement comes in liquid form, and it is ingested by placing 10-12 drops under the tongue three times per day. After placing the drops under the tongue, users should leave them there for 2 minutes and avoid eating for 15 minutes before or after taking the supplement. One positive note is that the Transformation Diet Drops claim to avoid hormones entirely.
Bskinny Global, which was founded in 2011, markets these drops as its only product, and the supplement seems to be available solely on Amazon. We certainly appreciate the fact that Transformation Diet Drops are hormone-free, and we also think the cost of this product is competitive within the industry ($37.00), but read on…
Efficacy–"Does It Even Work?"
As soon as we started researching customer experiences, we began to doubt the efficacy of the Transformation Diet Drops. "If you follow the recommended diet that accompanies the pills, you will certainly lose some weight," said our research editor. "But if you are going to spend almost $40 for the product, you want to have some reassurance that the drops themselves are having some effect rather than acting as a placebo." The recommended diets are very strict–allowing only 500-800 calories per day, to be exact.
"The drops don't do anything–what a waste of money," said one user.
"I used this product exactly the way the instructions read, but I gained 3 pounds when it was all over. I would not recommend use of it," said another.
Scroll below for one of the best products we've seen over the last year.
Taste–Too Rough to Handle?
It appears that Bskinny Global has left a bad taste in users' mouths. "The taste is foul because of the alcohol taste," said one customer online.
"Tastes horrible," said another. These two reviewers weren't alone–there seems to be a growing crowd of disenchanted would-be dieters. "It tastes a little like rubbing alcohol at first. I lost a pound from it, but I'm not sure if that was because of the product or because I threw up a couple times because of it," said another.
We've found in our research that even one drawback to a product seriously hampers its chances of long-term success. If the Transformation Diet Drops don't offer good results and really do have a nauseating taste, you should probably look elsewhere. Or you should consider going on a stringent diet–like the ones suggested by Bskinny–without spending your money on the diet drops.
The Science
You may ask, "Is there any published science on Bskinny Global's Transformation Diet Drops?" Well, it's funny you should ask. We looked into the Better Business Bureau's (BBB) listing of Bskinny Global, and it appears that the company is making claims that their products are "clinically studied." These studies have never been shown. When BBB contacted Bskinny Global asking for substantiation on these claims, Bskinny never gave them verification.
While individual ingredients in the drops may have helpful qualities, many of these ingredients have insufficient data to back them, and not all 20 ingredients are even listed. Furthermore, the Transformation Diet Drops haven't been clinically verified as a whole product.
The Bottom Line
The buzz surrounding the Transformation Diet Drops interested us at first, but we haven't found enough information to substantiate our initial interest. We were already concerned about the lack of efficacy and the bad taste, but the apparent use of unsubstantiated claims by Bskinny Global sealed their fate as far as our review is concerned.
There are plenty of products on the market that can really help people lose weight, though, and Leptigen is a supplement that delivers a lot of bang for your buck.
Leptigen is one of the best products we've found in 2015; it blends four clinically proven ingredients to boost metabolism and burn fat. Harmful side effects don't seem to be an issue, and internet reviewers can't stop singing its praises.
Another great reason to try Leptigen is the maker's special trial offer, which is always a good sign.