Updated: 10/06/2015 - Sponsored by Pronabolin
C9-T11 Review - Does This Muscle-Growth Complex Really Work?
Are insufficient evidence and user complaints deal breakers?
PUBLISHED: 09/09/2015 | BY: SUMMER BANKS, SENIOR REVIEWER
Editor
's Review:
3.3
/ 5.0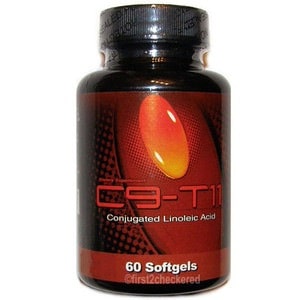 We've encountered all sorts of discussion online concerning C9-T11 anabolic anti-catabolic complex for muscle building, so we decided to create a comprehensive review, examining the ingredients, side effects, level of customer care and scientific research. We additionally scrutinized countless customer reviews and user comments posted online. At this point we compressed all of the data we found in order to give you the facts you need.
EDITOR'S TIP:
Combine C9-T11 with a proven testosterone booster such as
Pronabolin
for better results.
What You Need To Know
C9-T11 is a muscle-building supplement made by Applied Nutritional Research. According to the official website, this product will help you gain 600 percent more muscle in only seven weeks. It's also claimed to increase bicep girth by nine times in four weeks and help you increase your bench press by 30 pounds in one month. This supplement is marketed at men, especially those interested in bodybuilding. It is taken daily and regular strength training is encouraged. There are three key ingredients used in C9-T11, and these are Phosphatidylserine (PS), Conjugated Linoleic Acid (CLA) and Ascorbic Acid (Vitamin C).
This supplement was released back in 2010 and is available on the company website for $29.95 (60 capsules). There is a 60-day money-back guarantee posted on the official website and a few customer testimonials are presented, but read on…
Insufficient Evidence
According to our Research Editor, "There is really no published evidence that supports the extreme muscle-building claims made by C9-T11 capsules. For instance, the main ingredient, Phosphatidylserine, has only been proven to help with mental decline and memory problems."
One customer said, "I am very disappointed to find out it does not work at all. I felt no difference in muscle gain or any physical performance increase."
Another stated, "I followed the directions for the past 3 months and I do not see one bit of muscle gain nor have I lost the belly fat, I was so hoping it would help me to do. My strength didn't increase or see any significant difference in my well-being."
Scroll below for one of the best products we've seen in 2015.
Customer Complaints – Uh Oh!
There are plenty of user complaints posted online for C9-T11. In fact, one customer revealed, "DO NOT BUY THIS CRAP…it's a SCAM."
"Have seen no noticeable improvement despite a continued rigorous work out regimen, and he reports feeling sick after taking it. I have also noticed a turn for the
worse in his overall happiness and mood. I would not recommend experimenting with this product," said another user.
According to our extensive research, if there is a specific facet of a diet supplement or workout program that is very bothersome (a painful/difficult exercise routine, too many customer complaints, insufficient evidence) the probability of real success for the long run is low. Therefore if C9-T11 does in fact lead to a high number of user complaints, this could be a serious issue.
The Science
While the official website for C9-T11 does present some information on the key ingredients found in this supplement, there are no details regarding clinical research and ingredient amounts. Therefore we cannot get behind this muscle-building product. Here at DietSpotlight, we must see documented science or clinical trial results in order to support the product.
The Bottom Line
While C9-T11 definitely makes big promises, the customer feedback we found online does not agree. Our biggest concern regarding this product is the key ingredients, because they do not directly relate to serious muscle building as claimed. Although CLA can be beneficial to the heart and lean muscle tissue, it has not been proven to build large muscles. Also, there is no proof that C9-T11 eliminates belly fat.
If you really want to improve muscle growth, minimize abdominal fat and elevate testosterone levels, we encourage you to go with a supplement that contains clinically proven ingredients and sells at an affordable price.
One of the best products we've seen in 2015 is Pronabolin. This supplement contains a proprietary blend of nine key ingredients, which are clinically proven to help you boost energy, improve muscle strength and naturally increase testosterone levels. There are no complaints of adverse side effects and user comments posted online show people are seeing solid results.
The makers of Pronabolin are so confident in their product they're offering every customer a 120-day money-back guarantee and multiple-bottle discounts.