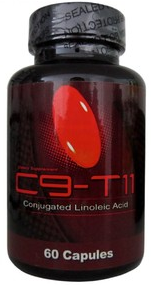 C9-T11 Review
Editor
's Review:
3.3
/ 5.0



What You Should Know
Click Here To See Our Highest Rated Review
If you want to gain weight just take a look at the supplement called C9-T11. This capsule formula is claimed to be "America's number one new muscle-building solution!" It's manufactured by Applied Nutritional Research which is a company that specializes in sports supplements. Essentially C9-T11 aims to increase the user's muscle mass by 700% in a mere seven weeks time, and enlarge the biceps by up to nine times in size. It has been advertised on CNN, WebMD, Time, and NBC.
As opposed to many other weight-gain drugs and supplements currently available, C9-T11 is stated to be 100% safe. This product is also known as Conjugated Linoleic Acid, and has an "anabolic muscle-building effect". This supplement synthesizes muscle tissue from fat deposits in the body. C9-T11 is directed to be used in place of a regular high-protein diet plan. Naturally users should be lifting weights on a regular basis as well. There is a 30-day money-back guarantee offered with this supplement, and consumer testimonials are posted on the official website.
List of Ingredients
Not available on the website.
Product Features
C9-T11 is a "muscle-building" supplement that's primarily geared toward men. This product is claimed to be much more effective than other supplements. Ideally this product will convert fat deposits into lean muscle mass but without any side effects whatsoever. Although there are no disclosed side effects for this supplement there are no active ingredients revealed either. Anyone can purchase this weight-gain supplement via the official website for $37. There is some mention of clinical studies related to C9-T11 and how the product was proven effective and safe in some studies. A single before and after photo is displayed.
Advantages
C9-T11 is claimed to be 100% safe and effective.
There is a 30-day money-back guarantee with this weight-gain supplement.
No prescription is required in order to purchase this product.
Disadvantages
There are no ingredients revealed on the official website for this product.
C9-T11 appears to only be suitable for men.
Users must lift weights regularly when taking this supplement in order for it to work as claimed.
Conclusion
The official website claims that C9-T11 is 100% safe and effective, but fails to list out all of the supplement's ingredients. Unfortunately this product sounds a little too good to be true. Therefore you may want to consult a physician prior to taking a muscle-building product like C9-T11.
GD Star Rating
loading...