Updated: 09/22/2015 - Sponsored by Leptigen
Calorad Review – Does This Slimming Supplement Work?
Are negative reviews and confusing weight-loss claims deal breakers?
PUBLISHED: 09/08/2015 | BY: SUMMER BANKS, SENIOR REVIEWER
Editor
's Review:
3.5
/ 5.0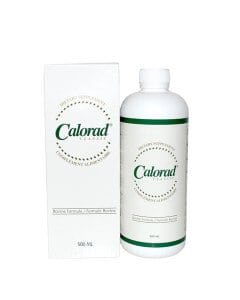 People are buzzing about Calorad slimming supplement, so we dove into the ingredients, side effects, clinical research and customer service. We also read hundreds of comments from users all over the web. Then we refined and condensed the info for you.
EDITOR'S TIP:
Combine Calorad with a proven fat burner such as
Leptigen
for better results.
What You Need to Know
To begin, Calorad is a weight-loss supplement that contains collagen and aloe vera. Calorad ingredients are supposed to help the dieter lose weight. Each serving is 15 ml and the bottle contains 15 ounces, so you get a month's supply. Calorad is in a relatively small container so you can travel with it anywhere.
The supplement, which came into the weight-loss industry in 1989, is made from natural ingredients – a positive choice. Though we are curious of this company's validity (with its sketchy location and disconnected phone line). You can buy it online through the official website and other retailers. We like that Calorad has been in the business for more than 20 years and the creator is passionate about his product, but read on…
Negative Reviews – "What Did He Say?"
Our first issue with Calorad is negative reviews. "The dieter often tells the inside story when it comes to a supplement," offers our Research Editor. "No matter what a company says about the product, if the customer isn't sold that's not good."
"I bought this product to help me lose about 10-20 lbs since I have a busy schedule and don't have much time for working out. I started watching what I ate, took product as directed and lost no inches but instead gained more pounds," a user explains.
One buyer says, "My wife has been taking this product religiously and according to the directions for the past 7 months at a cost of 52.00 per month. She has not lost a single pound and has had no other benefits from this product."
Scroll below for one of the best products we've seen in 2015.
Confusing Weight-Loss Claims?
According to the Calorad website, the supplement is a good choice for weight-loss. In the FAQs section, the company avoids the question all together.
Calorad claims, "[Muscle mass and connective tissues] can then use up fats and sugars more effectively, which increases weight loss."
Then the FAQs section says, FORGET YOUR SCALE! Calorad® users sometimes gain a few kilos of muscle while losing fat since muscle mass is, in equal volume, heavier than fat."
When a diet plan has just one issue that is especially troubling, chances of long-term weight-loss success are slight. If Calorad does cause weight gain, that could cause a problem.
The Science
The official Calorad website mentions a study completed in 1993 that claims oral intake of collagen can boost natural production. We found no research proving this effect promotes weight-loss. At DietSpotlight, science is a critical factor. If we can't find clinical support, we're disappointed.
The Bottom Line
After our look into Calorad, we've come to a conclusion. We like Calorad's affordable price and some supportive user comments, but we can't recommend it because the product lacks clinical support and there are confusing weight-loss claims. We're also a bit concerned with the fact that company behind Calorad is not listed with the BBB.
If you want to shed some weight, our suggestion is to go with a product that offers both a good price and a clinically-proven formula.
Among the most impressive supplements we've reviewed in 2015 is one called Leptigen. The formula consists of a four-ingredient proprietary blend, shown to promote fat loss and metabolism in published studies. We can't find dieter talk of harmful side effects and reviews around the web reveal great results.
Additionally, the makers of Leptigen have confidence in their product. They're offering a special trial offer, which is a great sign.
(Feel free to scroll below for our previously published full-length reviews of Calorad)
Previous Calorad Review (Updated March 18, 2014):
What You Should Know
Click Here To See Our Highest Rated Review
Calorad is a weight loss system that comes in a liquid form. This diet product is a protein and collagen-based supplement that's claimed to provide the body with "vital nutrients." Calorad aims to rebuild muscle tissue (promote fat loss), restore collagen, assist with weight loss and replenish the dieter's body with essential amino acids (Proline and Glycine). The Calorad system sells online for $87.95 (a 30-day supply). This includes Calorad AM (Bovine), Calorad PM (Marine) and Agrisept-L. The official Calorad website states that collagen is the "glue that holds the body together."
Calorad endeavors to offer other benefits to dieters in addition to weight reduction. Since the human body loses essential muscle mass, collagen and vitamins as it ages, the manufacturers of Calorad claim that this diet supplement will restore these important components. Primary ingredients found in Calorad are proline and glycine, which are both amino acids that the body needs. Other key components are protein and collagen. Calorad essentially aims to make use of the body's sugar and fats more "efficiently." The collagen nutrients found in Calorad come from fish and beef. This liquid diet supplement is intended to be taken (1 tablespoon) just before bed on an empty stomach. It is recommended that Calorad be taken in conjunction with a regular fitness routine and healthy diet.
List of Ingredients
Key active ingredients in Calorad are protein, collagen, proline and glycine (amino acids).
No full list is given.
Product Features
Calorad is a liquid weight loss supplement geared toward men and women. This diet product sells for $87.95 (30-day supply) via the official website. Calorad aims to improve lean muscle mass, boost collagen levels and help shed excess pounds. A single tablespoon of Calorad is to be taken once each day just before bedtime. This weight loss system consists of three products, which are Calorad AM (Bovine), Calorad PM (Marine) and Agrisept-L. Calorad contains 10 calories per tablespoon.
Advantages
Calorad can be conveniently purchased via the official website.
Calorad only contains 10 calories per serving.
A toll-free phone number is available on the official website for the consumer's convenience.
Disadvantages
Calorad does not come with a 100 percent money-back guarantee.
Consumer testimonials are absent from the official website.
The official website doesn't appear to provide much background information on the company that manufacturers Calorad.
Indstructions to take Calorad before bed "on an empty stomach" leave us wondering about how long one needs to wait after dinner to take this supplement.
The product may have a displeasing smell. (See reader comments.)
The website fails to offer any free trial samples of Calorad.
Conclusion
All in all, Calorad is a rather interesting and unique take on diet supplements. While the majority of modern diet supplements tend to come in pill or capsule form, Calorad is actually a liquid. However, this doesn't necessarily mean that the product will sufficiently aid dieters in the weight loss process. If the official Calorad website offered a money-back guarantee or possibly some real consumer testimonials, Calorad would likely be more appealing to a greater audience. Be sure to consult a physician prior to taking a diet supplement such as Calorad.