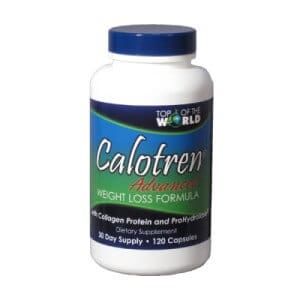 Why are people talking about Calotren? We wanted to know more, so we created a detailed review, examining the ingredients, side effects, customer-service quality and scientific research. Furthermore, we focused on hundreds of dieter comments and user reviews found on the web. At this point we summarized the info we found to give you the bottom line.
What is Calotren?
Firstly, Calotren is a weight-loss supplement. The ingredients are collagen hydrolate, ProHydrolase and vitamins. Take four capsules at bedtime with eight ounces of water and supposedly helps your body burn off sugars and fat. One benefit is that healthy eating is encouraged.
Top of the World Distributors released Calotren in 2010. The company was founded in 1997. You can buy the product on the official website and through trusted retailers. This supplement doesn't contain any stimulants and no special diet is required, but read on…
No Real Clinical Evidence – "A Problem?"
Our first concern with Calotren ingredients is a lack of clinical support."There is no actual evidence presented on the formula regarding weight-loss or fat reduction," said our Research Editor. "While this supplement may help with protein absorption, this could be why some customers didn't see results."
One user said, "I tried Calotren for a month and received no results. Worked out, cut back food in-take and didn't eat after 7pm every night. Didn't feel any different health wise either."
Another stated, "Well it don't work for my wife, and she's not very happy about this product. I think she gained weight instead of losing."
Scroll below for one of the best products we've seen over the last year.
Negative Customer Reviews – "Not Good"
While we were able to find a few customer testimonials posted online for Calotren, there are also negative user reviews. One dieter said, "If you are at all sensitive to taking pills, don't do this! I followed the instructions, waited the 3 hours after eating before taking it, and then barely slept all night. It says "no stimulants" but something kept me awake and feeling sick all night."
"I tried Calotren for three months. Did not loose any weight. It was a waste of my money. Would not recommend it to anyone," claims a buyer
Our research has proven if a specific part of a weight-loss product or diet formula is especially problematic (a painful/difficult exercise routine, no clinical research, too many customer complaints) the likelihood of real success, for the long run, is slim. If Calotren does in fact fail to produce results and leads to bad reactions, as reported by some customers, this could be a major issue.
The Science of Calotren – "Nothing Available?"
There is no scientific research presented on the official website for Calotren and we didn't find any either. For us at DietSpotlight, we need to see documented clinical support for the supplement and its ingredients. While this product is claimed to produce great results, there is simply no real evidence to support fat loss or weight management.
The Bottom Line – Does Calotren Work?
Let's take a closer look at our results, shall we? Calotren is an interesting weight management supplement and it does contain some intriguing ingredients. However, we can't recommend this diet product because there is no published clinical data to support this formula. Furthermore, Calotren is quite pricey at $69.95 per bottle. Not to mention, there are no customer testimonials posted on the official website at all.
For dieters who need to slim down and shed pounds more quickly, we suggest you to go with a weight-loss supplement that is both affordable and backed by real scientific studies and supportive customer reviews.
Among the best products we've seen in 2016 is one called Leptigen. This diet pill contains a proprietary blend of four ingredients, which have been proven in documented clinical studies to increase fat loss and ignite metabolism. Also, we were unable to find any negative feedback about harmful side effects and customer reviews posted online show people are seeing great results.
Plus, the producers of Leptigen are confident enough in their product to offer a Special Trial Offer, a good sign.