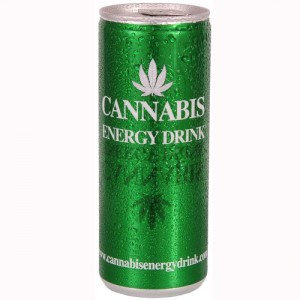 We've heard a lot of buzz regarding Cannabis Energy Drink, so we took it upon ourselves to create an in-depth review, focusing closely on the ingredients, side effects, scientific studies and customer-service quality. Then we scrutinized all sorts of user comments and customer reviews posted on the web. Finally we compacted all the facts and details to give you the info you need.
EDITOR'S TIP:
Substitute Cannabis Energy Drink with a proven testosterone booster such as
Pronabolin
for better results.
What You Need To Know
Cannabis Energy Drink (8.4 ounces) is a canned beverage that is made in the Netherlands. It is sold in several parts of the world, including the United States, parts of Africa and Asia, Mexico, the UK and Spain. This beverage is claimed to improve concentration, reduce fatigue, increase alertness and assist with "normal" mental performance. This drink can be consumed at any time, especially when you need a boost or pick-me-up. The ingredients used in Cannabis Energy Drink include the following; Hemp Seed Extract, B Vitamins, Caffeine (80mg), Taurine, Water and Sugar. Each can contains 11 grams of sugar.
From what we gathered online, Cannabis Energy Drink was released in 2013. This beverage provides some vitamins and does not contain any illegal substances. Also, no preservatives are used in this energy drink, but read on…
High Cost – Yikes!
"Although it is not mentioned on the official website, we discovered that Cannabis Energy Drink sells for about $6 per can, which is certainly a lot. Especially when you compare this product to other energy drinks like Red Bull, which sells for around $2.50 per can," says our Research Editor.
One customer commented, "I'm definitely not impressed. I feel like I spent $6 on one can of Red Bull."
According to another person, "This stuff is wayyy too high priced for what it is!"
Scroll below for one of the best products we've seen in 2015.
Lack of Real Results!
From what we can tell, there is no solid evidence or research that supports the claims made about Cannabis Energy Drink. In fact, one customer said, "I get a much better buzz from my cup of coffee."
"Not as good as Red Bull and Monster for energy. Just gimmicky," said another user.
The research we've done has shown if there is some particular aspect of an energy drink or supplement that is especially bothersome (high cost, no real results, too many side effects) the likelihood of real success for the long run is minimal. Therefore if Cannabis Energy Drink does cost too much and fails to work well for numerous people, this could be quite problematic.
The Science
Here at DietSpotlight, we like to see documented clinical studies that support the energy drink or supplement and how it works. Sadly there is no published research provided on the company website to support Cannabis Energy Drink and the claims it makes. Therefore we at DietSpotlight cannot get behind this product.
The Bottom Line
While it's always nice to see a new energy drink emerge, we do not recommend Cannabis Energy Drink for boosting stamina and increasing overall energy levels. First of all, there is no real research provided to support this beverage. Secondly, this energy drink is seriously high-priced in comparison to others on the market. You should also note that some customers have complained about this beverage not working very well.
If you really want to naturally enhance energy levels and boost overall vitality, we suggest a supplement that is loaded with clinically proven ingredients and comes with excellent customer service at an affordable price.
Among the finest supplements we've found in 2015 is one called Leptigen. The formula is made up of four clinically-proven ingredients shown to improve metabolism and promote fat loss. We didn't find a single dieter talking about adverse side effects, but we found plenty of users reporting great results.
Also, the makers of Leptigen are confident enough in the supplement to offer a special trial offer, which is quite impressive.