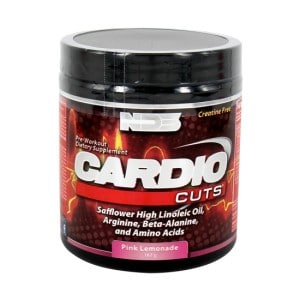 Looking at some diet products can be painful, especially if there's no scientific backing for the formula. Let's find out if Cardio Cuts is in this group. We put the spotlight on ingredients, side effects, clinical research and customer service. Furthermore, we analyzed hundred of customer comments and reviews. Then we summarized and condensed to give you the info you need.
What is Cardio Cuts?
First off, Cardio Cuts is a pre-workout supplement. The ingredients are amino acids, CLA, CoQ10, caffeine, raspberry ketones, citrus aurantium, guarana, vitamins and minerals, among others. The product promotes weight-loss by boosting energy levels and accelerating fat burning. Mix one scoop with water and drink once or twice per day. One benefit is that you can put in a shaker and take it on-the-go.
Cardio Cuts is made and distributed by NDS Nutrition, which has been around since 2002. The pre-workout is sold on the official website and through trusted retailers. We like the longevity of the company and that we found some positive customer comments, but read on…
Price – "Second Mortgage?"
The first concern was the high cost of Cardio Cuts ingredients. "The product is designed to be taken twice a day, meaning an 8.5 ounce container only lasts 1 ½ to 2 weeks," said our Research Editor. "So the $70 price tag immediately jumps to $140 for a 30-day supply."
"I used it for 2 weeks and had high energy and lost some weight, but I couldn't afford $70 every two weeks," said one user.
"I'll never know how far Cardio Cuts could take my weight loss; I could only afford one container," said another customer.
On the other hand, one Cardio Cuts review said, "It's not the cheapest out there, but I've started to see results."
Scroll below for one of the best products we've seen over the last year.
Cardio Cuts Side Effects – "Another Concern?"
Another complaint from customers centered on Cardio Cuts side effects. "I used Cardio Cuts for the first time today, and I couldn't get my heart rate back down," said a user.
"I should have read the ingredients list first. The long list of stimulants caused jitters and made my heart flutter for several hours," said another.
Some users had an alternative that helps lower the cost and side effects. "Rather than taking this twice a day, I cut back to once a day and cut the cost in half, while avoiding the jittery feeling that two doses a day gave me," stated a customer.
"Drink plenty of water to reduce the chances of headache," reported another.
Throughout our years of research, we've found that if there's something particularly troublesome about a supplement, like being the cause of adverse reactions, the odds of long-term success are dramatically lowered. If Cardio Cuts really does cause negative side effects, this could be an issue for some users.
The Science – "Clinical Proof?"
Cardio Cuts does contain some ingredients that are connected to weight-loss, like CLA, caffeine and select amino acids. It also consists of ones like raspberry ketones that's often considered a fad with no clinical backing. Overall, there's no published science showing this supplement will help you lose weight. Although the fact that it features multiple stimulants could be the cause of negative side effects.
The Bottom Line – Does Cardio Cuts Work?
So, what is the final thought on Cardio Cuts? We like the longevity of NDS Nutrition and that is contains a few natural ingredients, but the lack of research proving it help you lose weight is concerning. Also, we're skeptical about this one because of customer complaints relating to high cost and negative side effects.
If you're still looking to drop a few pounds, we suggest going with a supplement offering an affordable option to safely lose weight; without mention of adverse reactions.
Among the best products we've seen in 2016 is one called Leptigen. It takes advantage of four clinically-tested ingredients that promote weight-loss and have been shown to help speed up fat loss and kick start your metabolism. Online reviews aren't talking about harmful side effects, but users are excited about seeing great results.
The makers of Leptigen are so confident in their product, that they're currently offering a Special Trial Offer, which is encouraging.