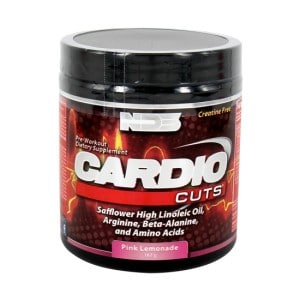 Looking at some diet products can be painful, especially if there's no scientific backing for the formula. Let's find out if Cardio Cuts is in this group. We decided to do an in-depth review of the ingredients, side effects, clinical research and customer service. We also looked at consumer reviews to see what actual users thought of this pre-workout supplement. We've summarized the information we found into a compact report to give you all the information you need.
What You Need to Know
First off, the Cardio Cuts formula is readily available online, but the long list of ingredients can be overwhelming. The main ones are carnitine, linoleic acid, triglyceride powder, taurine, ribose, grape seed extract, green tea extract, magnesium aspartate and more. This pre-workout supplement is designed to be taken as a shake 30 minutes prior to working out and it's easy and convenient to consume.
Cardio Cuts is made and distributed by NDS Nutrition, which has been around since 2002. The longevity of the company, updated website, friendly customer service and easily available products are all great signs that this one could be a beneficial. There are reviews that boast positive results and higher energy levels, which are all encouraging, but read on…
Price – "Second Mortgage?"
The first complaint that many users had was the Cardio Cuts price. The product is designed to be taken twice a day, which means that the 8.5 ounce container that costs over $70 with shipping and handling, will only last 1 ½ to 2 weeks. At that consumption level, you'll spend upwards of $200 a month to maintain a diet regimen that continues to include Cardio Cuts. "Cardio Cuts boasts about amazing results and there are some positive reviews," said our Research Editor. "But most of them are unable to get to their ultimate weight-loss goal because the high cost forces them to quit using the supplement on a regular basis."
"I used it for 2 weeks and had high energy and lost some weight, but I couldn't afford $70 every two weeks," said one user.
"I'll never know how far Cardio Cuts could take my weight loss; I could only afford one container," said another customer.
Scroll below for one of the best products we've seen over the last year.
Health Issues – "Another Concern"
The next recurring complaint we noticed was health issues that some people experienced. According to several users, Cardio Cuts may cause jitters, restlessness, and even heart palpitations. Because of the high caffeine content and other stimulants, people that are sensitive may have complications. "I used Cardio Cuts for the first time today, and I couldn't get my heart rate back down," said one online reviewer.
"I should have read the ingredients list first," said another. "The long list of stimulants caused jitters and made my heart flutter for several hours."
Many people agreed with this, but some had an alternative that helps the cost and the health concerns, like this user: "Rather than taking this twice a day, I cut back to once a day and cut the cost in half, while avoiding the jittery feeling that two doses a day gave me."
As we've done reviews on diets, supplements, and workout programs, we've found that if there is something particular about a weight-loss program that is abnormally troublesome or difficult (cost, health concerns, etc.), the odds of long-term success are dramatically lowered. If Cardio Cuts really does have negative side effects like the reviews claim, this could be an issue for some users.
Most dieticians or physicians that are asked about this product will recommend that you limit usage to one dose a day, in order to minimize the negative effect of the caffeine on your heart.
The Science – "Clinical Proof?"
Cardio Cuts is scientifically proven to help improve your energy levels while you work out, but with all stimulating ingredients, this is hardly surprising. Instead, we looked for clinical studies that proved that Cardio Cuts is a better option than the much cheaper stimulant alternatives that you could take pre-workout to achieve similar results. We couldn't find anything proving that it was worth the extra cost, so it seems you could get comparable results with a cheaper alternative if you shop around.
The Bottom Line – Does Cardio Cuts Work?
So, what is the final thought on this one? Cardio Cuts was an intriguing review for our research team. The high success rate with this product, NDS Nutrition's longevity and the fact that most users seemed to like the taste made this seem like a home run. After further review however, we are hesitant to recommend Cardio Cuts to our readers due to the high cost, health concerns and lack of clinical support that proves that Cardio Cuts is a superior option to less expensive supplements that boost energy levels.
If you're still looking to drop a few pounds, we suggest that you find a supplement that offers an affordable option to safely lose weight. We'd also recommend a product with plenty of scientific research proving that it backs up its claims and is better than alternatives.
Among the best products we've seen in 2016 is one called Leptigen. It takes advantage of a proprietary, four-ingredient blend that is backed up by clinical studies and proven to help speed up fat loss and kick start your metabolism. Best of all, in reviews online there don't seem to be complaints about negative side effects or unintended issues with Leptigen and users have seen great results.
The makers of Leptigen are so confident in their product, that they're currently offering a Special Trial Offer, which is encouraging to see.