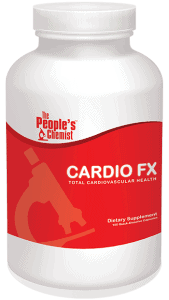 We're all searching for the right diet product. Let's see if Cardio FX is one of the good ones. We looked closely at the ingredients, side effects, customer service and clinical research. User testimonials and comments from all over the web were taken to heart. Then, we summarized to give you the bottom line.
EDITOR'S TIP:
Combine Cardio FX with a proven fat burner such as
Leptigen
for better results.
What is Cardio FX?
To start, Cardio FX is a heart health supplement with grape seed, hawthorn berry, garlic and magnesium citrate. With regular use the formula is supposed to support cardiovascular function and, in some unknown way, affect weight-loss. There are 150 capsules in the bottle, which means at a maximum of two each day it will last about 60 days.
The People's Chemist, the company that makes Cardio FX, purchased the official website in 2006. You can buy online. We like the natural ingredients and there's some support in terms of cardiovascular health, but read on…
Weight-Loss Connection – "Where?"
The first thing that caught our attention about Cardio FX ingredients was mentions of weight-loss. "We see no reason why this formula would help you lose more, but the words are thrown around everywhere," says our Research Editor.
According to the FAQ section, "If you are suffering from high blood pressure and weight gain, you may need 'Hormone Intelligence Therapy,' to help you get your best weight back." Following this statement is a link to a fat loss website.
Another user statement says, "High triglycerides and cortisol, the beginnings of glaucoma. And, I was 100 pounds overweight. That's all gone, without a single prescription drug."
Scroll below for one of the best products we've seen over the last year.
Results – "Not Sure What to Look For?"
Another issue with Cardio FX deals with results, or lack thereof. Some users had no idea what to look for and others saw no difference, especially when they were hoping for weight-loss.
"Just made me jumpy. Not much for the money," said one user.
Another shared, "Don't really know the effects. I stopped taking them."
Years of research shows a link between small problems, like unknown results, and a lesser chance the dieter will stick around. If Cardio FX doesn't cause a noticeable change, why would the customer keep coming back?
The Science – "Any Clinical Support?"
There's a list of 119 scientific references on the Cardio FX website. Not a single one says anything about weight-loss even though reviews and testimonials mention it time and again. At DietSpotlight, we want a clear connection between a formula and success and that's not the case here.
The Bottom Line – Does Cardio FX Work?
Have we already taken the first pill? Well, the ingredients may help with heart health, but no matter what testimonials say, we couldn't find a strong connection with weight-loss. That's a problem, especially if the user is going on the reviews offered up by The People's Chemist. Plus, some people just didn't notice any changes at all.
Are you ready to shed those pounds? We suggest trying out a product that's designed specifically for weight-loss and made with clinically tested ingredients. Look at the user reviews to see if results are part of the package.
Among the best products we've seen in 2016 is one called Leptigen. We found a proprietary blend of four ingredients, which have been scientifically tested. These have been shown to have positive effects on metabolism and fat loss. Plus, the dieter reviews talk about amazing results.
The makers of Leptigen are so sure you'll love the formula that they're offering a Special Trial Offer.