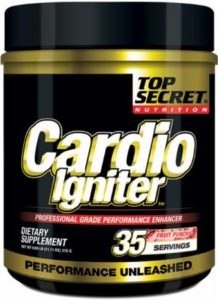 I'm here to cut through the noise and get you the bottom line on Cardio Igniter. We took the time to come up with a comprehensive review, focusing closely on the ingredients, side effects, customer-service quality and clinical research. We also looked at hundreds of user comments that are posted online. At this point, we summed up all of the facts and details in order to give you the info you really need.
EDITOR'S TIP:
Click here
to combine Cardio Igniter with a proven testosterone booster such as Pronabolin for better results.
What is Cardio Igniter?
Firstly, Cardio Igniter is touted as an athletic performance enhancer. This powder supplement contains choline bitartrate, l-carnitine, b vitamins, l-tyrosine, beta alanine, l-norvaline, red beet juice, caffeine anhydrous, uva ursi leaf, evodiamine, thiamine disulfide, kelp, brassica campestris, d-ribose, bitter orange extract, razberi-k and amino shield with ursolic acid. It's claimed to enhance aerobic performance, improve endurance, boost focus, increase fat burning and prevent muscle loss. In order to use this formula, you add one scoop to 8-12 ounces of water. It should be consumed 20-30 minutes before your workout.
This fitness supplement has been on the market since at least 2012. It's made by Top Secret Nutrition. Each serving only contains five calories and one gram of sugar. Both fruit punch and watermelon flavors are available, but read on…
Unpleasant Taste – "Can You Handle It?"
One issue we have with this fitness drink is the unpleasant taste. According to our Research Editor, "Some customers have complained about the actual flavor of Cardio Igniter powder. Apparently some people feel that it is chemical-tasting and simply unsavory."
One user said, "This is the worst tasting product ever. Has a bad chemical flavor to it."
But, a different customer posted this, "Taste is okay. Nothing special. Makes me burp like crazy though."
Another stated, "It's not too bad. But be careful you don't overdose on the caffeine."
Scroll below for one of the best products we've seen over the last year.
Side Effects – "Watch Out"
Another concern is Cardio Igniter side effects. Some users have reported upset stomach, lightheadedness, anxiety, fast heartbeat, headaches, nausea, jitters and chest pains. In fact, one person commented, "This stuff makes me very lightheaded and jittery. Not so sure it's safe."
However, a different customer revealed, "Pretty good stuff. Tried the watermelon and the fruit punch flavors. No bad effects."
"Works okay for me. I take it before workouts. Just be sure to read through the Cardio Igniter ingredients. This stuff is not for everyone," posted another.
According to our research, if there is a certain facet of a fitness supplement or testosterone booster that is very concerning (unpleasant taste, side effects, high price) the probability of real results that last for the long haul is rather low. So, if Cardio Igniter does in fact taste bad to a lot of customers, this could be a deal breaker.
The Science – "Is Any Presented?"
To begin, there are some stimulants found in Cardio Igniter that may help boost energy levels and enhance focus. Therefore this supplement may help to some degree with workout performance. However, you should be aware that it contains both bitter orange and caffeine. This is an unsafe combination that can lead to serious adverse effects.
The Bottom Line – Does Cardio Igniter Work?
So, should you spend your hard-earned cash on Cardio Igniter? Well, we appreciate that this supplement contains some amino acids and b vitamins. It's also nice to see that this product is available in two different flavors. However, we have some doubts about this fitness drink because it can lead to unpleasant side effects. Furthermore, we're concerned about the unsavory chemical taste some users have mentioned.
If you really want to boost physical performance, build more muscle mass and increase endurance levels, we suggest you go with a product that does not have an unpleasant taste, will not lead to unwanted side effects and is easy enough to use/take anywhere.
Among the best products we've seen in 2016 is one called Pronabolin. This formula contains nine key ingredients, which are clinically shown to help boost natural testosterone levels, increase endurance and improve workouts at the gym. We have not spotted any discouraging feedback. Also, customer remarks posted on the web indicate people are seeing actual results.
The makers of Pronabolin are so confident in their product they're offering every customer a 120-day money-back guarantee and multiple-bottle discounts.