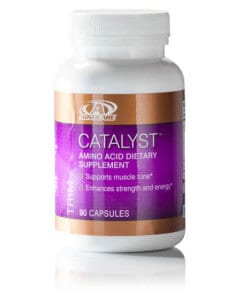 I did two things this week. I obsessed over every aspect of Catalyst. Then I wrote this review about it. There are people talking about this one, so we delved into ingredients, side effects, scientific support and customer service. Furthermore, we dissected hundreds of consumer comments and forum posts. We then refined and condensed to give you the info you need.
EDITOR'S TIP:
Click here
to combine Catalyst with a proven testosterone booster such as Pronabolin for better results.
What is Catalyst?
First off, Catalyst is an amino acid supplement that may help with muscle growth and recovery. The ingredients include l-glutamine, l-leucine, l-isoleucine, l-valine, l-arginine, betaine and taurine. The recommended serving is three capsules prior to a meal, up to three times per day, supposedly helping users improve strength and endurance.  A benefit is ease of use. [1] [2]
The supplement, introduced in 1993 by AdvoCare, doesn't use artificial ingredients, a good decision. You can purchase the product on the official website or through trusted retailers. We do like that Catalyst is available directly from the company and that the business has been around for more than 20 years, but read on…
Ineffectiveness – "Are You Worried?"
The first negative aspect we noticed was the ineffectiveness of Catalyst ingredients. "Amino acids are the building blocks of muscle tissue and protein, not weight-loss," said our Research Editor. "If dieters take supplements like Catalyst expecting to lose weight, they may not be happy with the results."
"I started Catalyst a week and a half ago. Changed my diet. Tons of water and I gained 7lbs," said a dieter.
"I've changed my diet. Drinking tons of water. Exercising. Everything I'm supposed to do. 2 weeks into taking Catalyst I step on the scale… I gained 10 pounds," reported a user.
You have to look at both sides of the coin. As one dieter claims, "This is an effective supplement for people that work out."
Another says, "Suppressed appetite a bit – def helps build some muscle."
Scroll below for one of the best products we've seen over the last year.
Catalyst Side Effects – "A Major Concern"
According to comments on the web, Catalyst side effects can be an issue. "I started by taking two (instead of three) as directed between meals. Within 15 minutes I became fidgety," said a customer.
"This made me feel dizzy and just overall not right. I tried to keep taking it so I would get used to it, but I never did," one dieter explains.
"I started having stomach problems," according to a consumer.
Though we say these reactions may be a concern, there are those who didn't have the same issues. As one person who took it said, "Good product, with no side effects."
Another said something similar, "I get no side effects from this."
Our research has found if any part of a supplement is deemed problematic, like side effects, it could hinder chances of long-term success. If Catalyst causes the dieter to feel off, that's one reason to leave this one behind.
Is the Science Good?
According to the Catalyst website, the formula is created based on "scientific knowledge", but we can't find any published clinical studies supporting the claims of toning muscle or improve strength. At DietSpotlight, locating support is critical. If a company can't offer science as evidence, why would dieters want to use it? [3][4][5]
The Bottom Line – Does Catalyst Work?
We've got something to say about this one, so listen closely. After an extensive review of Catalyst, we like that the company has a foothold in the industry and some favorable customer comments were found, but we're skeptical about it because there's clinical research backing up the claims. [6] We also have concerns about comments from customers talking about it not producing results and the negative side effects. [7]
If you'd like to build on your strength gains, we suggest going with a supplement with no mentions of harmful side effects and containing clinically-tested ingredients shown to work.
Among the best products we've seen in 2016 is one called Pronabolin. The nine clinically-tested ingredients and has been shown to help boost build muscle and strength, endurance and stamina. There's no talk of harmful side effects and reviews show users are noticing excellent results.
The makers of Pronabolin are so confident in their supplement, their offering multiple-bottle discounts and a 120-day money-back guarantee.