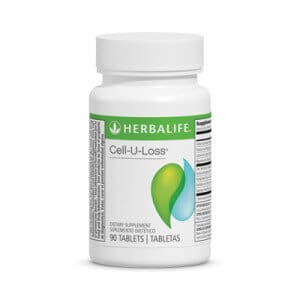 Diet products either work or they don't. Period. Let's find out which one Cell-U-Loss is. We took the time to write a detailed review, focusing on the ingredients, side effects, customer service and scientific research. We additionally examined hundreds of user comments that are posted online. Finally, we compressed and summarized to give you the bottom line.
What is Cell-U-Loss?
First off, Cell-U-Loss is a detox supplement with corn silk, parsley herb, dandelion leaf, asparagus root, sodium, potassium, calcium and magnesium. This product is intended to eliminate harmful toxins and impurities from the body, enhance your complexion, promote a healthy urinary tract and eliminate retained water weight. It also claims to help maintain healthy electrolyte and pH levels. It is to be taken three times a day, along with meals.
Herbalife Nutrition, which has been around since 1980, is the company behind Cull-U-Loss. It first emerged back in 2010. It contains natural herbs and can be used by women and men of all body types, but read on…
Customer Complaints – "What's Up?"
The first thing we came in contact with regarding Cell-U-Loss ingredients was a large number of complaints. According to our Research Editor, "There are quite a few negative experiences posted online. This is concerning because there are weight-loss supplements out there with some amazing support."
One dieter stated, "No results at all.. Regret purchasing."
"Does not work. Waste of time and money. Would not recommend it to anyone!," said another user.
One review reported the product actually worked. The user said, "Good buy and very effective for me."
Another admits to at least short-term results. "For the moment has helped me," claimed a customer.
Scroll below for one of the best products we've seen over the last year.
Lack of Results – "Not a Selling Point"
There is no real science or clinical studies presented to support this supplement, which is reflected in experiences. This is definitely a red flag. One customer commented, "These do absolutely nothing for me."
Another user said, "Taken for a month and no results, was taken with other Herbalife products. Not impressed with Herbalife products, will not buy again."
It's only fair to portray the positives as well. One user claimed, "I am trying this for the first time every other day. I seems to help me release water and I feel less bloated."
After doing some serious research, we have proven that if there is an individual facet of a diet supplement that is especially problematic (no scientific results, too many customer complaints, high price) the chances of long-term weight-loss results are minimal. This means if Cell-U-Loss does not help budge the scale, this could be a major problem.
The Science – "Valid?"
The official Herbalife Nutrition website does not provide that much information on Cell-U-Loss tablets. Unfortunately, there is no science presented and none to be had. At DietSpotlight, we are looking for clinical proof that the dieter should choose this product over the competition. That's not the case with this one, but that's not to say there are no supplements out there with strong scientific backing.
The Bottom Line – Does Cell-U-Loss Work?
Well now, are we in the car ready to speed out for this one? We are impressed that Herbalife has stood the test of time, but we have some reservations about Cell-U-Loss. It's difficult to overlook the number of negative user reviews posted on the web. Also, there is very minimal information presented on the official website. Plus, this supplement is not made up of ingredients connected with weight-loss. It's more about cleansing and detoxing your system.
If you'd like to shed some serious body fat, we encourage you to select a diet supplement that is supported by real science, does contain clinically tested ingredients and comes with positive customer feedback.
Among the best products we've seen in 2016 is one called Leptigen. This weight-loss pill contains four ingredients, which have been shown in clinical testing to help increase fat loss and elevate metabolism. Plus, there are few reports of side effects and users are talking about some fantastic results. This is honestly everything we think dieters should look for in a strong weight-loss supplement.
Also, the makers of Leptigen are so confident in their product they're offering a Special Trial Offer, which is a good sign. There's absolutely nothing to lose but those extra pounds that just won't budge!