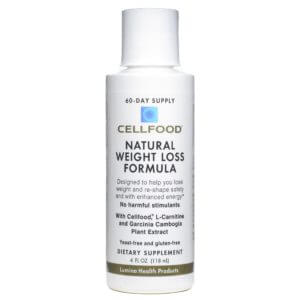 In the weeks that led to this review, I figured out whether Cellfood Natural Weight-Loss Formula actually works. We did one of our rigorous investigations, focusing on the ingredients, side effects, scientific studies and level of customer care. We also examined dozens of user responses and comments that are posted on the internet. Lastly, we compressed all of the data we collected to give you the bottom line.
EDITOR'S TIP:
Click here
to substitute Cellfood Natural Weight-Loss Formula with a proven fat burner such as Leptigen for better results.
What You Need To Know
To begin with, Cellfood Natural Weight-Loss Formula ingredients include l-carnitine, garcinia cambogia extract, 78 minerals, 17 amino acids, 34 enzymes, dissolved oxygen and electrolytes. This formula is intended to improve fat metabolism, aid with weight-loss, reduce fat storage, curb appetite and reshape your body. You simply add 20 drops of this liquid to eight ounces of water or juice, and then drink. It's best to use this diet product at bedtime. Also, you should wait at least three hours after your last meal of the day.
We are not sure when Cellfood Natural Weight-Loss Formula was first released. However, this supplement is easy to find online via stores like The Vitamin Shoppe. A single bottle lasts for 60 days. Furthermore, this product is free of yeast, gluten, sugar and stimulants, but read on…
Side Effects – "A Concern?"
The first concern we have is with Cellfood Natural Weight-Loss Formula side effects. "According to several user reviews, this liquid supplement can lead to unpleasant adverse effects, which is never a good sign," stated our Research Editor.
One user reported, "The main reason I do not use it regularly is because it irritates my bladder, so I have to get up 3-4 times during the night to pee. I wake up tired, and am foggy-brained all day."
However, not all people experienced side effects. One person said, "Okay, first of all, no jitters or pounding heart beats, etc. I take it at night as directed and it helps curb appetite."
"I have no side effects from this product. I believe it has also helped me have a better night's sleep," mentioned another.
Scroll below for one of the best products we've seen over the last year.
Fad Ingredients – "No Science?"
We noticed that Cellfood Natural Weight-Loss Formula contains a fad ingredient called garcinia cambogia. This herb has never been proven to aid with weight reduction or fat loss. One customer commented, "I take as directed and I don't feel a thing in the morning. It's happened where I feel even more sluggish. Truly a waste of money."
But, on the other hand, a different customer reported, "I feel like my body is changing, even though I haven't noticed any weight-loss yet."
Another person said, "It helps boost my energy."
Our research has shown if there is some specific part of a diet product or fat-loss program that is quite problematic or concerning (side effects, fad supplement ingredient, low Amazon star rating) the chances of lasting results are not very good. So, if Cellfood Natural Weight-Loss Formula does in fact cause adverse effects in a lot of people, this could be a major problem.
The Science – "Is There Any At All?"
Here at DietSpotlight, we need to see some published research that backs up the diet product and its marketing claims. As for Cellfood Natural Weight-Loss Formula, we could not pinpoint any clinical studies or solid science to support this liquid supplement. Naturally this is discouraging.
The Bottom Line – Does Cellfood Natural Weight-Loss Formula Work?
Now the moment you've been waiting for. This is our bottom line on Cellfood Natural Weight-Loss Formula. Firstly, we like that this supplement encourages you to drink more water. Furthermore, it's good to see that this product contains amino acids and enzymes to promote overall health. But, we have some reservations about it because it's not supported by any documented science. Moreover, we're concerned about the unpleasant side effects that some people have reported.
If you'd like to shed more pounds of fat, then we suggest you go with a product that contains clinically tested ingredients for weight-loss, does not cause any unpleasant side effects and is supported by all sorts of encouraging customer reviews.
Among the best products we've seen in 2016 is one called Leptigen. This weight-loss formula contains a combination of four key ingredients. Some of which have been shown in published clinical research to help spark metabolism and increase fat loss. We can't find any discouraging remarks online, and user comments around the web show people are seeing excellent results.
The makers of Leptigen are so sure about their product they're offering a Special Trial Offer, which is a positive sign.