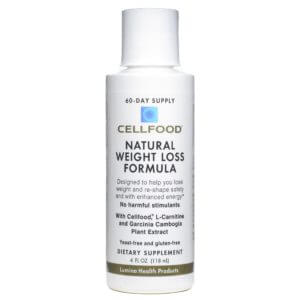 In the weeks that led to this review, I figured out whether Cellfood Natural Weight-Loss Formula actually works. Our research focused on ingredients, side effects, scientific studies and level of customer care. We also examined hundreds of user comments and reviews. Lastly, we condensed and summarized to give you the info you need.
What is Cellfood Natural Weight-Loss Formula?
First off, Cellfood Natural Weight-Loss Formula ingredients include l-carnitine, garcinia cambogia, dissolved oxygen, vitamins and minerals. It promotes weight-loss by suppressing appetite, burning fat and boosting energy. Add 20 drops to 8oz of water/juice and drink prior to sleep. You can easily toss it into your gym bag and take it with you on the go.
Cellfood Natural Weight-Loss Formula was released around 2001 by NuScience Corporation. You can purchase the supplement through online retailers and a few local vitamin stores. We like the low price and the longevity of the company, but read on…
Side Effects – "A Concern?"
The first concern we have centers on Cellfood Natural Weight-Loss Formula side effects. "A formula can speak volumes about a supplement," said our Research Editor. "With this one, we noticed dieters talking about adverse reactions."
One user reported, "I have to get up 3-4 times during the night to pee. I wake up tired, and am foggy-brained all day."
"Had to stop because of the constant upset stomach," commented another.
However, not all people experienced side effects. One person said, "Okay, first of all, no jitters or pounding heart beats, etc. I take it at night as directed and it helps curb appetite."
"I have no side effects from this product. I believe it has also helped me have a better night's sleep," mentioned another.
Scroll below for one of the best products we've seen over the last year.
Fad Ingredients – "No Science?"
According to customer comments, Cellfood Natural Weight-Loss Formula containing ingredients like garcinia cambogia was concerning. One customer commented, "I take as directed and I don't feel a thing. Guess it's just another fad diet pill. Truly a waste of money."
"I checked online and this profile isn't backed by science. It's worthless," said another.
Not every dieter commented about the ingredients. One reported, "I feel like my body is changing, even though I haven't noticed any weight-loss yet."
Another person said, "This profile is solid. It helps boost my energy."
Our research has shown if there is some specific part of a diet product that's concerning, like containing fad ingredients, the chances of long-term results are not very good. So, if Cellfood Natural Weight-Loss Formula features a formula not connected to research, we start to become skeptical about it.
The Science – "Is There Any At All?"
The information on the official website claims this supplement promotes weight-loss by suppressing appetite, burning fat and accelerating metabolic rate. We like that it contains some ingredients connected to science, like amino acids and vitamins. What's missing is science showing the connection between Cellfood Natural Weight-Loss Formula and weight-loss. At DietSpotlight, research is the critical part of the review process. When there are no studies used as evidence, we raise the red flag.
The Bottom Line – Does Cellfood Natural Weight-Loss Formula Work?
Still heading out for a bottle of Cellfood Natural Weight-Loss Formula? Well, we like the low price and that we located some positive customer comments. But, we're concerned about this one because research doesn't support the weight-loss claims. Also, we're skeptical about it due to customer reports about negative side effects and the use of fad ingredients.
Jump starting fat loss is critical to weight-loss. If that's your goal, we suggest going with a supplement containing ingredients backed by science and no talk of negative customer comments.
Among the best products we've seen in 2016 is one called Leptigen. This supplement contains four clinically-tested ingredients which have been shown to help accelerate metabolism and ignite fat loss. Users are talking about seeing positive results and there's no mention of harmful side effects.
Also, the makers of Leptigen are so confident in their supplement, they're offering customers a Special Trial Offer.