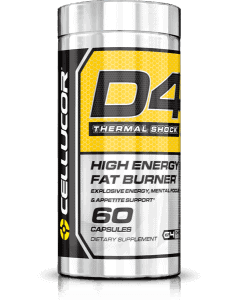 If you haven't looked carefully at Cellucor D4 Thermal Shock, now's your chance. Here at DietSpotlight, we conducted an in-depth review, focusing closely on the ingredients, side effects, customer service quality and scientific research. We additionally examined numerous dieter comments and customer responses from around the web. Finally, we condensed this information in order to give you the bottom line.
What is Cellucor D4 Thermal Shock?
Firstly, Cellucor D4 Thermal Shock is marketed as a high-energy fat burner. The ingredients are amla fruit extract, caffeine (150mg), white willow bark extract, octopamine hcl, yohimbe bark extract, evodiamine sclareolide, passion flower extract and n-acetyl-l-tyrosine. It is claimed to help improve mental focus, control appetite, heighten energy levels and burn off unwanted fat. You simply take one capsule in the morning and one again in the mid-morning (along with 8-12 ounces of water).
Cellucor D4 Thermal Shock has been available since at least 2010 and it can be purchased online. This supplement contains natural ingredients and there are some customer testimonials posted on the official website, but read on…
Adverse Effects – "Something to Consider?"
The Cellucor D4 Thermal Shock side effects are our first concern. According to our Research Editor, "The Yohimbe Bark Extract in this supplement can lead to unpleasant reactions and even heart problems, especially when combined with caffeine."
One user stated, "Gave me severe headaches every time I used it. The right lobe of my brain hurt and it did not subside for close to 6 hours. I also had this nauseous feeling throughout the day."
"It made my heart race and I sweated like I had just ran a marathon," said another customer.
Scroll below for one of the best products we've seen over the last year.
Another Concern – "Plenty of User Complaints"
There are quite a few customer complaints posted on dealer websites such as Amazon. In fact, one person revealed, "My fingers started tingling then I couldn't move them…then I had a full panic attack. I thought I was having a heart attack because I've never experienced something this scary happen to my body. I got driven to the emergency room and the panic attack lasted 1-2 hours."
Another individual commented, "Not a fan. They made me feel horrible!"
According to our extensive research, if there is a certain facet of a weight-loss product or diet program that is especially burdensome (adverse effects, user complaints, bad taste) the odds of long-term success are not good. This means if Cellucor D4 Thermal Shock does in fact lead to a high number of issues, this could be a problem.
Any Real Science?
At DietSpotlight, we like to see some real science that supports the weight-loss product and its ingredients. Unfortunately we could not locate any clinical research or studies that support the claimed effects of Cellucor D4 Thermal Shock. Nothing is presented on the official website. However, we do know that Caffeine can boost metabolism and focus – so that could be where the claims come from.
The Bottom Line – Does Cellucor D4 Thermal Shock Work?
Now the moment you've been waiting for: our bottom line on Cellucor D4 Thermal Shock. First off, we appreciate that natural ingredients are used in this supplement and there are some customer testimonials posted on the main website. Then again, we have some concerns because it's not supported by actual science – aside from the Caffeine. Also, we have doubts about the blend in this product, because there are clear reports of side effects.
If you'd like to get rid of more pounds, then we advise you to go with a diet product that is supported by solid clinical testing, is very affordable as well and is backed by some amazing customer reviews.
Among the best products we've seen in 2016 is one called Leptigen. It contains a blend of four key ingredients, which have been shown in documented clinical tests to help ignite metabolism and encourage fat loss. We have not found many complaints of harmful side effects and user comments posted on the web express people are seeing excellent results.
The makers of Leptigen are so sure about their product they're offering a Special Trial Offer, which is a positive sign.