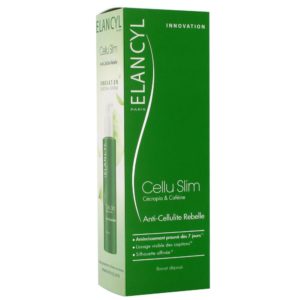 You may be surprised by what I say in this Celluslim review. We read through hundreds of customer reviews, then went on to take a good look at the ingredients, research, side effects, and even the customer service. We summarized what we found to give you the bottom line.
What is Celluslim?
Firstly, this is an herb-based diet supplement that claims to eliminate fat. Most cellulite reducers are applied topically, but this one is ingested orally. Celluslim ingredients include vitamin E, kelp, evening primrose oil powder, red clover, cod liver oil, gingko biloba extract, horse chestnut, gotu kola, herb powder, and grapeseed extract.
We're not sure who makes Celluslim or when it first hit the market. It is available online, but not in retail stores. We like that it uses all natural ingredients and is affordably priced, but read on…
Ineffective – "Hit or Miss Results"
The first thing we noticed is that the customer reviews show that many people didn't get results when using the product. "Whether topically or orally, any supplement that promises to target cellulite is not going to live up to the claim," said our Research Editor.
"I used this stuff for months and saw no difference in my skin," said one user.
"You can't tell I used this stuff at all," claimed another.
Not everyone feels this way.
"This stuff actually works," reported a dieter.
"My thighs look great," said another.
Scroll below for one of the best products we've seen over the last year.
No Science– "Nothing for Cellulite"
None of the ingredients in the formula have anything to do with cellulite. Yes, vitamin E oil helps the skin, but oral applications aren't as effective as topical.
"This formula is a crock," said a reviewer.
"Since when do you take a pill for cellulite?," asked another.
Some people didn't seem to mind.
"Within a week I started seeing my skin improve," was one experience.
As another put it, "By the time I finished the bottle, I knew it was worth it to get another one."
Over the years, we've found it takes a small thing, like product ineffectiveness, to stop any chance of long-term results. If the formula doesn't actually help customers, eventually they'll turn to another company.
The Science – "Just Not There"
Vitamin E oil is in the product, but you'd be better off applying it to your skin for hydration and overall health. None of the other ingredients in the formula are clinically proven to have any effect on weight-loss. At DietSpotlight, we want to see science before we can recommend any product.
The Bottom Line – Does Celluslim Work?
What's the real deal with Celluslim? It's nothing impressive, and doesn't seem to do much of anything to reduce or remove the appearance of cellulite. For this reason, we have reservations. Plus, there are customer complaints to consider.
If you're ready to lose weight, we suggest a weight-loss product with clinically tested ingredients. And, to get the most from it, use it with a balanced diet and regular exercise program.
Among the best products we've seen in 2016 is Leptigen. It's made using only clinically tested ingredients known to support metabolism and weight-loss. And, as we researched, there was no mention of harmful side effects, or negative comments. That means users are happy with their results.
At this time, the makers of Leptigen are running a Special Trial Offer. This shows confidence in the product.