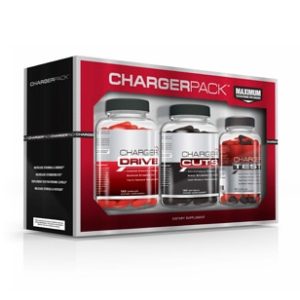 I paused before I hit the "publish" button on this one, because my conclusion was a bit of a shocker. We did one of our in-depth reviews on Complete Nutrition Charger Pack, examining the side effects, ingredients, customer-service quality and clinical research. We also sorted through numerous user comments from around the web. At last, we summed up all of the facts and feedback in order to give you the bottom line.
EDITOR'S TIP:
Click here
to substitute Charger Pack with a proven testosterone booster such as Pronabolin for better results.
What is Charger Pack?
First off, Charger Pack is a set of three muscle-building supplements. They include Drive, Cuts, and Test. These products are intended to reduce stored fat, boost testosterone levels, improve lean muscle mass, increase libido and elevate overall performance. Ingredients include DHEA, saw palmetto, tribulus terrestris, milk thistle, CLA, medium chain tryglycerides, yohimbe bark, amino acids, green tea, cinnamon bark, cayenne pepper, ginger root, gingko biloba, caffeine, white willow bark and eleuthero root. These formulas are marketed specifically at men.
We are not sure when Charger Pack was first released. However, it looks like this product was available since at least 2012. There are a few positive comments about these supplements posted online. Also, the company that makes these formulas is Complete Nutrition. They offer several other fitness, wellness and weight-loss products as well, but read on…
Minimal Results – "Concerned Yet?"
The first concern we have is minimal results. "Some users have complained of minimal to no real effects from Charger Pack supplements. Naturally this is concerning. After all, some people have reported paying $200 for this product."
One user said, "Took these products for six weeks. I have no results to report. This cost me $200. Can you say rip off?"
On the other hand, a different customer stated, "I have been using this with my regular workouts. It does increase my energy some. I have also dropped three pounds."
Another posted, "I give it three stars. Works okay. Since it was so pricey, I won't buy it again though."
Scroll below for one of the best products we've seen over the last year.
Lack of Availability – "Another Issue"
Another drawback is the lack of availability. In fact, one person commented, "Complete Nutrition Charger Pack was discontinued. I wanted to try this, but I guess it didn't make it."
However, a different customer said, "Found Charger Pack on eBay. I must admit, I don't like taking three different supplements. Not a good choice for me."
"Used this supplement trio in the past. It helps some, but no major results. No Charger Pack side effects either," revealed another individual.
The research we've done has revealed that if there is a certain facet of a fitness product or testosterone supplement that is very difficult or burdensome (minimal results, lack of availability, side effects) the likelihood of long-term success is slim. In other words, if Charger Pack does not yield any real results in numerous users, this could be a major problem.
The Science – "Solid?"
Here at DietSpotlight, we like to see some actual research that supports the supplement we're investigating. Unfortunately, we could not pinpoint any documented studies regarding Complete Nutrition Charger Pack. However, we did notice that one of the products contains tribulus terrestris, which may help boost libido, improve sperm quality and assist with erectile dysfunction.
The Bottom Line – Does Charger Pack Work?
Now the moment you've been waiting for. This is our bottom line on Charger Pack supplements. First off, we like that these products contain some natural herbs. It's also good to see that a few positive comments are posted online. But we have some reservations about these formulas because there is no solid science presented as support. Also, we're concerned about the minimal results some people have reported. Not to mention this product's lack of availability.
If you're really interested in boosting testosterone levels, increasing muscle power and taking your workouts to the next level, then we suggest you select a product that is readily available for purchase online, does not break your bank account and contains clinically tested ingredients.
Among the best products we've seen in 2016 is one called Pronabolin. It contains nine key ingredients, which are clinically tested and have shown to help increase muscle power, elevate testosterone levels and improve workout performance. We cannot find any discouraging user feedback, and customer remarks posted online express people are seeing solid results.
The makers of Pronabolin are so confident in their product they're offering every customer a 120-day money-back guarantee and multiple-bottle discounts.