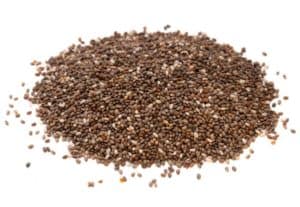 You're about to learn everything you need to know about Chia Seed Diet. We took an in-depth look at the ingredients, side effects, clinical research, and customer service. Then, we read though hundreds of user comments to determine what people actually thought. We summarized and condensed everything to give you the bottom line.
What is Chia Seed Diet?
Firstly, the Chia Seed Diet is not a formal weight-loss plan. All you have to do is order chia seeds and follow the recommendations. Theories suggest the program works because of the fiber content they suppress hunger and control blood sugar levels so you eat less.
There are several companies who make chia seed supplements. You can find them online and at mass retailers nationwide for anywhere from $7.99 to $13.99+ a pound, depending on quality and vendor. We like that the benefits come from nutritional properties, but read on…
Side Effects – "Be Careful"
The first thing we noticed is multiple reports of chia seed side effects. "Just because something is all natural doesn't mean some people won't experience issues with it. We suggest trying it in small amounts and watching how your body responds first," said our Research Editor.
"I experienced a lot of gastrointestinal distress after adding chia seeds to my diet," said one frustrated dieter.
And we also found a commenter who mentioned, "I had to stop eating these they caused me so much stomach trouble."
Others say you can avoid the side effects by changing the way you eat the chia seeds.
"All you have to do to avoid the gassy issues is soak the seeds before you eat them," claimed a reviewer.
And yet another agreed, "I've avoided all side effects by soaking the seeds before I add them to my smoothies and oatmeal."
Scroll below for one of the best products we've seen over the last year.
Taste – "Not For Everyone"
Chia seeds are not suited to everyone's tastes, despite their versatility in recipes.
According to one consumer, "Tried it in oats, dry cereal, muffins, and sprinkled on salad. Even tried to make the drink. We just don't like it. The seeds are too hard and crunchy and the liquid is too gel like for our tastes."
"I don't like it, nothing happen to me…..not good for losing weight," said one buyer.
Others, however, love how they taste.
"Use just a little and you can barely taste them (good for a start). Use a bit more and it will have a nutty peppery flavor," said a reviewer.
"These are very crunchy when sprinkle on salad. Personally, I put a spoonful of these chia seeds into my daily cup of coffee. They taste much better in the coffee," said another happy dieter.
Based on our research, if a single area of a program is flawed, like causing negative side effects, the chances of dieters seeing long-term results are greatly diminished. If chia seeds result in digestive issues, this is something to consider.
The Science – "Several Studies Show Health Benefits"
Chia seeds are widely studied, and though there is conflicting evidence about their role in prostate cancer, research shows they are high in fiber and antioxidants, which are great for overall health.
At DietSpotlight, we're always glad to see science when it's there, but the direct connection to weight-loss remains much a theory at this point, with more specific research needed.
The Bottom Line – Does Chia Seed Diet Work?
What's the real deal with Chia Seed Diet? Not an actual weight-loss plan, this more of a basic idea of adding the food to your diet. In theory, it increases your fiber intake, which should help control appetite and blood sugar, making it easier to eat less. But, in practice? We have reservations.
If you want to shed those extra pounds, why not try your hand with a supplement that contains clinically tested ingredients that are known to help increase metabolism? For best results, combine it with diet and exercise.
Among the best products we've seen in 2016 is one called Leptigen. It's made using four key ingredients shown in clinical tests to help boost fat loss, curb hunger and improve fat loss. Our research revealed no negative comments or mentions of harsh side effects, letting us know people are pleased with their results.
Plus, the makers of Leptigen are giving all customers a Special Trial Offer, which is the kind of the thing we love to see.