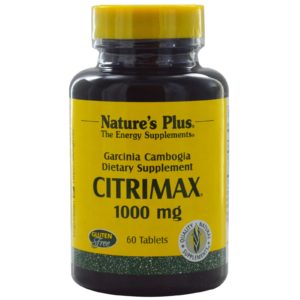 If you want the bottom line on Citrimax, give me just two minutes of your time. We made the effort to create a thorough review, focusing closely on the ingredients, side effects, customer-service quality and scientific studies. Then we looked into comments from all over the internet. At last, we narrowed down all of the information we collected to give you the bottom line.
What is Citrimax?
Citrimax is the name given to supplements that has the active ingredient garcinia cambogia. The exact amount varies based on the manufacturer and some companies include a few other elements like chromium and hydroxycitric acid. The label will tell you how many and often to take the product.
Versions of Citrimax are made by a variety of companies and are available at various price points. The products are available at local and online retailers throughout the country and are usually made with all natural ingredients, but read on…
Side Effects– "Unpleasant"
Our first concern is with the Citrimax side effects many users experienced. While they won't apply to all, they are significant enough to be cause for concern. According to our Research Editor, "If unintended reactions are substantial enough they will dissuade a customer from prolonged use of the product."
According to one client, "I was constantly dizzy when I was taking Citrimax so I had to stop."
Another claimed, "My mouth felt like it had cotton stuffed in it no matter how much water I would drink. I couldn't keep taking it."
Not all of the reviewers experienced bothersome side effects. One said, "My stomach was a little upset while I was taking it but nothing that negated the results I had."
This happy reviewer explained, "I didn't experience any side effects at all and it worked great for me."
Scroll below for one of the best products we've seen over the last year.
Lack of Research– "Generic Studies"
Most of the companies selling a version of Citrimax do not provide any clinical research specific to their formulation. This is concerning.
One worried reviewer said, "I have a background in science and I really need to know that what I'm putting into my body is safe and effective. I couldn't find any Citrimax products that met my standards."
Another chimed in with, "I showed my doctor the Citrimax my friend recommended and he told me he'd never heard of it so I didn't bother."
However, some consumers don't seem to mind nonspecific research. According to one, "Nothing works exactly the same on everyone. I tried it and it worked fine for me and that's all that matters."
An optimistic customer said, "I tried some a friend of mine had before I looked into it. She and I have both been losing weight which is a better indicator than a research study for me."
According to our research, unpleasant side effects and a lack of high quality research may make consumers nervous. These are the kinds of details that matter when forming an overall impression of a product. If the companies making Citrimax can't support their claims, dieters may not buy a second bottle.
The Science – "Limited"
At DietSpotlight, we keep up to date on the latest scientific research in the field of nutrition and weight-loss. We also look at the studies provided by specific companies. Citrimax has had some promising support, but a more in-depth look is needed.
The Bottom Line – Does Citrimax Work?
Should I race out for a bottle of Citrimax? We like that most versions contain all natural ingredients. However, the lack of research and ingredient variability makes us hesitant to give it the green light.
If the time has come to jump start your metabolism you may want to check out a supplement with tested ingredients that are backed by solid scientific research. A really great company will also have a strong customer service department that can answer specific questions dieters may have and there will be no reports of harsh or harmful side effects.
Among the best products we've researched in 2016 is one called Leptigen. It is made of a combination of four active ingredients, which have been well documented in clinical testing to help increase fat loss and boost metabolism. As we conducted our research we didn't find any negative consumer experiences but we did find numerous dieters sharing their great results.
The manufacturer of Leptigen is so confident in their product that they are now offering a Special Trial Offer, which has dieters excited.