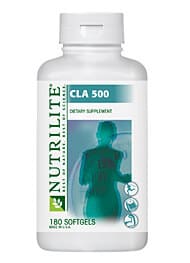 I paused before I hit the "publish" button on this one, because my conclusion was a bit of a shocker. We did one of our comprehensive reviews, taking a close look at the side effects, ingredients, scientific research and overall customer service. Furthermore, we looked at hundreds of dieter comments we found online. Then finally, we compressed all of the feedback and facts in order to give you the bottom line.
EDITOR'S TIP:
Click here
to substitute CLA 500 with a proven fat burner such as Leptigen for better results.
What You Need To Know
First off, CLA 500 is a daily supplement made by Nutralite, which is available from Amway. The ingredients used in CLA 500 include safflower oil, gelatin and glycerin. This formula is intended to reduce unwanted body fat, promote lean muscle mass and improve overall body composition.  Each softgel provides 500 mgs of CLA. For maximum results, this should be taken one to three times daily.
CLA 500 first emerged back in 2011 and it is available online for $85 or less per bottle (depending on the dealer). The key ingredient used in this product is completely natural and both women and men can take this supplement, but read on…
Insufficient Results – "A Concern?"
The first issue we came across with CLA 500 ingredients was that dieters just don't reporting seeing weight-loss like promised. According to our Research Editor, "We discovered that conjugated linoleic acid can help lower blood pressure, but does not help with actual weight reduction. Furthermore, there is no solid evidence that CLA helps improve muscle mass either."
One customer commented, "I am 3 weeks into it and not seeing results."
"I go hard at the gym 6/7 days a week, and watch what I eat always, and this brought me no change," said another user.
Scroll below for one of the best products we've seen over the last year.
A Bunch of User Complaints – "Say What?"
We couldn't help but notice numerous customer complaints posted online. One dieter stated, "Waste of money… Didn't do anything for me long term."
Another complained, "Does not actually help you lose weight."
After conducting plenty of research, we have concluded that if there is some certain facet of a diet formula or weight-loss plan that is considerably bothersome (a painful/difficult exercise routine, insufficient clinical evidence, a lot of customer complaints) the odds of success are not good. Therefore if CLA 500 does in fact cause negative feedback, this could be problematic.
The Science – "Clinical Proof?"
First of all, there is some clinical research supporting CLA for heart health. This fatty acid can assist with lowering blood pressure. However, we did not find any documented proof that CLA 500 helps with weight-loss. Therefore, we at DietSpotlight cannot see a reason for dieters to give this one the old college try.
The Bottom Line – Does CLA 500 Work?
Are we on the run to pick up every bottle of this one? We do appreciate that CLA 500 contains natural safflower oil to assist with heart health. However, after doing some digging, we noticed that CLA is often pushed as a weight-loss ingredient as well. But, there's just no proof it can help dieters shed more. This is something that should not be overlooked. Also, CLA 500 is quite expensive in comparison to other similar supplements.
If you need to see more fat loss and really trim down, we advise you to select a supplement that contains proven ingredients for fat loss and is backed by plenty of positive user reviews.
Among the best products we've seen in 2016 is one called Leptigen. This supplement contains a blend of four key ingredients that have been proven in documented clinical research to help encourage fat loss and elevate metabolism. Just so you know, we can't pinpoint any negative feedback concerning harmful side effects and user comments found online express people are seeing solid results.
Also, the makers of Leptigen are so confident in their product they're offering a special trial offer, which is a good sign.