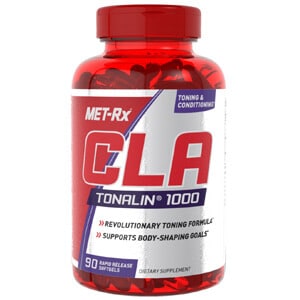 I'm obsessed with finding diet products that actually work. Let's find out if CLA is one of them. We spent some time conducting an in-depth review, focusing on the side effects, ingredients, clinical research and overall customer care. We also checked out countless user remarks and comments from all over the web. Finally, we summarized and compressed all of the facts to give you the info you need.
What is CLA?
First off, CLA ingredients only include conjugated linoleic acid. This is a natural fatty acid that is commonly found in dairy and beef products. However, this substance can also be derived from safflower oil. It's often said to reduce unwanted body fat, improve lean muscle mass, promote heart health and even fight cancer. There are numerous supplements available online and in stores that contain this key component. Many of them are advertised as weight-loss or muscle-building products.
From what we gathered, CLA has been available since 1978, when it was discovered by Dr. Michael Pariza. Many diet supplements that contain this fatty acid offer several other key ingredients as well to promote weight-loss or overall fitness. There is plenty of user feedback posted on the web for conjugated linoleic acid products, which is helpful, but read on…
Minimal Results – "Is It Strong Enough?"
One concern we have with CLA is minimal results. According to our Research Editor, "Numerous people who have taken conjugated linoleic acid supplements for weight-loss purposes have stated that they experience little to no effects. Obviously this is concerning."
One person revealed, "I took it for five weeks. Not only did I not lose a pound, but it also caused me to get bad headaches."
However, a different user said, "Didn't experience any CLA side effects, like others report. But, didn't really feel any other effects either."
Another posted, "If you really look into CLA, you will see that it does not help you lose weight or reduce BMI. It's more for promoting lean muscle when lifting weights."
Scroll below for one of the best products we've seen over the last year.
Negative User Reviews – "Not a Good Sign"
There are quite a few discouraging user comments posted on the web about CLA supplements. In fact, one person revealed, "Every time I take this I get very sick to my stomach. I'm done feeling like crap. I've tried this at least five times and each time I feel like I'm going to have to run to the bathroom."
Then again, not all users have bad things to say about CLA. One person mentioned, "Been taking this for about eight weeks now. When combined with low-calorie diet and strength training, you will see more lean muscle."
"Not sure exactly what CLA does. I know there is quite a bit of hype. I will continue taking it until it's gone. Hopefully it does something," said another customer.
Our research has shown if there's a particular part of a diet supplement that is especially bothersome (minimal results, negative user reviews, unpleasant taste) the likelihood of long-term success is rather slim. In other words, if CLA does fail to produce real effects in a lot of people, this could be a big problem.
The Science – "Is It There?"
There is some research that supports CLA for decreasing body fat in adults. However, according to WebMD, this substance, "Does not seem to decrease body weight or body mass index (BMI) in most people." Therefore, it may help some with overall physical fitness, but may not be the answer to serious weight-loss.
The Bottom Line – Does CLA Work?
So, should you run out and buy a CLA supplement? Well, first off, we like that this is a natural fatty acid that helps promote heart health and lean body composition. On the other hand, studies have shown that this ingredient does not decrease body weight or BMI. Also, we're concerned about some of the negative user comments posted online regarding side effects and no weight-loss results.
If you'd like to drop more pounds, then we suggest you choose a supplement that does not cause any harmful side effects, contains clinically tested ingredients for weight-loss and gives you plenty of bang for your buck.
Among the best products we've seen in 2016 is one called Leptigen. This formula contains a blend of four important ingredients, which have been shown in documented clinical studies to help ignite fat loss and spark metabolism. We can't find any discouraging user feedback online, and the customer comments we spotted on the web indicate people are seeing solid results.
The makers of Leptigen are so satisfied with their product they're offering a Special Trial Offer, which is a good sign.