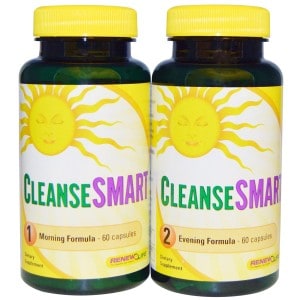 The outcome of my research into CleanseSmart was somewhat surprising. We dug deep into the ingredients, side effects, clinical research and customer service. Then, we read every comment and forum post we could find. Finally, we summarized to give you the bottom line.
EDITOR'S TIP:
Substitute CleanseSmart with a proven fat burner such as
Leptigen
for better results.
What is CleanseSmart?
Firstly, CleanseSmart is a 2-step cleansing process that's supposed to help with regularity while detoxing the body. It's broken into a morning and evening component. Ingredients include burdock extract, dandelion extract, milk thistle extract, cape aloe, marshmallow root and ginger root. You start out with one capsule in the morning and evening and work up to three each time.
Renew Life, the company that makes CleanseSmart, has been around since 1997. The official website sells the product, so you buy it direct. We like that it's offered with a 60-day guarantee and all ingredients are natural, but read on…
Weight Gain – "Not Exactly What's Expected"
Our first concern with CleanseSmart ingredients is that they may not work to support weight-loss. "Many people are choosing to adopt a cleanse as part of a new program to lose weight," says our Research Editor. "There is some support with fitness gurus, but it won't produce long-term results."
As one follower put it, "I believe I actually gained weight as I was almost instantly backed up with this product."
"I am bloated constantly and have actually gained 5 pounds since taking them," said another.
The opposite was actually true in some cases.
"You will lose weight if you follow the eating recommendations, drink lots of water and sweat for 30 minutes a day, and stay on the cleanse for 30 days," offered one dieter.
Yet another claimed, "I have lost weight, too, without much change in my habits."
Scroll below for one of the best products we've seen over the last year.
No Results – "What's Happening?"
People that gained weight weren't the only ones having issues. One dieter said, "I am on day 9 of my cleanse, have followed the instructions, but have had no changes."
Another shared, "I am disappointed with this product. I stop taking it and dumped the last 20 in the trash."
Others found the results to be exactly what they expected.
"All in all, I found the cleanse to be very effective and rewarding," was one experience.
A report also said, "It is very gentle, I didn't feel any stomach pains."
Throughout many years of research, we've found what looks like a connection between something small, like unexpected weight gain, and a lesser chance of long-term results. If CleanseSmart causes more negative feelings than positive ones, that's a problem.
The Science – "Real Clinical Proof?"
CleanseSmart contains ingredients proven to help flush out water weight and improve regularity, but there's nothing in the formula that works to promote lasting weight-loss. At DietSpotlight, research is critical and this detox/cleanse has no clinical support.
The Bottom Line – Does CleanseSmart Work?
Is it time to race out for CleanseSmart? Well, we like the natural ingredients and there's a 60-day guarantee, but we're a little hesitant because the formula is not connected to weight-loss in any way. Plus, there are report of side effects and poor results.
If you're at the point that you're ready to lose those extra pounds, we suggest trying a clinically tested supplement with few, if any, reports of side effects.
Among the best products we've seen in 2016 is one called Leptigen. It is made with four scientifically tested ingredients shown to help with fat loss and metabolism. There are tons of spectacular dieter reviews and reports of side effects are nearly non-existent.
Plus, we found a Special Trial Offer from the makers of Leptigen because they are so confident in the formula.