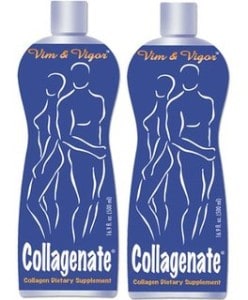 In the ongoing search for the ideal fat burning supplement, we came across Collagenate. We decided to carefully review the product and examine the individual ingredients, side effects, and clinical studies as well as the customer-service quality. We also looked into a number of forums to try and find customer experiences. We then condensed to give you the bottom line.
EDITOR'S TIP:
Substitute Collagenate with a proven fat burner such as
Leptigen
for better results.
What is Collagenate?
First, Collagenate is a dietary supplement containing a mixture of cold processed Aloe Vera, purified water, Collagen, Natural Fruit Flavors, Stevia Leaf Extract, Citric Acid, Potassium Benzoate, and Potassium Sorbate. When a tablespoon is taken once per day on an empty stomach, the product supposedly supports weight-loss by stimulating your body's fat-burning metabolism. Vim and Vigor even claim that it boosts skin, hair, and joint health. It looks like it is pretty simple to use and is only taken once per day, either in the morning or before bed. The key is that it needs to be taken after the stomach has been empty for 3 hours – so no snacking after dinner.
Collagenate is produced by Vim and Vigor, a California-based company that has been in business for over 20 years. However, it is unclear how long it has been around.The product claims to avoid stimulants altogether, which is a good sign. You can purchase the supplement from the official website. We appreciate that synthetic ingredients are avoided, but read on…
Side Effects – "Heart-related?"
Our first concern was with Collagenate side effects as reported by users. "The ingredients seem to indicate that taking it once per day is pretty harmless," said our Research Editor, "But strangely enough, while reading through the very limited amount of consumer reviews online, we noticed several claims of heart irregularities." We don't know for sure what could cause these heart-related side effects, but they may be there.
"Makes my heart race…Do not recommend," said one user.
"I took it for 6 weeks, heart palpitations stopped when I stopped taking the product," said another.
Scroll below for one of the best products we've seen over the last year.
Efficacy – "Another Concern"
After reading through more reviews, we found that Collagenate seems to produce only spotty results. Many customers even reported that the supplement did absolutely nothing. "Didn't do anything for my joints, hair, skin, or with weight-loss," said one customer online.
"Didn't really see a difference," said another. After reading further through the forum, we noticed that these customers weren't alone. "Didn't see any changes. Maybe my body is just weird but I feel kind of cheated," said another.
In our years of research, we've noticed that a weight-loss supplement with troublesome elements has a much smaller chance of long-term success. If it's true that Collagenate causes heart irregularities, we're just not sure about giving it a recommendation.
The Science – "Is It Sound?"
Vimandvigor.com repeatedly describes how they worked with the top collagen experts on the creation of the product, but not once do they mention who these experts are. Many of the ingredients in Collagenate, including collagen, simply haven't received enough study. We would prefer that supplements have some kind of research to back claims and that they would incorporate some elements proven to boost weight-loss, fat burning, and appetite suppression.
The Bottom Line – Does Collagenate Work?
Are we ready to recommend this one? The use of collagen in Collagenate's formula initially looked like a good idea, but we haven't been able to find enough evidence to back the product up. There are so few user reviews online, and the few we did see contained complaints about heart irregularities and lack of results. The price is also pretty high for an unproven product–almost $60/month to stay on track, and most users won't want to wait for 3 months to see results.
If you're looking to shed those extra pounds, try finding a product that has clinically researched ingredients and delivers more bang for your buck. Don't spend your money on speculative formulas.
Among the best products we've seen in 2016 is Leptigen. It has a formula based on a proprietary blend of four clinically tested ingredients. These have been shown to help burn fat and boost metabolism, and we can't find much talk of side effects. Comments from the web are all overwhelmingly positive.
The makers of Leptigen are even promoting a Special Trial Offer, which is always a good sign.