Colo Cleanse Pro Review
Editor
's Review:
3.5
/ 5.0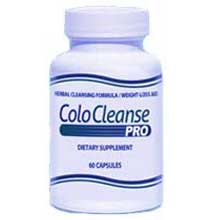 There has been a lot of buzz about Colo Cleanse Pro, so we did one of our in-depth reviews, focusing closely on the side effects, ingredients, clinical studies and customer care. Plus we sorted through dozens of dieter comments and user reviews found on the web. Lastly, we summarized all the facts and feedback to give you the crucial info you need.
What You Need To Know
Colo Cleanse Pro is a supplement that is supposed to help flush harmful waste out of the body, boost energy levels, improve metabolism and assist with fat loss. This supplement is taken daily with plenty of water. According to the bottle, you will look great and feel great. As for the ingredients used in Colo Cleanse Pro, they are not disclosed. It's likely that this supplement contains a combination of plant extracts, fibers and diuretics that encourage bowel movements. Even though the cost of this product is not clearly posted on the company website, a customer revealed that the price is $69.97 per bottle.
This product has been available since 2013 and can be acquired directly through the official website. Colo Cleanse Pro may help increase regularity and flush out toxins, but read on…
Terrible BBB Rating!
"After doing some digging, we discovered that Colo Cleanse Pro has received an F rating by the Better Business Bureau. Furthermore, there is an "alert" posted for this business, which is very concerning," says our Research Editor.
One customer stated, "They offered me a free trial of this product and they said I only had to pay postage and packaging. Then find out that I had 69.97 go out of my bank account a couple of days later, which has now made me go overdrawn and receive bank charges. Sent the company emails with no response and another withdrawal has taken place..""
Another said, "I purchased product once ..and just saw they have taken out $120 a month. This is wrong, how do we stop them?"
Consumer Complaints – Watch Out
There are all sorts of customer complaints and negative feedback posted online for Colo Cleanse Pro. One user commented, "I ordered free trial, but have just been charged $109.00, how do I contact them????"
"Charged my card 89.00 and didn't even receive anything. Major rip-off and doesn't even work. Scam," said another customer.
Our research has revealed that if there is one certain aspect of a diet supplement or weight loss program that is very troublesome (bad BBB rating, negative user reviews, pills that make you jittery) the chances of long-term success are minimal. In other words if Colo Cleanse Pro leads to a lot of customer complaints, this could be a deal breaker.
The Science
We at DietSpotlight need to see published clinical research that supports the diet product and its ingredients for weight loss. Sadly, there are no scientific studies presented on Colo Cleanse Pro. In fact, the official website does not really provide much information at all.
The Bottom Line
It's good to see that Colo Cleanse Pro may help flush built-up waste and toxins out of the body, but there is absolutely no real proof that this supplement works as claimed. You should also not overlook the customer complaints posted on websites such as complaintslist.com. Then there is the undisclosed fee. It's clear that many people who order this product get charged a hefty sum that they are unaware of.
If you need to drop more pounds of fat, we encourage you to go with a diet supplement that contains scientifically proven ingredients and is backed by plenty of positive customer reviews.
Among the top-rated weight loss products we've seen in 2015 is Leptigen. This supplement uses a unique blend of four ingredients, which have been proven in documented clinical studies to help increase fat loss and enhance metabolism. We have not found any complaints of harmful side effects and dieter feedback posted on the web reveals people are seeing excellent results.
Also, the makers of Leptigen are so confident in their product they're offering a Special Trial Offer, which is a good sign.
GD Star Rating
loading...