Updated: 09/29/2015 - Sponsored by Leptigen
Contour Ab Belt Review - Does This Waistline Slimmer Work?
Are cost and negative customer service deal breakers?
PUBLISHED: 09/04/2015 | BY: SUMMER BANKS, SENIOR REVIEWER
Editor
's Review:
2.9
/ 5.0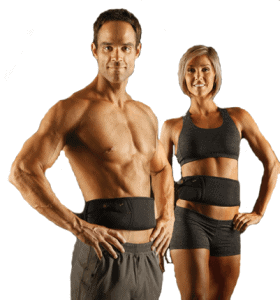 There are people talking about Contour Ab Belt, so we concentrated on ingredients, side effects, clinical backing and customer service. We delved into hundreds of dieter reviews and comments. We then summarized and condensed to give you the info you need.
EDITOR'S TIP:
Combine Contour Ab Belt with a proven fat burner such as
Leptigen
for better results.
What You Need to Know
Contour Ab Belt is a waistline slimming product consisting of a belt and gel pads. Dieters can wear it for 30-minute sessions and it supposedly assists in weight-loss. A positive is that you can wear it with discretion. However, it has a considerably low rating of 1.0 on Amazon.
The product, introduced in 2008 by Teksmart Fitness, can be worn anywhere, a nice option. It is available to purchase on the official website. We do like the money-back guarantee and  there are some positive customer comments, but read on…
Cost – It's that Expensive?
The first concern we had was the Contour Ab Belt cost. "Some dieters look for miracle products that produce immediate results and they're willing to invest any amount of money for it," says our Research Editor. "Contour Ab Belt is not a magic abdominal machine and when you look at the cost, you could easily join a fitness club."
"The real cost was $215.00 and that it would take 30 days to get here," said one customer.
"When everything was submitted, it said my total was $199.80," commented a dieter.
Scroll below for one of the best products we've seen in 2015.
Customer Support – Hello??
According to several reviews, the customer service department isn't helpful. "I was on hold for 45 minutes before I got to speak with someone… all she kept saying was that my money was not refundable," said a dieter.
"The client support is awful and that I wouldn't suggest the product for anybody," reported a user.
"I asked to speak to a manager or get the number of a land line where I could speak to someone without being disconnected I was transferred to a message machine.  Needless to say, this company ended totally ripping off a disabled person who needed a device like this one to exercise," said a customer.
Our research shows that any particular part of a product deemed troublesome, like an unsupportive customer service team, could impede long-term success. If Contour Ab Belt doesn't provide excellent care, that's not good.
The Science
According to the official website, the Contour Ab Belt is "Food and Drug Administration cleared for strengthening and toning abdominal muscles", but we can't recommend it because the FDA simply tests the product. There are no scientific studies supporting weight-loss claims. At DietSpotlight, locating clinical research is critical. If there are no studies, dieter's may not try it out.
The Bottom Line
After taking an in-depth look at Contour Ab Belt, we've reached a decision. The positives include a few favorable comments money-back guarantee, but we can't recommend it because the weight-loss claims are not supported by published clinical research. The FDA clearance isn't the same thing as proof. Also, the product is expensive and the customer service isn't helpful.
If you'd like to improve your waistline, we suggest going with a product delivering a great price and ingredients supported by published scientific research.
One of the best supplements we've seen in 2015 is one called Leptigen. The four-ingredient, proprietary blend has been shown in published clinical research to improve metabolism and stimulate fat loss. Dieters aren't mentioning negative side effects and the word on the web is that consumers are seeing amazing results.
Also, the manufacturers of Leptigen have confidence in the supplement, so they're offering a special trial offer, a smart choice.