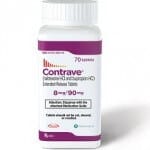 This review is what happened after I obsessed for weeks over Contrave. We decided to take an extremely close look at the ingredients, side effects, customer care and clinical research. We also went through hundreds of user comments we found online. At this point we condensed and refined to give you the bottom line.
What You Need To Know
To start, Contrave is a prescription diet medication for individuals who are considered obese (have a BMI of 27 or higher). This drug must be obtained through a licensed physician. It contains two different parts, which are bupropion hydrochloride and naltrexone hydrochloride. When taken in conjunction with a low-calorie meal plan and regular exercise it should help you lose weight. You take one tablet each morning for the first week and then a second dose in the evenings thereafter. You'll eventually take four daily.
Contrave has been available since 2014 and was approved by the FDA. Both women and men can take this diet pill and a healthy lifestyle is encouraged, but read on…
High Cost – "Pay What?"
The first thing dieters need to take into consideration with Contrave ingredients is the fact that they are costly to try. "The actual price of the drug varies depending on your insurance coverage. You could end up paying $300 per month for this weight-loss medication," says our Research Editor.
One dieter stated, "Without insurance, my scrip would be $299 per month."
According to another user, "It was $142 without insurance!"
Scroll below for one of the best products we've seen over the last year.
Serious Side Effects – "Proceed With Caution"
There are several common side effects that can occur while using Contrave diet pills. According to the official website, these include vomiting, diarrhea, constipation, dry mouth, headache and trouble sleeping. One user complained, "I started two days ago and have felt very Dizzy!!! and throwing up to the point that I'm in tears."
"I have started 10 days ago and I'm still fighting side effects (nausea, diarrhea, dizziness mainly)," said another customer.
According to our research, if there is a certain part of a weight-loss pill or diet program that is especially troublesome or concerning (serious adverse reactions, high price, an FDA warning) the likelihood of real results for the long run is minimal. This means if Contrave does lead to serious side effects in a lot of people, this could be a major concern.
The Science – "Clinically Proven?"
There have been clinical studies conducted with the two key ingredients used in Contrave. We certainly appreciate this, because here at DietSpotlight, we like to see real science that supports the weight-loss product in question. Even through there are some weight-loss trials that support this option, dieters must take into consideration the risk of side effects, weighing them against potential rewards.
The Bottom Line – Does Contrave Work?
Well now, what about this prescription medication? While we appreciate that Contrave is regulated by the FDA, we certainly don't feel comfortable recommending it to all dieters. After all, this product can lead to some serious side effects, as reported on the official website. Furthermore, the FDA rejected this drug back in 2011 because they thought it would increase risk heart related problems. It was later approved. The truth is there are safer weight-loss options available that produce real results.
If you really want to shed excess pounds and slim down, we recommend you go with a weight-loss product that does not cause adverse effects, is backed by clinical research and will not break your bank account.
Among the best diet products we've seen in 2016 is one called Leptigen. This supplement contains a unique blend of four key ingredients, which have been proven in documented clinical research to help accelerate fat loss and increase metabolism. Also, we can't pinpoint any complaints of harmful side effects and dieter reviews around the web show people are seeing solid results.
Plus, we find it positive that the makers of Leptigen are so confident in their formula they're offering a Special Trial Offer.