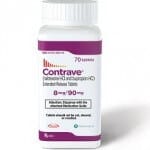 This review is what happened after I obsessed for weeks over Contrave. We decided to take an in-depth look at the ingredients, side effects, customer care and clinical research. Additionally, we examined hundreds of dieter comments and testimonials. Then, we summarized and refined to give you the info you need.
What is Contrave?
To start, Contrave is a prescription weight-loss medication for individuals who have a BMI of 30 or greater or a BMI of 27 or greater with medical condition related to their weight. The ingredients are bupropion hydrochloride and naltrexone hydrochloride. You'll take one tablet each morning for the first week. The second week you'll use one in the morning and another in the evening. By the third week, it's two tablets, twice per day. Dosage depends on the prescription received from your physician.
Contrave has been available since 2014 and was approved by the FDA. The medicine, which affects the appetite and reward center of the brain, is made by Orexigen Therapeutics. We like that we found some positive dieter comments and that a healthy lifestyle is encouraged, but read on…
High Cost – "Pay What?"
The first concern relating to Contrave ingredients is the high price tag. "The cost of this medication varies, depending on your insurance coverage," said our Research Editor. "Some dieters have reported spending upwards of $200 for a 30-day supply."
One dieter stated, "Without insurance, my scrip would be $299 per month."
According to another user, "It was $142 without insurance."
We found some Contrave reviews that didn't mention the cost.
"Yes, it's pricey, but the results I've seen are worth every penny," said a consumer.
Scroll below for one of the best products we've seen over the last year.
Side Effects – "Not Good!"
There is a list of Contrave side effects available on the official website. One user commented, "I started two days ago and have felt very dizzy and throwing up to the point that I'm in tears."
"I have started 10 days ago and I'm still fighting side effects (nausea, diarrhea, dizziness mainly)," said another.
According to Contrave reviews, side effects are rare.
"I did have some of the side effects initially. I had dry mouth, was dizzy, hot flashes and had headaches. They all went away in the first two weeks," stated a user.
"I have been on this Medicine for exactly 7 days and I haven't had any side effects everyone talks about," reported another.
According to our research, if there is a certain part of a weight-loss pill that's concerning, like being the cause of adverse reactions, the likelihood of long-term success could be limited. This means if Contrave does lead to serious side effects in a lot of people, this could be a major concern.
The Science – "Clinically Proven?"
There have been clinical studies conducted with the two key ingredients used in Contrave. We certainly appreciate this, because here at DietSpotlight, we like to see real science that supports the weight-loss product in question. Even through there's solid science supporting this medication, dieters must take into consideration the risk of side effects.
The Bottom Line – Does Contrave Work?
Well now, what about this prescription medication for weight-loss? We like that Contrave is regulated by the FDA and that we found some favorable customer comments. We are concerned about customer comments relating to the high cost and negative side effects.
If you're looking to slim down, we suggest going with a supplement not connected to harmful side effects and is priced with your budget.
Among the best products we've seen in 2016 is one called Leptigen. This supplement contains four clinically-tested ingredients, which have been shown to help accelerate fat loss and increase metabolism. Also, there's no talk of harmful side effects and dieter reviews around the web show people are seeing solid results.
Plus, the makers of Leptigen are so confident in their supplement, that they're offering a Special Trial Offer.