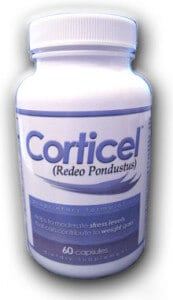 The results of my research into Cortisol were somewhat surprising. We at DietSpotlight spent some time writing a detailed review, scrutinizing the side effects, ingredients, scientific research and overall customer care. We also dug deep and read hundreds of customer comments that are posted online. Lastly we compressed all of the facts and responses we found to give you the information you need.
What is Cortisol?
To start, Cortisol is a weight-loss supplement created by Life Miracle Products, Inc. It is now called Corticel, and this product is claimed to help lower stress levels, encourage weight reduction and help you feel great. The primary ingredients include Vitamin C (100mg), Calcium (150mg), Chromium (100mcg), Vitamin B12 (50mcg) and St. John's Wort (100mg). This supplement also contains three Corticel proprietary blends. You need to take two capsules per day, one at breakfast and one at lunch (with a full glass of water). A healthy diet and exercise plan should be incorporated as well. If you can handle it, the dosage can be doubled for more intense results.
It is unclear when Cortisol was first released, but this product is conveniently available online. It contains some vitamins to boost immune system health and energy levels, but read on…
Unproven Ingredients – "A Concern?"
The first concern we had was with Cortisol ingredients. "While this supplement does contain Chromium to help balance blood sugar levels, it also contains St. John's Wort and Vitamins C and B12, which have not been proven to help with weight-loss," says our Research Editor.
One customer stated, "Did not help me lose any weight, that's for sure. Won't buy it again!"
"Not sure this supplement actually does anything. I think I will just take a multivitamin instead," commented another user.
Scroll below for one of the best products we've seen over the last year.
Lack of Real Results – "Something Else to Consider"
Judging from the customer reviews we found on the web, many people who have tried Cortisol diet pills, have not experienced any real weight-loss results. One person said, "Okay, this product does NOT help you lose weight. It's been five weeks and nothing."
"Not effective! That's all I have to say!," revealed another individual.
Our research has proven that if there is a certain part of a weight-loss supplement or diet program that is especially bothersome (unproven ingredients, lack of real results, poor BBB rating) the probability of real success for the long term is low. So, if Cortisol does fail to yield positive effects in a high number of people, this could be a serious dilemma.
Any Actual Science?
At DietSpotlight, we like to see some actual clinical research that supports the diet product and the ingredients it contains. Sadly, there is no solid science presented to support Cortisol diet pills. Naturally this makes it difficult for us to get behind this weight-loss formula.
The Bottom Line – Does Cortisol Work?
So, should you buy Cortisol? Well, first off, we like that this diet product is easy to purchase online and it can be taken anywhere, which is convenient. On the other hand, we have some reservations because it's not supported by actual science. Furthermore, we're leery about this diet pill because of the negative user reviews we found posted on the web.
If you'd like to drop more weight, then we advise you to go with a product that contains clinically tested ingredients, is backed by all kinds of positive customer reviews and gives you plenty of bang for your buck.
Among the best products we've seen in 2016 is one called Leptigen. Its formula is a combination of four ingredients, which have been shown in documented scientific tests to help accelerate fat loss and speed up metabolism. We have not found many complaints of harmful side effects and customer comments around the web show people are seeing excellent results.
The makers of Leptigen are so confident in their product they're offering a Special Trial Offer, which is very encouraging.