Updated: 10/06/2015 - Sponsored by Leptigen
CortiTrim Review - Does This Diet Product Really Work?
Are high price and dangerous ingredients deal breakers?
PUBLISHED: 08/30/2015 | BY: SUMMER BANKS, SENIOR REVIEWER
Editor
's Review:
3.0
/ 5.0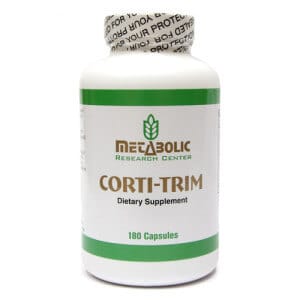 We've heard plenty of discussion about Corti-Trim, so we took some time to create an in-depth review, scrutinizing the ingredients, side effects, level of customer care and clinical studies. We also read countless dieter responses and user comments posted online. At this point we compacted all of the data we found to give you the crucial information you need.
EDITOR'S TIP:
Substitute CortiTrim with a proven fat burner such as
Leptigen
for better results.
What You Need To Know
Corti-Trim is a dietary supplement made by Metabolic Research Center. This weight loss aid can be used by people of all body types and it should be taken twice daily, along with breakfast and lunch. There are numerous claimed benefits of Corti-Trim, which include the following; lower stress levels, reduced inflammation, faster metabolism, body detoxification, higher energy levels, reduced appetite, fewer food cravings, a stronger immune system, elevated mood, better sleep, eye support, improved skin, balanced cortisol levels, healthy cholesterol levels and fat loss. As for the ingredients used in Corti-Trim, they include; Banaba, Vanadyl Sulfate, Green Tea Leaf Extract, Bitter Orange (contains Synephrine), L-Theanine, Magnolia Bark, Beta Sitosterol, Chromium (50mcg), Calcium (150mg) and Vitamin C (100mg).
It looks like Corti-Trim was first released in 2013. This supplement is available online and no prescription is needed. Furthermore, we did find some customer reviews posted on the web, and this supplement does provide some vitamins, but read on…
High Price!
"The actual cost of Corti-Trim is $75 per bottle, and this does not include shipping and handling fees. A single bottle will only last about a month, which makes this supplement unaffordable for some dieters," says our Research Editor.
One customer complained, "Can't afford it, plain and simple!"
Another user stated, "I went through the entire bottle in under a month. A little too pricey."
Scroll below for one of the best products we've seen in 2015.
Dangerous Ingredient – Watch Out
We noticed that Corti-Trim capsules contain Bitter Orange, which is also known as Citrus Aurantium. This fruit extract contains Synephrine, which functions like Ephedra. Therefore it can lead to side effects. According to one customer, "I recently started taking Corti-Trim and all at once I started getting blood from my backside."
"I had to stop taking Cortitrim, it made my calcium go really high. I also bought it from MRC," said another user.
According to our research, if there is one aspect of a diet supplement or fat-loss program that is quite problematic (high cost, dangerous ingredients, too many side effects) the likelihood of prolonged fat loss success is slim. So, if Corti-Trim does contain dangerous ingredients that lead to adverse effects in numerous customers, this could be a serious issue.
The Science
It's always important to see documented clinical research regarding a diet product, its ingredients and how it aids with weight loss. In fact, we at DietSpotlight must see scientific studies before we approve a weight loss supplement or diet program. Unfortunately we did not locate any science that supports Corti-Trim capsules for effective weight management or fat loss.
The Bottom Line
When all is said and done, we would not recommend Corti-Trim for weight loss. Even though this supplement claims to do it all, there is no clinical research presented to support this. Also, several customers have complained about the steep price tag. Not to mention, some users are complaining about side effects.
If you need to get rid of more pounds of fat, we suggest you go with a diet supplement that is backed by real clinical studies, contains safe ingredients and does not cost you a fortune.
One of the most promising diet products we've seen in 2015 is Leptigen. It uses a proprietary blend of four ingredients, which have been proven in documented clinical research to ignite metabolism and improve overall fat loss. We have not seen any talk of harmful adverse effects and customer comments posted on the internet reveal people are seeing excellent results.
Also, the makers of Leptigen are so confident in their product they're offering a special trial offer, which is a good sign.