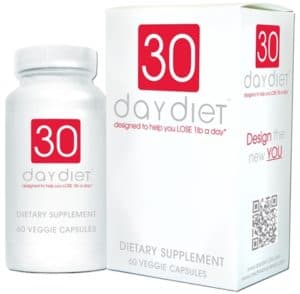 Diet products either work or they don't. Period. Let's see which one Creative Bioscience 30 Day Diet is. We digested the side effects, ingredient list, customer service support and scientific studies. Comments and forum posts of all kinds were reviewed. Then, we condensed it all to give you the bottom line.
What is Creative Bioscience 30 Day Diet?
To begin with, unlike the name implies, Creative Bioscience 30 Day Diet is a weight-loss supplement. It contains chromium, lychee extract, African mango extract, raspberry ketones, caffeine, green tea extract, citrus aurantium, vitamin C, vitamin B6 and vitamin B12. According to the product description, it is made to help you lose a pound each day.
Creative Bioscience makes the 30 Day Diet supplement. We found no details about the business, but we do know the official website was purchased in 2010. You can buy directly from the company, as well as through other retailers. We like that all ingredients are listed and there is a complete page of clinical research, but read on…
Energy – "Not for Everyone"
First off, Creative Bioscience 30 Day Diet ingredients didn't work to increase energy in all users. "One of the most common benefits of taking a supplement with caffeine is that extra boost," says our Research Editor. "With the amount in this formula we're not sure what happened."
"Did not notice a big difference after following instructions," said a user.
Another shared a lack of change of any kind, "Following the plan and am not seeing ANY positive results."
We did find customers who noticed a change.
"It really gives me the energy boost I need to go on with my day," according to one customer.
Another happy dieter said, "I notice I do have more energy during the day and haven't disturb my sleep."
Scroll below for one of the best products we've seen over the last year.
Hunger – "Sticking Around?"
Hunger was another issue with Creative Bioscience 30 Day Diet. Some felt the appetite suppressant worked and others saw no difference at all.
"Toward the early afternoon, I am pretty much starving. I work until 10 pm daily and can eat a horse around 8:00 pm," explained one dieter.
Another shared, "These pills have virtually no effect. No appetite suppressant, no increase in metabolism, no weight loss."
Positive results are also out there.
As a dieter claimed, "The appetite suppression really works!"
"You'll get top-notch appetite suppression," one more said.
It's with years of research behind us that we've found it takes only a small thing, like unexpected hunger, to cut back any chance of real results. If Creative Bioscience 30 Day Diet doesn't help you eat less, there's a lesser chance you'll lose weight.
The Science – "Clinical Research Out There?"
There is a complete page of clinical studies available. The study into raspberry ketones, often called a fad, was completed on rodents, not humans. We all know green tea can boost metabolism and citrus aurantium is a stimulant. What the company left out is that a combination of this ingredient and caffeine can increase the risk of Creative Bioscience 30 Day Diet side effects exponentially.
The Bottom Line – Does Creative Bioscience 30 Day Diet Work?
Did we already take the first dose? Well now, we like the green tea and caffeine and we love the idea of offering clinical research, but we're still left with some reservations. The studies into raspberry ketones are useless and you can find the two best ingredients in clinically tested supplements that are shown to work. We're also concerned that hunger and lack of energy were common complaints.
If weight-loss is your top priority, we believe in choosing a clinically tested supplement with no fad ingredients, like those in Creative Bioscience 30 Day Diet.
Among the best products we've seen in 2016 is one called Leptigen. The label reads just four ingredients – all have been scientifically tested. Results show they can help spark metabolism and boost fat loss. Reports of side effects are nearly non-existent and reviews across the web show fantastic results.
Plus, it shows great confidence for the makers of Leptigen to offer a Special Trial Offer to customers.