Updated: 08/25/2015 - Sponsored by Leptigen
CTS360 Review – Does This Weight-Loss Program Work?
Are high cost and negative side effects deal breakers?
PUBLISHED: 08/11/2015 | BY: TORY GRAY, SENIOR REVIEWER
Editor
's Review:
2.8
/ 5.0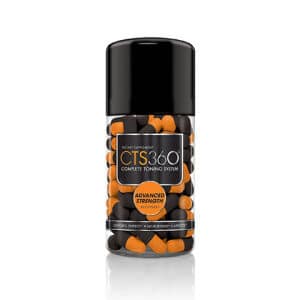 People are chattering about CTS360, which gave us reason to immerse ourselves in information about the product to find more on the price, ingredients and clinical research. We took that and abbreviated it to convey the pertinent information to you.
EDITOR'S TIP:
Substitute CTS360 with a proven fat burner such as
Leptigen
for better results.
What You Need to Know
CTS360 is a supplement selection from Complete Nutrition. The line uses ingredients like caffeine, green tea and omega fatty acids to support overall health and weight-loss. There are three products in the main program, but all are easy to bring with you.
Complete Nutrition was established in 2001, but CTS 360 was not introduced until later. All of the ingredients are listed on the website – a good choice. You can make your purchase online. We approve of the good "A+" BBB rating and the useful customer comments, but read on…
High Price – "Wowsers"
There's no mention of price on the official website, but reviews are pretty clear that CTS360 comes with a high cost. "When a company asks a customer to spend more than $200 a month there needs to be some pretty amazing clinical support," stated our Research Editor. "There are just too many negatives to take into consideration with CTS360."
"Bought it – $250 not one pound lost…what a joke," a dieter explains.
"I paid $180 for it with a coupon I found online. Took it for 2 months…did nothing for me. Wish I had my money back," says another buyer.
One customer offers, "I dont recomend this program to anyone. But thats just my opinion. It was just to expensive for the little amount it did. Not worth it."
Scroll down for one of the best products we've seen in 2015.
Side Effects – "Yikes!"
When the same issues keep coming up, it is something we must take into consideration. We found a number of negative reviews complaining of side effects. "First day on these pills trouble sleeping, upset stomach, and headache," a buyer reports.
"Intense headaches, stomach pain, and nausea and vomiting that started almost immediately," another dieter reveals.
A consumer also claims, "I took it one day. I was sick to my stomach in the bathroom for 4 days…it was not good!"
When there is an issue with a supplement, our research suggests a direct link between reduced long-term success and that problem. If CTS360 does, in actuality, cause side effects, support is debatable.
The Science
We checked the FAQs page, product descriptions and shop for mention of clinical research. We found nothing even remotely fitting into this category. When you look at the individual ingredients you can find some support, but the problem with CTS360 is the amount. Based on the side effects, there may be too much of the stimulants in the formula. Science is a big deal at DietSpotlight. Even if that's there, there's an issue if too much of an element is added.
The Bottom Line
Our research into CTS360 left us confident in our conclusion. The supplement does offer a couple weight-loss ingredients and some customers report good results, but we don't feel comfortable supporting the product. The headquarters is located in a shopping center, dieters claim side effects and the cost is much too high.
If you're just plain tired of those extra pounds, our suggestion is to check out a supplement that presents both a great price and ingredients that come with published support.
We found Leptigen to be one of the best products we've reviewed in 2015. The company uses four ingredients, a proprietary blend supported with clinical research. Users consistently describe weight-loss success and there's no mention of detrimental side effects.
Confidence is important in a company, and the makers of Leptigen have it. They're offering a special trial offer – nice!
(Feel free to scroll below for our previously published full-length reviews of CTS360)
Previous CTS360 Review (Updated June 28, 2014):
What You Should Know
Click Here To See Our Highest Rated Review
CTS360 is a line of weight loss supplements by Complete Nutrition. The supplements are combined together in the CTS360 Kit. The kit combines four supplements from the CTS360 line. There are two fat burners, a night formula and a toning formula. Dieters can choose from maximum strength and clinical strength varieties.
List of Ingredients
Clinical Strength Fat Burner: Vitamin B6, Chromium Picolinate Powder and Vitamin B12. CTS360 Clinical (Fat Burning, Stress and Water Weight Blend) – Uva Ursi, Citrimax HCA, Dandelion Root Extract, Guarana Seed Extract, Bladderwrack Leaf Powder, Passion Flower Extract, Green Tea Leaf Extract, Cornsilk Extract, Buchu Leaf Extract, Ginger Root Extract, Guggul Lipid Extract, L-Carnitine Fumarate, Hoodia Cactus Extract, L-Tyrosine, Parsley Leaf Powder, Theobromine, DMAE, Vitamin B6, Atlantic Kelp Extract.
Advanced Strength Fat Burner: Vitamin B9, Vitamin B12, Vitamin H, Zinc. CTS360 Advanced (Energy, Fat Burning and Appetite Blend) – Garcinia Cambogia, Caffeine Anhydrous, Green Tea Leaf Extract, White Willow Bark, Gum Guggul, Synephrine, Evodiamine, L-Theanine, Theobromine, Yohimbe Bark.
Maximum Strength Fat Burner: Niacin. CTS360 Maximum (Energy, Fat Burning and Appetite Blend) – Caffeine, L-Tyrosine, Beta Phenylalanine, Siberian Ginseng Extract, Raspberry Ketones, Yohimbe Extract, Theobromine, Bacopa Monnieri, Green Tea, Gingko Biloba, Dandelion Root Extract, Alpha GPC, Sulbutiamine, Methyl Synephrine, 1,3 Dimethylamylamine.
Tone: Safflower Oil, Tonalin CLA, Fish Oil, EPA, DHA, Flaxseed Oil, Evening Primrose Oil, Borage Oil.
Night: Citrin Extract, Psyllium Husk, Ho Shou Wu, Valerian Root, 5HTP, Turkey Rhubarb, Cascara Sagrada Bark, Senna Leaf, Bioperine, Melatonin.
Product Features
The CTS360 line includes several supplements with the same general ingredients. The three fat burners, for instance, all have a base of caffeine, synephrine, Garcinia cambogia and green tea leaf extract. Caffeine and green tea leaf are considered safe for most dieters. Synephrine and Garcinia cambogia have been linked to potential negative side effects.
Dandelion root, uva ursi, Buchu extract, bladderwrack leaf powder and parsley leaf powder are diuretics. These ingredients will force fluid out of the body by increasing urination. There is no limit to the effect of diuretics. If the dieter continues to take diuretic ingredients for long periods, dehydration may occur. Diuretics also lower potassium levels, which can lead to death. The Clinical Strength Fat Burner contains all four of the diuretics.
There are no prices listed for any of the CTS360 supplements.
Advantages
Some of the ingredients are proven to increase weight loss.
All ingredients are listed on the official Complete Nutrition website.
Disadvantages
Diuretics are included with fat burning ingredients.
Conclusion
Complete Nutrition offers a clean, simple website with detailed information on CTS360 supplements. Dieters wishing to purchase the supplements must visit a local store, as online ordering is not supported. There is a place for products to be reviewed on the official website, but there are no reviews of the CTS360 products.
GD Star Rating
loading...