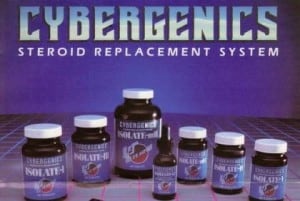 Cybergenics has generated a lot of buzz in the last 20 years, so we're here to cut through the noise and provide an accurate assessment of this product line. We'll look at the ingredients, side effects, pricing, customer-service, and more. We also read hundreds of reviews and comments online; then we summarized and condensed what we found to give you the info you need to decide if Cybergenics is right for you.
What You Need to Know
Cybergenics is a line of products designed for weight lifters. Their products are designed to help gain muscle and sculpt your body. The products include workout programs, muscle building supplements, and more. The pills can be taken anywhere, and the weightlifting programs seem easy to follow.
Cybergenics has been around since the 1990s, which is encouraging, but their product line was recently acquired by a company in Australia. Their products are available directly from the Australian company and seem to offer good results for those looking to build muscle. We do like that the company has been around for 25 years, that the ingredients seem to work for those looking to gain weight, and that there's a wide variety of products available, but read on…
Price –"Pricing Increased After the Company Was Sold"
One thing that we immediately noticed about Cybergenics was the high cost of the products. "Cybergenics products can quickly add up to close to $1000 if you follow all of the workout programs and order the supplements," said our research editor. "There are many more affordable products on the market that will provide comparable results." With several workout programs costing over $100 each, supplements costing $80-100, and weight loss programs costing $60 or more, the cost quickly adds up and becomes too much for most dieters.
"I used to use these products, but pricing increased after the company was sold, and I can no longer afford them," said one user.
"I was going to buy these products and see if they worked, but at this price, I'll find something different," said another.
Scroll below for one of the best products we've seen over the last year.
Lack of Weight Loss–"Not Designed for Those Looking to Lose Weight"
Cybergenics is designed for those looking to gain weight by building muscle. This is great if you're into bodybuilding or weightlifting, but for those looking to lose weight, this can be an issue. "This product is not designed for those looking to lose weight, so don't be disappointed or surprised if you gain weight when taking Cybergenics," said one customer.
"This product works if you're looking to gain weight, but it definitely won't help you slim down," said another. "If you're looking to lose weight, this product isn't for you. This will help you get more fit, but you're more likely to gain weight than to lose it," said one positive review.
If part of a diet or exercise program is especially difficult (bad tasting supplements, lack of weight loss, difficult workouts, etc.), our research has shown that dieters are less likely to see long-term success. If Cybergenics really doesn't help people lose weight, it may make it difficult for dieters to meet their long-term fitness goals.
The Science–Enough to Justify the Price?
There was very little evidence supporting the Cybergenics claims, and we were unable to find an ingredient list, which means we couldn't research the supplements on our own. The lack of science was disappointing to us, so we dug into the workout programs that the company offers. While these workouts do seem to have some evidence supporting their effectiveness for building muscle mass, there's no evidence that they will help dieters lose weight. In the end, we ended up disappointed in the lack of science with Cybergenics; and with nothing to justify the high cost of these supplements and programs, we're left skeptical of the products' claims.
The Bottom Line–Does It Work?
We do like that Cybergenics has been around for over 20 years and that they offer a wide variety of workout products, but without scientific evidence supporting Cybergenics as a weight loss supplement, we're unsure of its effectiveness for those looking to lose weight. We also have reservations about the high prices and the lack of weight loss results.
If you're looking for a new way to lose weight, we suggest you find a supplement that offers value and performance and is backed by scientific research.
Among the best products we've seen in 2016 is one called Leptigen. With a four-ingredient proprietary formula, Leptigen offers minimal side effects. The ingredients have been featured in scientific research where it was shown to improve weight loss by boosting metabolism and improving the body's natural fat-burning capabilities. We read user reviews online, and dieters seem to agree that Leptigen offers consistent, affordable weight loss.
The makers of Leptigen are offering a special trial offer for a limited time, which shows that they are confident that you'll see great results with their supplement.