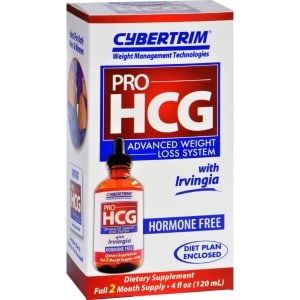 A diet product's worth depends on whether it actually helps people lose weight. Let's find out if Cybertrim Pro HCG really works. We did one of our intensive reviews, examining the side effects, ingredients, customer-service quality and scientific studies. Plus we read hundreds of dieter comments and user responses from the internet. Lastly, we condensed the facts and feedback to give you the info you need.
What You Need To Know
To start, Cybertrim Pro HCG is advertised as a hormone-free formula. It is made by Cybertrim Weight Management Technologies. This product contains key ingredients like African mango, dong quai fruit, aloe vera leaf, DHEA, wild yam, amino acids and chaste tree berry. According to the bottle, it is an "advanced weight-loss system." To use this liquid supplement, you dispense a dropper full under the tongue twice daily (before meals). It is said to burn off fat, reduce food cravings, increase energy levels and promote muscle growth.
It's unclear how long Cybertrim Pro HCG has been available. However, this supplement is sold online, and it is fine for both women and men. Also, this weight-loss product is recommended with both diet and exercise, but read on…
Ineffective Ingredients – "Does it Really Work?"
The first concern was Cybertrim Pro HCG ingredients. According to our Research Editor, "This liquid formula contains fruit extracts that have not been proven to help with weight-loss. This means it may not produce the results you're after."
One person said, "This stuff does not suppress appetite at all!"
"Have not lost any fat after three weeks of this liquid," commented another user.
Then again, some people have experienced minor results. One customer stated, "It's been two weeks and I've lost a pound."
Scroll below for one of the best products we've seen over the last year.
Negative User Reviews – "Another Concern"
There are some negative customer comments posted online for this supplement. Some people have even complained of Cybertrim Pro HCG side effects. One person said, "This liquid makes me seriously nauseous. Is that normal?"
Another individual mentioned, "This weight-loss product causes diarrhea."
On the other hand, one user stated, "No weight loss, no side effects, no appetite loss, no nothing."
Our research has shown if there is some a certain part of a weight-loss program or diet product that is very concerning (fad ingredients, negative user reviews, steep price tag) the chances of fat loss for the long term are not good. This means if Cybertrim Pro HCG does cause many discouraging customer comments, this could be a deal breaker.
The Science – "Any Available?"
First off, there is some minor science available to support African mango for weight-loss. However, more studies are needed to see if this ingredient actually works well. We really didn't find any solid research to back up Cybertrim Pro HCG drops. At DietSpotlight, we need to see some clinical data in order to get behind the supplement.
The Bottom Line – Does Cybertrim Pro HCG Work?
So, should you spend your hard-earning money on Cybertrim Pro HCG? Well, first off, we appreciate that this diet product contains natural ingredients. We also like that it is easy to use anywhere. Then again, we have some concerns about it because it's not backed by any clinical studies. Moreover, we have doubts about the fad weight-loss ingredients it contains and the negative customer comments posted online.
If you'd really like to lose some excess weight, then we recommend you choose a product that does not contain fad supplement ingredients, is backed by plenty of positive user reviews and is supported by solid science.
Among the best products we've seen in 2016 is one called Leptigen. This diet formula contains a blend of four ingredients that have been proven in documented clinical research to help boost metabolism and improve fat loss. Also, there is no talk of harmful side effects and comments around the web reveal people are seeing excellent results.
The makers of Leptigen are so positive about their product they're offering a Special Trial Offer, which is uncommon.