Updated: 09/29/2015 - Sponsored by Leptigen
D-fine 8 Review - Does This Fat-Burner Powder Really Work?
Are high price and dangerous ingredients deal breakers?
PUBLISHED: 08/26/2015 | BY: SUMMER BANKS, SENIOR REVIEWER
Editor
's Review:
3.5
/ 5.0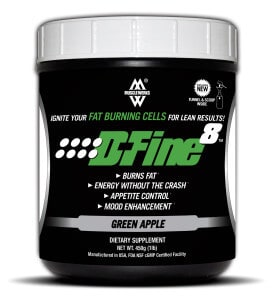 We've heard a lot of chatter about D-Fine 8 supplement powder, so we took some time to create an in-depth review, scrutinizing the ingredients, side effects, customer-service quality and scientific studies. We additionally examined dozens of dieter comments and user responses from around the web. Lastly, we condensed all the facts and feedback to provide you with the info you need.
EDITOR'S TIP:
Combine D-fine 8 with a proven fat burner such as
Leptigen
for better results.
What You Need To Know
D-Fine 8 is a fat-burning supplement available from MuscleWerks. This powder formula comes in 15 different flavors, and some of them are; cherry bomb, mango, green apple, strawberry, pink lemonade, pineapple, fruit punch, watermelon and bada bing cherry. The purpose of D-Fine 8 is to heighten energy levels, control appetite, burn off fat and enhance mood. This supplement is simply added to water and then consumed before a workout or any time during the day. The ingredients found in this powder include the following; Conjugated Linoleic Acid (CLA), Green Tea Extract (contains EGCG), Guarana Seed (contains caffeine), Cactus Leaf Extract, High Linoleic Adic (HLA from Safflower Oil), Dandelion Leaf Extract and Citrus Aurantium (contains Synephrine).
D-Fine 8 first emerged in 2011 and it comes in numerous flavors. This supplement is backed by some customer testimonials and it can be purchased through several online stores, but read on…
High Price – Yikes
"The actual cost of D-Fine 8 is $54.99 per container and this is 30 servings. If you consume two servings per day, a single container will only last you for 15 days. This means D-Fine 8 will end up costing you about $110 each month," says our Research Editor.
One customer commented, "Definitely not cheap, don't think I'll buy again."
"Not worth the $55 plus shipping!," said another user.
Scroll below for one of the best products we've seen in 2015.
Dangerous Ingredients – Watch Out!
This supplement contains Citrus Aurantium, which has Synephrine in it. As you may already know, Synephrine works like Ephedra. This is concerning because Ephedra was banned due to serious side effects. One customer revealed, "It gave me a consistent stomach ache each time I took the product. It really didn't help with appetite control or energy levels."
Another user said, "Taste is the worst! Gave me the most horrible heartburn, used as pre-workout and lasted the whole time, but I still had horrible heartburn the next day and could not stand it!!!"
According to our research, if there is a certain facet of a supplement or diet program that is very concerning or bothersome (a painful/difficult exercise routine, high price, dangerous ingredients) the odds of long-term success are not good. This means if D-Fine 8 does contain dangerous ingredients that cause adverse effects in a lot of people, this could be a major concern.
The Science
At DietSpotlight, we need to see published science that supports the diet product for weight loss. However, there was no documented clinical research or studies posted online to support D-Fine 8 as an effective fat burner and weight loss supplement. Therefore we cannot support this product.
The Bottom Line
It's great to see that D-Fine 8 comes in so many different flavors. This is definitely something people like to see. On the other hand, this product contains Synephrine, which may lead to side effects. Also, it is quite pricey at $54.99 per jug. In the end, we do not recommend D-Fine 8 for serious fat loss.
If you want to see faster results and get rid of some serious body fat, we recommend you try a weight loss supplement that contains safe ingredients and is supported by solid clinical research.
One of the highest-rated diet products we've seen in 2015 is one called Leptigen. This supplement contains a unique blend of four key ingredients, which have been proven in documented scientific research to kick-start metabolism and improve overall fat loss. Also, we have not discovered any talk of harmful side effects and customer feedback posted online shows people are seeing substantial results.
Also, the makers of Leptigen are so confident in their product they're offering a special trial offer, which is a good sign.