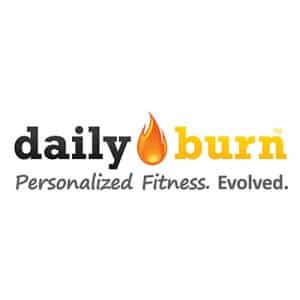 No joke – over 50% of diet products simply don't work. So what about Daily Burn? Well, we did one of our in-depth reviews, examining the program details, side effects, customer service and clinical studies. Plus, we scanned through dozens of dieter comments and experiences from all over the web. Finally, we summarized and condensed everything to give you the info you need. There's no doubt a connection between exercise and weight-loss, but does this option prove better than another? We're skeptical.
What is Daily Burn?
First and foremost, Daily Burn is a diet and exercise website that allows you access to all sorts of workouts that can be done at home, as well as an "easy-to-follow nutrition plan." This way you can get fit and eat right without paying for the gym or a dietician. At least this is the claim. You simply pay a monthly fee and this grants you 24/7 access and support. Bob Harper is the lead trainer. You can purchase supplements from the company, as well.
From what we could tell, Daily Burn first got started in 2015. This online weight-loss program is suitable for people of all ages and body types, and there is a 30-day free trial mentioned on the official website, but is you want to know if this library of workouts works better than traditional exercise, keep reading…
Credit Card Charges – "Unwarranted?"
The first issue we have to address with Daily Burn is the number of customer complaints about credit card charges. According to our Research Editor, "There are numerous negative user reviews from people who've claimed they never ordered the program."
"As far as I'm concerned, Daily Burn is a scam. I've never ordered anything from them, yet somehow they have charged my account in excess of $10.00. They keep charging my credit card $10 a month and I have NEVER even heard of DAILY BURN," stated one person.
"Total scam…they inundate you with upgrade emails and when you forget to cancel, they keep charging you $10, and their customer service is terrible. Beware. Limited site content without paying for an upgrade," revealed another customer.
There are some buyers who felt the people complaining did not read the fine print.
"I was told immediately before signing up for 30 day free trial that it would be 12.95 a month after," was one experience.
Another shared, "DB is very clear about the one month free trial, and it seems like it'd be simple to unsubscribe."
Scroll below for one of the best products we've seen over the last year.
Customer Complaints – "Another Concern?"
We found plenty of customer complaints posted on the web for Daily Burn.
One person said, "Sounds great. Except I can't get on the site at all. VERY FRUSTRATED! It currently won't even let you sign in? Is there a trick? I would like help….no way to contact by phone? No customer service number."
"Daily Burn is a scam. Hopefully any potential future customers can read this before they make the same mistake as I did," complained another individual.
You have to look at both sides of the story. There are people who like and appreciate Daily Burn.
"If you are self motivated then this app is totally worth $12.95," said one.
Another offered, "Its a program with TONS of different categories of workout videos."
So, here we are. Our research shows it takes just one small thing, like several customer complaints in a row, to ruin any chance of long-term results. If Daily Burn doesn't leave people happy, they will turn and look for a product or supplement that does.
What About Solid Science?
Here at DietSpotlight we like to see some real science that supports the weight-loss program we're researching. As for Daily Burn, there is really no research that says Daily Burn is any better than other workouts. The real benefit is in the variety it offers not the kind of exercise. You can get the same effect free.
Does Daily Burn Really Work?
Well, we appreciate that anyone with an internet connection can access Daily Burn and it's nice to see that a lot of different exercises are offered. On the downside, we have some doubts about this online fitness program because science doesn't set it apart from the competition. We're also concerned about the customer complaints posted on the web regarding unwarranted credit card charges.
If you'd like to get rid of a few more pounds, we suggest you combine an exercise program with a clinically tested supplement with strong support from customers who've lost weight on the supplement.
Of all the products we've reviewed, in 2016 the best we've found is called Leptigen. The label reads just four ingredients – no fillers or fluff. All are clinically tested and we had no trouble finding testimonials from dieters who've lost amazing amounts of weight. Plus, if you do choose Daily Burn, the company clearly supports taking supplements to maximize results. This is everything we think you should be looking for.
The makers of Leptigen are so certain of their product they're offering a Special Trial Offer, which means the only thing you have to lose is weight!